Cutting is such an important skill for preschoolers! Cutting with scissors develops fine motor skills important for writing and manipulating objects. Also kids, including my five year old twins, often love cutting! I created a free Preschool Cutting Workbook full of various cutting activities for my preschoolers and for yours!
Scissor skills are more important for kids than I realized initially. Cutting develops fine motor skills and hand-eye coordination in preschoolers. When cutting, children hold the paper with one hand and cut with the other, using each side of the body to perform different tasks. Using each side of the body for a different task is called bilateral coordination.
What types of activities are in the free Preschool Cutting Workbook?
The free Preschool Cutting Workbook is made up of 7 sections, each with a different type of cutting activity.
Table of Contents:
Straight line cutting
Wavy line cutting
Shape cutting
Cutting along an object
Cut hair and animal fur
Cut slices
Cutting and pasting
Natural Progression of Scissor Skills
Scissor skills take time to develop, and are not fully developed until age 6. Children generally first make small snips, or cuts with just one closure of the scissors. Then, they learn to cut straight lines and wavy lines. Eventually, kids learn to pivot the scissors to cut out shapes. Around age 6, children can often cut out complicated figures.
The activities in this packet focus on many of these stages of scissor skill development, with activities focusing on cutting straight lines, wavy lines, snips of animal fur, and shapes.
My hope is that there is an activity appropriate for each preschooler included in the workbook. It may be the case that a child is ready for some of the activities in the Preschool Cutting Workbook, but not all of them.
Encourage Kids to Hold Scissors Correctly
Parents should encourage kids to hold scissors correctly. My daughter wanted to cut with her thumb on the bottom and index finger on the top of the paper, so I did a little research on this topic.
Kids should hold scissors with their thumb in one hole and middle (and index finger), in the other hole. The thumb should be on top. Additionally, it may be helpful to have them make a "thumbs up" before they start cutting.
Parents should encourage kids to hold the paper off the table with their non-cutting hand.
Supplies Needed for the free Preschool Cutting Workbook
The supplies needed to complete the activities in the preschool cutting workbook are few! All you need are child-safe scissors and glue or a glue stick.
You can find information about choosing the best scissors for your child here.
Furthermore, adult supervision is always necessary while children use scissors.
Terms and Conditions:
By downloading the Free Preschool Math Workbook, you accept these terms and conditions. 
This workbook was created by Hey Kelly Marie to be used for personal and personal classroom use. 
The workbook is copyright protected. © 2020 Hey Kelly Marie and all rights reserved.
This workbook may not be sold, hosted, stored, or reproduced on any other site or blog.
Adult supervision should be provided for children's activities. It is up to the child's caretakers to determine what is developmentally appropriate and safe for their child. Caretakers have full responsibility for child safety and development.
Get Your Free Preschool Cutting Workbook
To download the Free Preschool Cutting Workbook, please subscribe to Hey Kelly Marie emails below, and you will receive the password via email to my Printable Resources page. On this page, you can download any printable file I have created for free.
Subscribe here for the password.
Email subscribers get access to the entire Hey Kelly Marie Printable Library, including the Free Preschool Cutting Workbook, Preschool Math Workbook, and Preschool Patterns Workbook.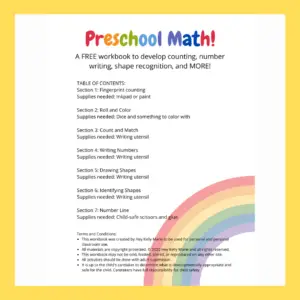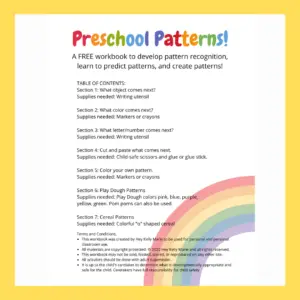 I'm also working on more workbooks and activities all the time, and email subscribers are the first to know. No pressure because you can unsubscribe at any time. No spam, promise.
Other resources for preschoolers!
Hey Kelly Marie has several other resources for keeping preschoolers learning and occupied. 
Check out No mess, No Prep, Activities for Preschoolers and Preschool Counting with Toilet Paper Rolls.
Additionally, the Easy Rainbow Craft for Young Kids is easy, fun, and is a great way to practice cutting and gluing. Free printable available!
Pin this post to save it for later!
Please comment below!
I create these workbooks to provide a free resource for your families. I love to hear how you're enjoying them, and also your ideas for resources I can provide in the future. Please leave a comment below.
If you love it, please share it on Pinterest so others can find it.
Disclaimer: This blog is for information and entertainment purposes only. I am not an expert (in child development or anything else) and you should look elsewhere for expert advice. I am not liable for any damages resulting from using the information on this blog. Adult supervision should be provided for children's activities. For further information, see the Disclaimer page.