I've been working on shapes with my preschoolers, and have found it useful to have shape flashcards to test their knowledge and play simple games. No need to scour the internet, spend money and wait for shape flashcards to arrive. I have free, printable, colorful Shape Flashcards that you can download right now. I hope you love them for quick, easy and effective shape practice with your little ones.
Shape Identification is Important!
Before starting kindergarten, it's helpful if kids are able to recognize and name several shapes including:
rectangle
square
circle
triangle
diamond
heart
star
oval
If you're wondering what other skills are important for kindergarten readiness, I love this article that describes academic and non-academic skills kids should know before kindergarten.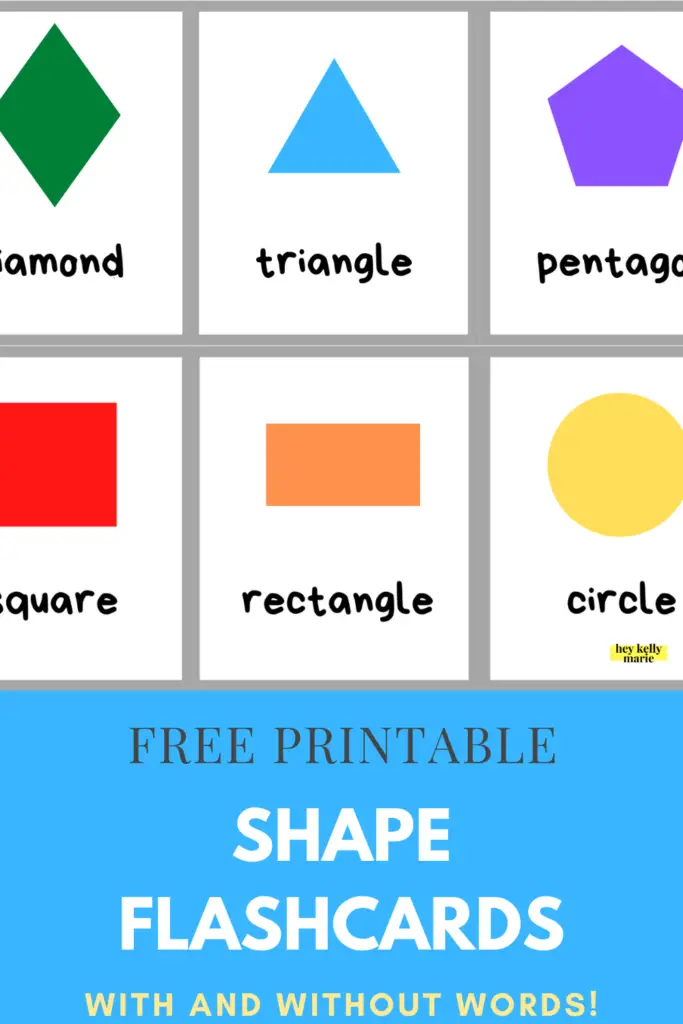 How to Use Shape Flashcards
Shape Flashcards can be used in dozens of ways!
Most often we use flashcards in a very simple way. I show my children a flashcard and when they correctly identify the shape, they get a "prize" which could be a sticker or even a tally mark on a paper scoreboard. If we're playing with multiple kids, the child with the most correctly identified shapes wins!
You can also have children stand across the room, show them one Shape Flashcard at a time, and when they correctly identify a shape, they take one step towards you. When they get to you, the game is over!
In Flashcard Hide and Seek, you hide flashcards around the room while the child isn't looking. When your child finds one, he or she identifies the shape.
Laminate flashcards and use them for shape drawing practice. Alternatively, they can use string to outline the shape.
Flashcards with words can be used for practice reading shape names. Simply, show the child the flashcards and ask them to read the name.
Flashcards without words can also be used for shape word spelling practice. Show the child the flashcard and ask them to spell out the shape name.
What's included in the Shape Flashcard free, printable?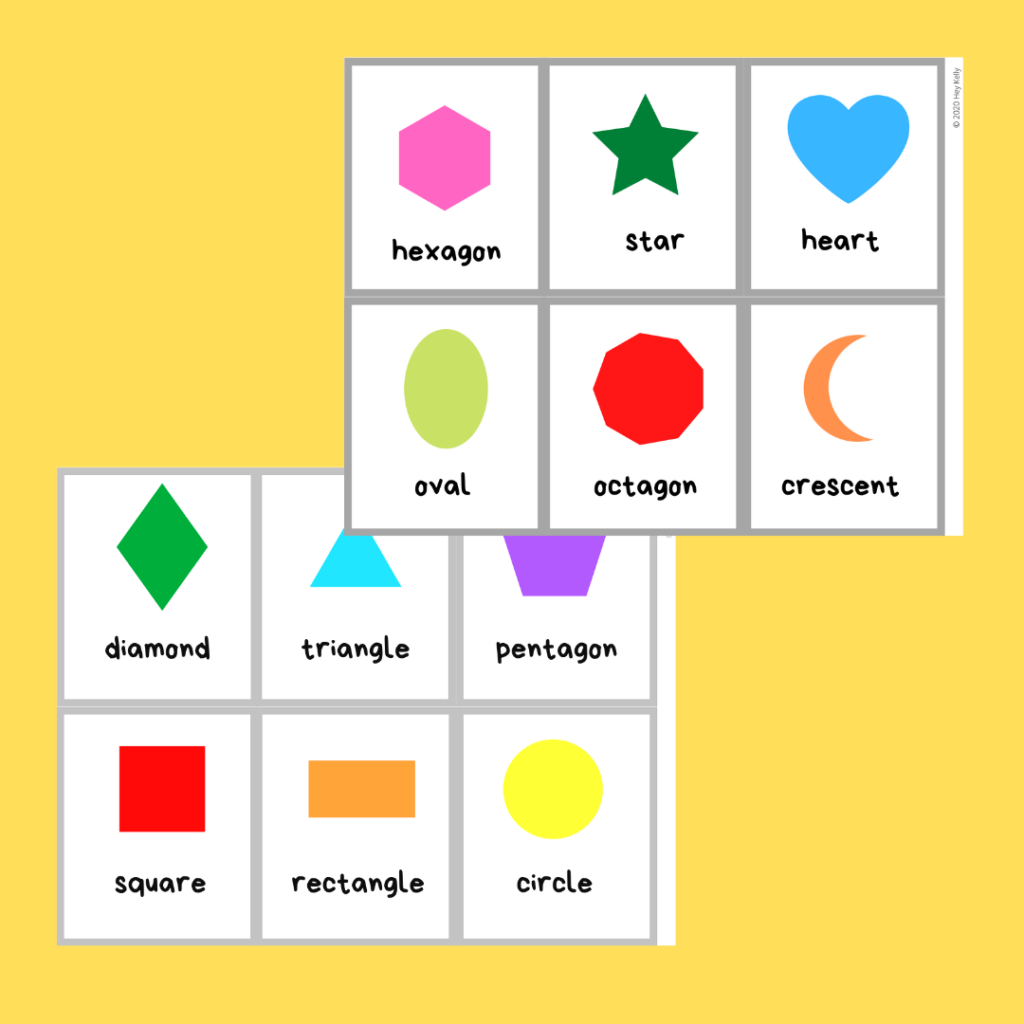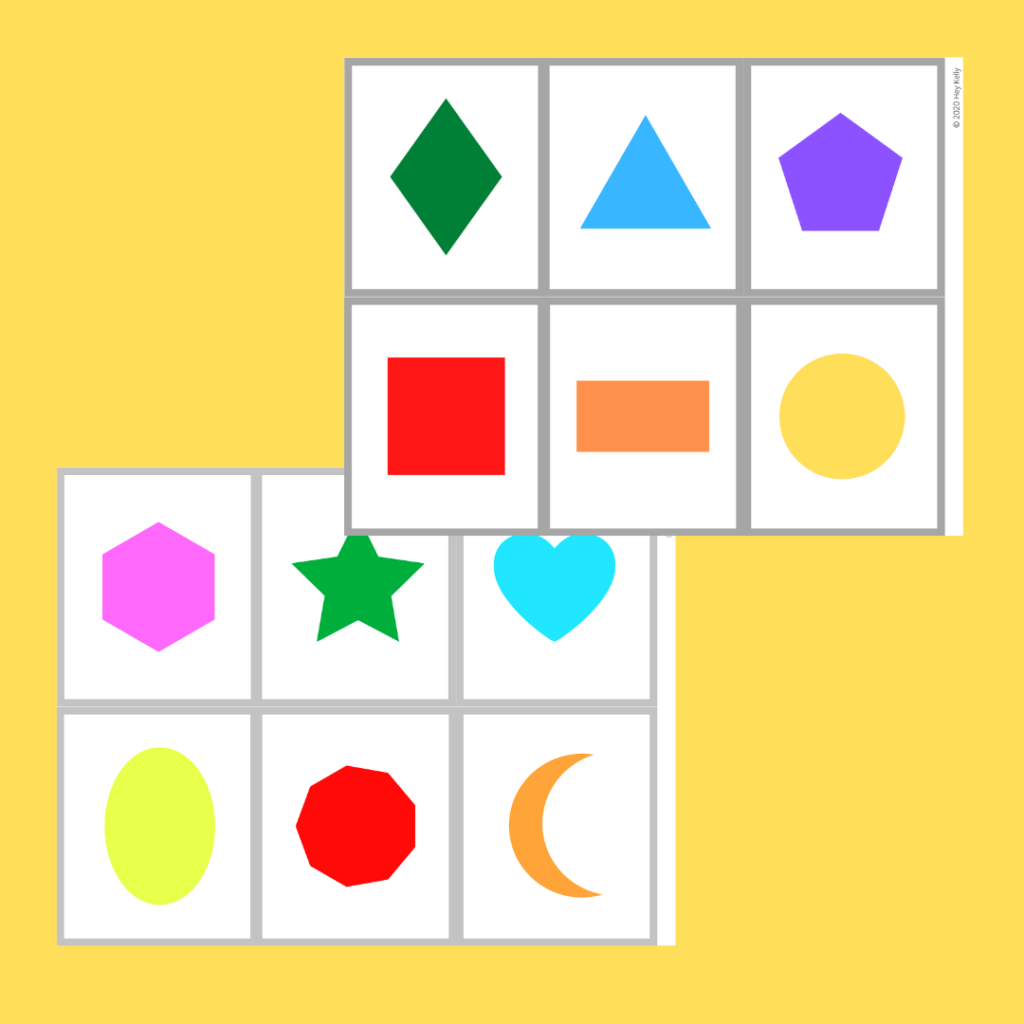 The PDF Shape Flashcard printable includes four pages of 12 shape flashcards, each about 4 x 3 inches in size.
The shapes included are:
circle
rectangle
square
triangle
oval
diamond
pentagon
hexagon
octagon
star
heart
crescent
There are two sets of flash cards, a set with shape words on the front and a set without. When practicing spelling shape names, for instance, it is helpful to have cards without the names.
For durability, I recommend laminating the cards. Once laminated, they can also be used for activities like shape tracing with a dry erase marker.
Get Free, Printable Shape Flash Cards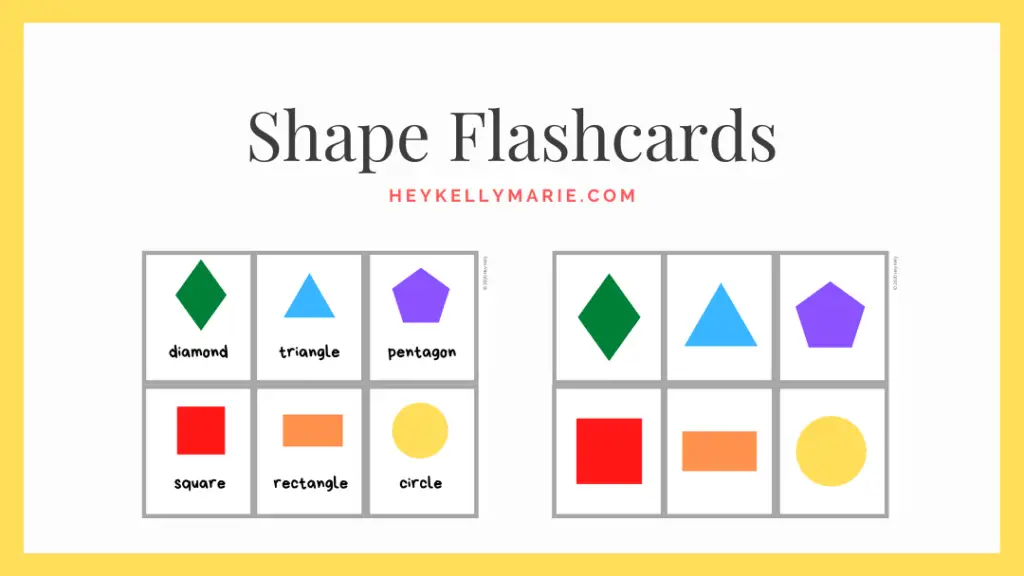 Terms and Conditions:
The Shape Flashcards were created by Hey Kelly Marie for personal and personal classroom use. 
Additionally, the Flashcards are copyright protected. © 2020 Hey Kelly Marie and all rights reserved.
These Flashcards may also not be sold, hosted, stored, or reproduced on any other site or blog.
Adult supervision is required for children's activities. It is up to the child's caretakers to determine what is developmentally appropriate and safe for their child. Caretakers also have full responsibility for child safety and development.
To download the Shape Flashcards, please subscribe to Hey Kelly Marie emails below. Once you confirm your subscription, you'll get another email including password to my Printable Resources page. On this page, you'll find the PDF workbook file.
Subscribe here for your Shape Flashcards.
Email subscribers get access to the entire Hey Kelly Marie Printable Resources Library, including the Preschool Math Workbook, Preschool Cutting Workbook, and Preschool Patterns Workbook.
I'm working on more workbooks and activities all the time, and send out weekly updates of what I've been working on. Unsubscribe at any time. No spam, promise.
Pin this post for later!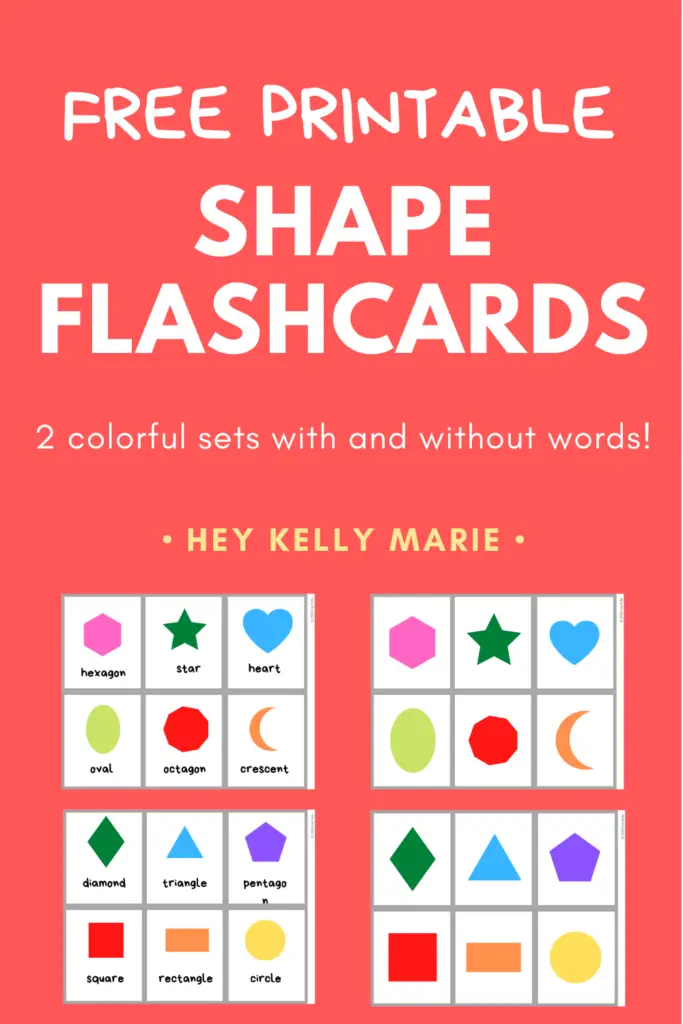 Let me know how you like the Free, Printable Shape Flashcards!
I'd love to know how you use these Shape Flashcards. Also, are there other flashcards I can provide that would be of help to you? I want to hear about it. Leave a comment below.
Other Printable Resources from Hey Kelly Marie
One of the most popular printable resources on my blog is the Free, Printable Alphabet Coloring Pages. There are 26 pages for fun with letters A-Z.

Also, check out the free, printable Preschool Math Workbook, Preschool Cutting Workbook, and Preschool Patterns Workbook.
Disclaimer: The information published in this blog is for information and entertainment purposes only. I am not an expert and you should look elsewhere for advice. I am not liable for any damages resulting from using the information on this blog. All activities for children require adult supervision. For further information, see the Disclaimer page.
Affiliate info: I sometimes publish endorsements and advertisements, which means that if you purchase something through one of the links here, I might receive a percentage of the sale, with no added cost to you.
As an Amazon Associate, I earn from qualifying purchases. For further information, see the Affiliation Information Page.