I'm so excited to share this free, printable Flower Shape Activity because it is such a simple and fun activity, but sharpens several important early education skills!
What is the free, printable Flower Shape Activity?
In this free, printable shape activity, kids can trace and color shapes, working on shape identification and shape drawing. Then, they can cut out the shapes, practicing scissor skills. Once cut out, kids match the shapes to the corresponding shapes on the flower vase page, and glue them on!
In summary, the three steps of the activity are:
Trace and color the flower shapes
Cut out the flower shapes
Glue the flowers onto the vase page
The end result is a beautiful flower vase picture kids are sure to be proud of and enjoy making. They likely won't have any idea they've been practicing shape identification, shape tracing, shape matching, and cutting skills!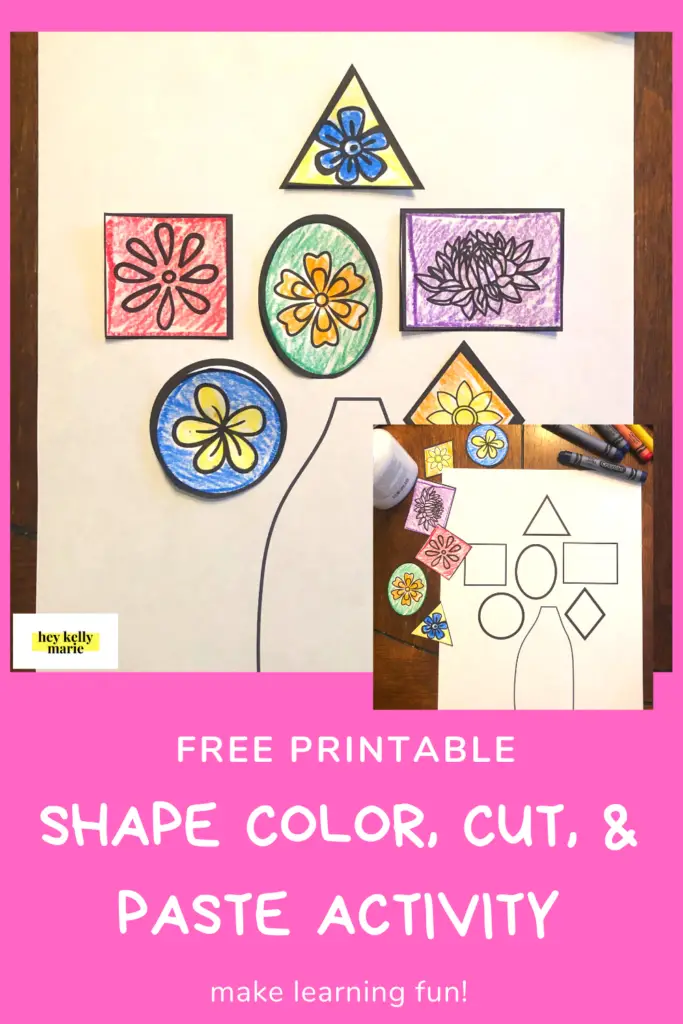 Supplies needed
For this free, printable shape activity, you need coloring supplies, child-safe scissors, and glue or a glue stick.
These are our favorite crayons and markers for this activity (affiliate links).
Get the Flower Shape Activity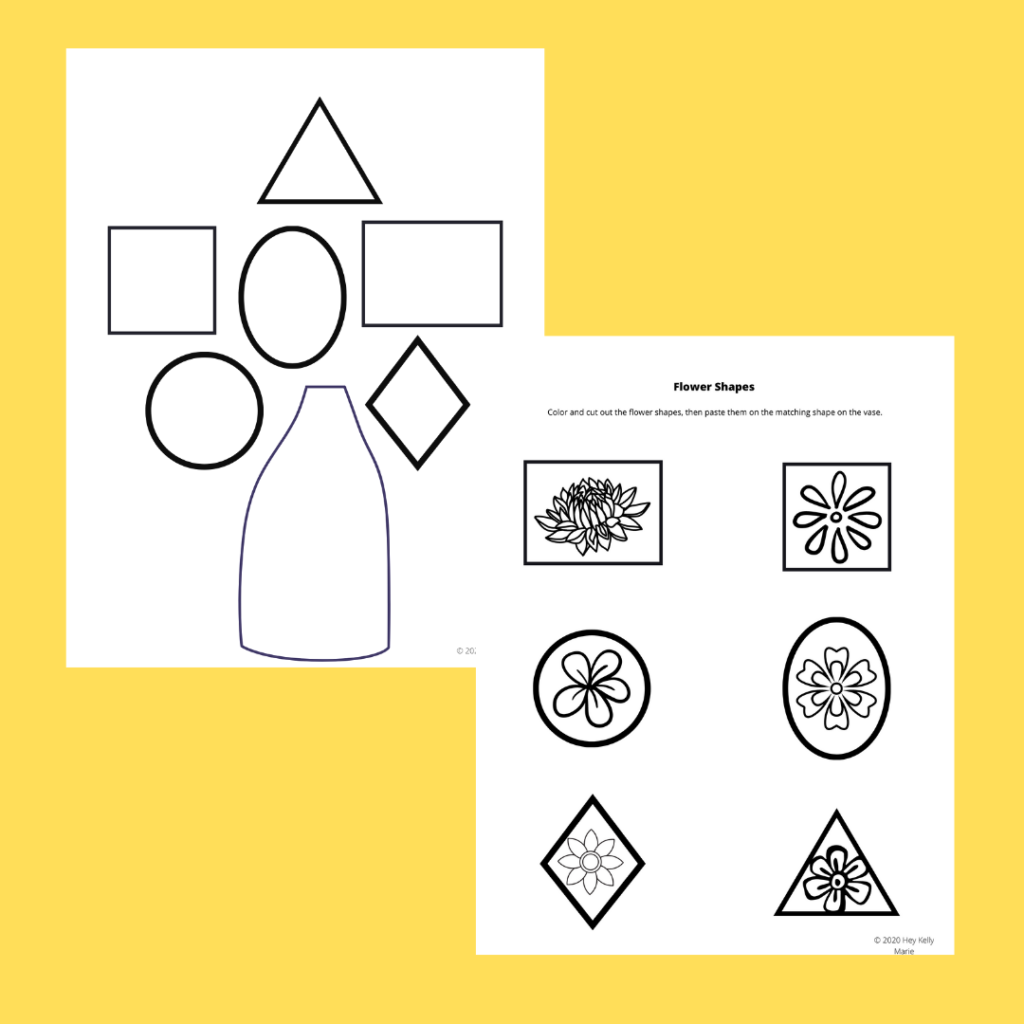 Terms and Conditions:
This activity was created by Hey Kelly Marie for personal and personal classroom use. 
2. The printable activity is copyright protected. © 2020 Hey Kelly Marie and all rights reserved.
3. This activity may not be sold, hosted, stored, or reproduced on any other site or blog.
4. Adult supervision is required for children's activities. It is up to the child's caretakers to determine what is developmentally appropriate and safe for their child. Caretakers have full responsibility for child safety and development.
To download the Flower Shape Activity, please subscribe to Hey Kelly Marie emails below. After subscribing, you'll get another email including password to my Printable Resources page. On this page, you'll find the PDF file.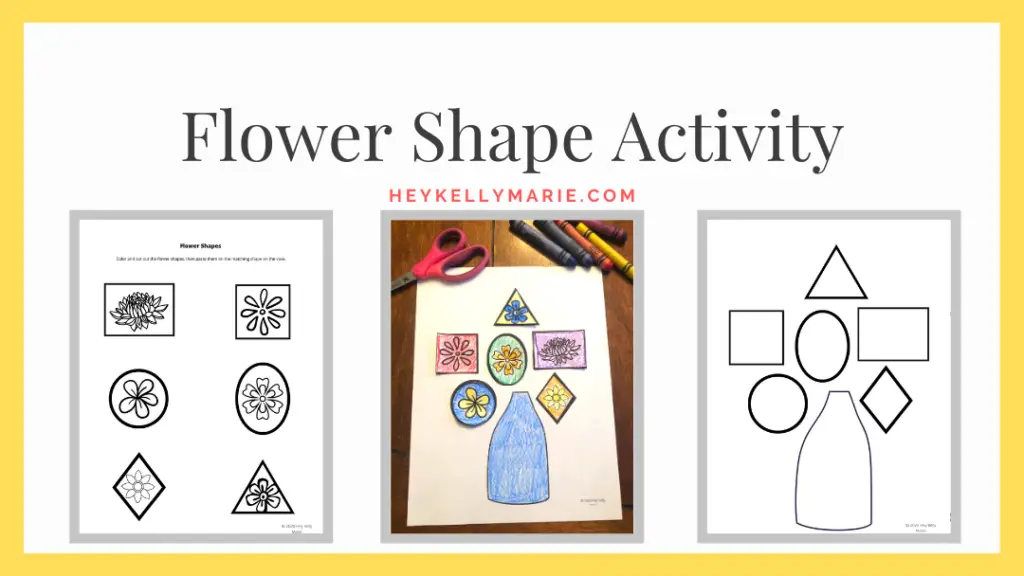 Subscribe here to access the Printable Resources Page.
Email subscribers get access to the entire Hey Kelly Marie Printable Resources Page, including the Preschool Math Workbook, Preschool Cutting Workbook, and Preschool Patterns Workbook.
I'm working on more workbooks and activities all the time, and send out weekly updates of what I've been working on. Unsubscribe at any time. No spam, promise.
Pin this post for later!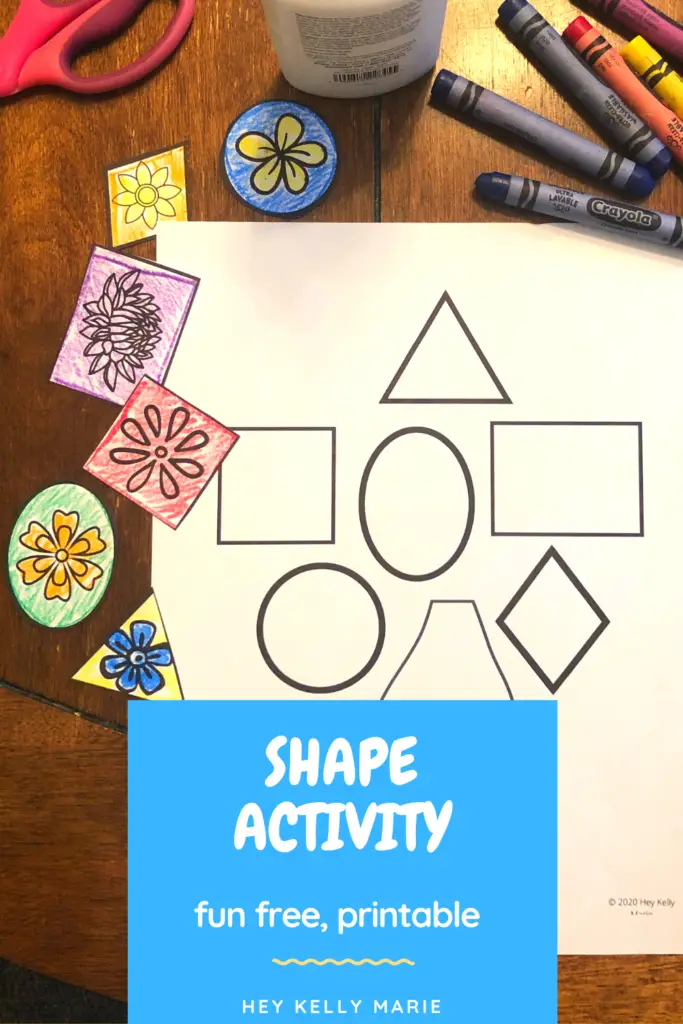 Other Free and Fun Printables
One of the most popular posts on the blog is the Free Alphabet Coloring Pages.
Also, check out the free, printable Preschool Math Workbook, Preschool Cutting Workbook, and Preschool Patterns Workbook.
Let me know how you like this free, printable shape activity!
I'd love to hear how you like this activity! Leave a comment below.
I am working on preschool resources for my email subscribers all the time. I really want to be helpful! Additionally, I love to hear your feedback, specifically on what's working the best, what's not, and what resources you're looking for.
Also, if you love it, please share it on Pinterest or another social media outlet so others can find it.
Disclaimer: The information published in this blog is for information and entertainment purposes only. I am not an expert and you should look elsewhere for advice. I am not liable for any damages resulting from using the information on this blog. All activities for children should be done with adult supervision. For further information, see the Disclaimer page.
Affiliate info: I sometimes publish endorsements and advertisements, which means that if you purchase something through one of the links here, I might receive a percentage of the sale, with no added cost to you.
As an Amazon Associate, I earn from qualifying purchases. For further information, see the Affiliation Information Page.