With cooler temperatures, colorful foliage, pumpkin picking, and trick-or-treating, fall is arguably one of the best times of the year. To celebrate all that we love about fall, I have created a fun Fall coloring page, and it's available below as an instant download.
A coloring page all things fall!
This coloring page has a variety of fall images. There's pumpkins, an acorn, leaves, apples, and corn. I hope I've included your favorite things about fall!
Favorite coloring supplies
My kids absolutely love coloring, and we've tried what seems like all of the coloring supplies out there. These are the supplies we love the most.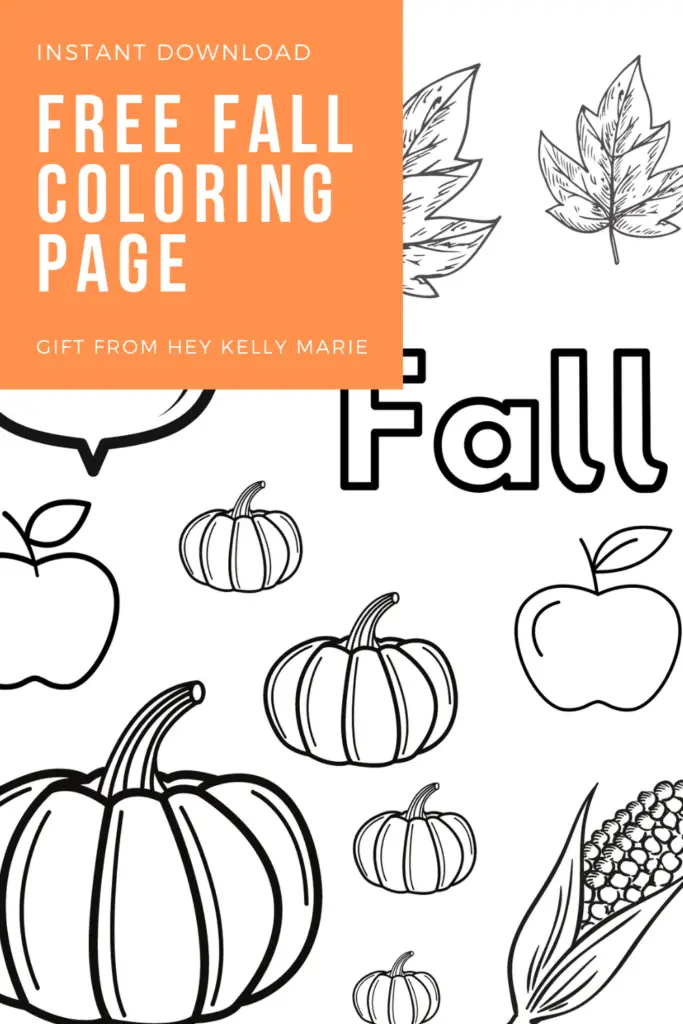 For toddlers, we love these beeswax crayons (affiliate link). One set has lasted four years, through all three of my kids during their toddler stages. I love the ingredients and the thicker size is great for little hands. 
For preschoolers, we prefer these crayons (affiliate link). They're washable and their thick size keeps them from breaking easily. 
We also love these ultra washable markers (affiliate link).
Get the Free, Printable Fall Coloring Page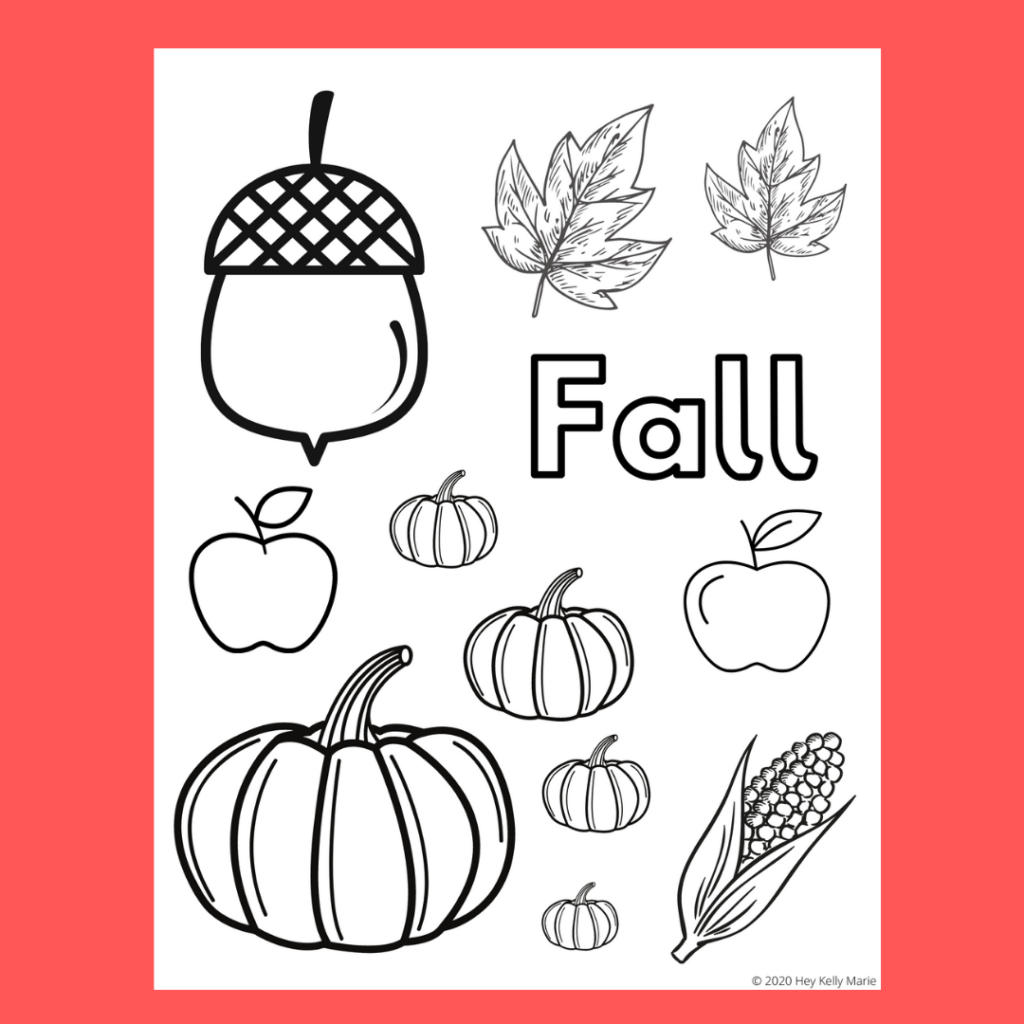 Terms and Conditions: 
This activity was created by Hey Kelly Marie for personal and personal classroom use.
The Fall coloring page is copyright protected. © 2020 Hey Kelly Marie and all rights reserved.
This coloring page may also not be sold, hosted, stored, or reproduced on any other site or blog.
Lastly, adult supervision should be provided for children's activities. It is up to the child's caretakers to determine what is developmentally appropriate and safe for their child. Caretakers have full responsibility for child safety and development.
Click on the image below or HERE to get your instant free, printable Fall Coloring Page.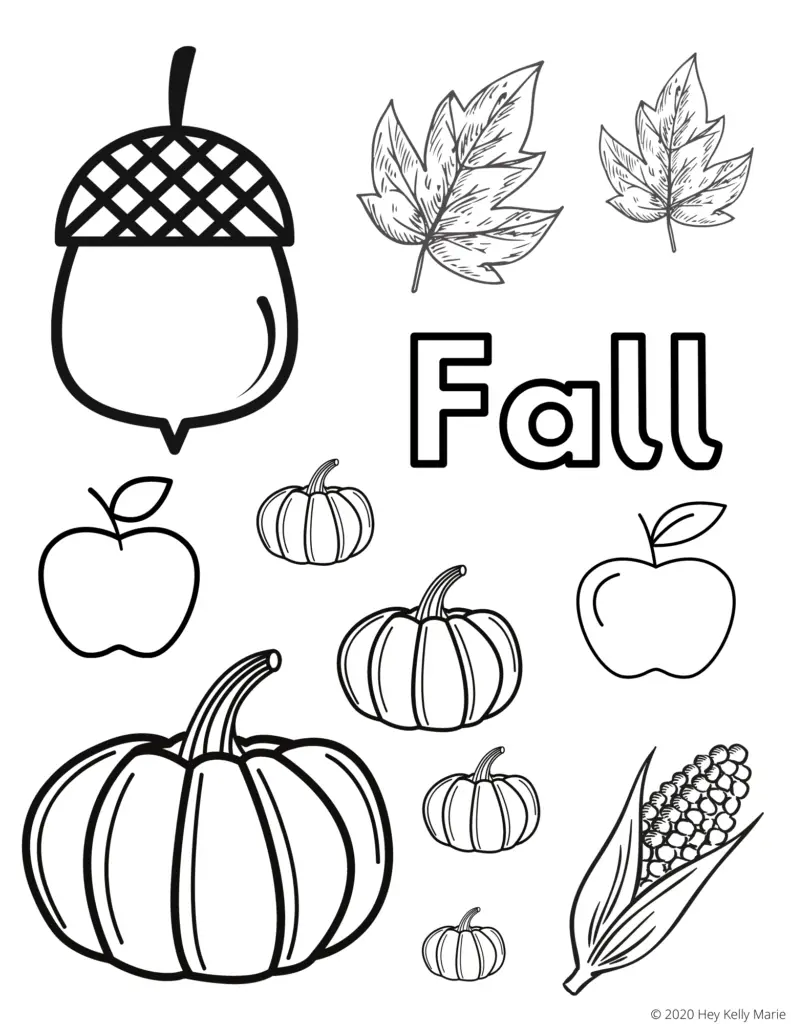 Want more free printables? Become a Hey Kelly Marie email subscriber!
Email subscribers get access to an entire library of free printable resources. Additionally, subscribers get weekly updates of new blog content. You can unsubscribe at any time. No spam, promise.
Pin this post for later!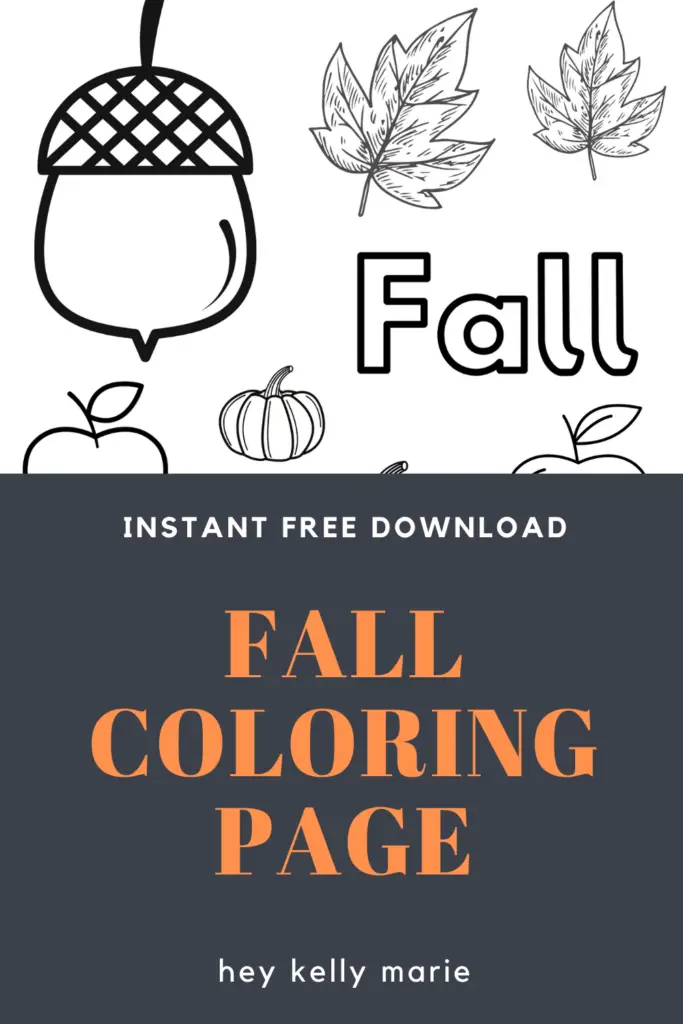 Let me know what you think about the Fall Coloring Page!
I love hearing from readers. Let me know what you think of this coloring page, and also any other ideas you have for resources I can provide! Comment below.
Other Coloring Pages from Hey Kelly Marie!
Check out the adorable and fun Halloween Coloring Pages here!
Additionally, one of the most popular posts on my blog is the Alphabet Coloring Pages where there is a fun coloring page for every letter! Check them out!
Disclaimer: The information published in this blog is for information and entertainment purposes only. I am not an expert and you should look elsewhere for advice. I am not liable for any damages resulting from using the information on this blog. All activities for children require adult supervision. For further information, see the Disclaimer page.
Affiliate Info: I sometimes publish endorsements and advertisements, which means that if you purchase something through one of the links here, I might receive a percentage of the sale, with no added cost to you.
As an Amazon Associate, I earn from qualifying purchases. For further information, see the Affiliation Information Page.