This is a great set of Free, Printable Indoor Movement Activity Cards. The cards direct kids to make easy and fun movements that are great for burning energy.
Drawing one card at a time, kids can "waddle like a duck," "fly like an airplane, " sprout like a seed," "stomp like an elephant" and much more. Kids can use their creativity to imagine how to move like the image on the cards. Additionally, they'll have an opportunity to reap the benefits of moving their bodies. There is evidence that students "move more to learn more," as movement increases circulation and oxygen to the brain, gives the brain a break to process material, and can increase energy, amongst other benefits.
Disclaimer: The information published in this blog is for information and entertainment purposes only. I am not an expert and you should look elsewhere for advice. I am not liable for any damages resulting from using the information on this blog. All activities for children require adult supervision. For further information, see the Disclaimer page.
Affiliate info: I sometimes publish endorsements and advertisements, which means that if you purchase something through one of the links here, I might receive a percentage of the sale, with no added cost to you. As an Amazon Associate, I earn from qualifying purchases. For further information, see the Affiliation Information Page.
Movement Activity Cards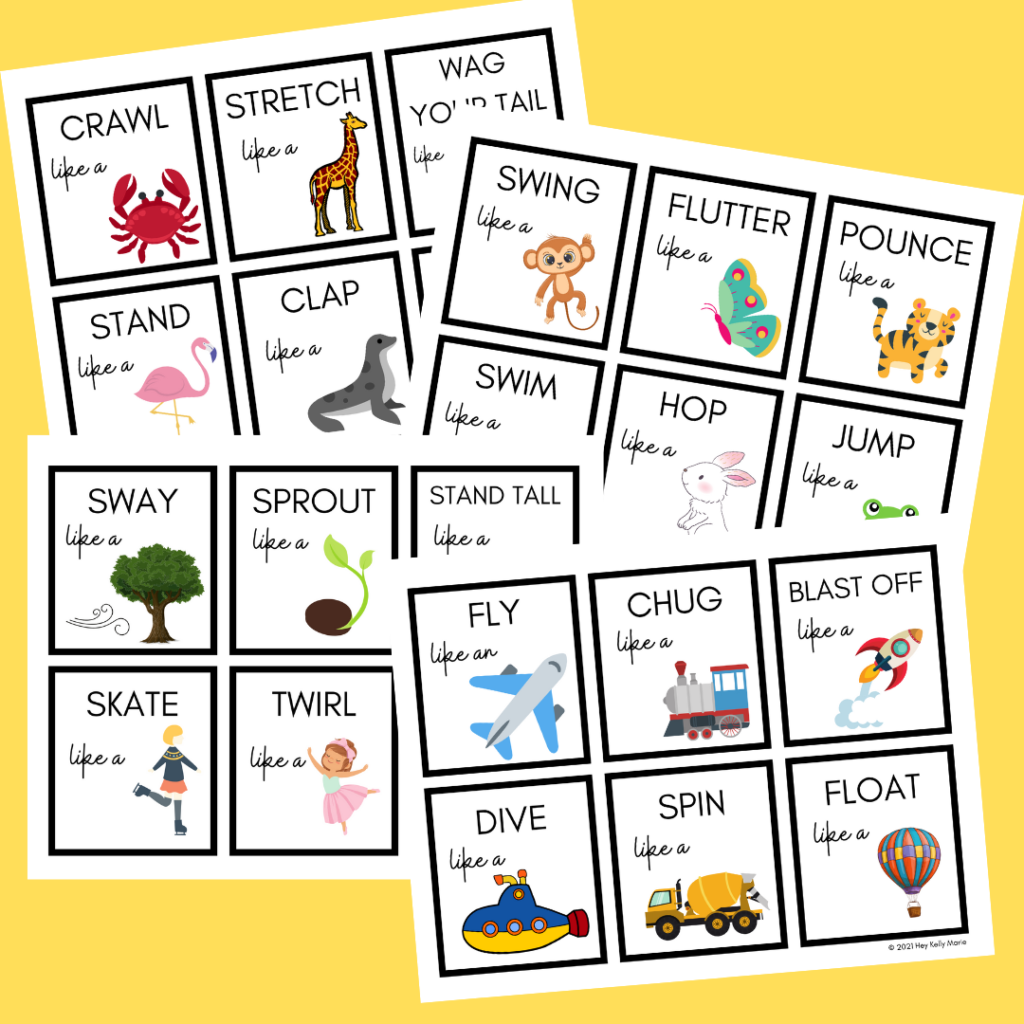 There are 30 Free, Printable Movement Activity Cards in this set. The cards refer to a wide variety of themes, with animals, plants, vehicles, and people. I chose to include a variety of themes in order to focus on the movements that I thought kids (and adults!) would enjoy doing.
To use these cards to inspire movement, kids can take turns drawing one card at a time. All the kids participating can act out the movement for 15-30 seconds before moving on to the next card. Alternatively, an adult can simply show one card at a time to a group of kids. It is probably not realistic to go through all of the movement cards at one time. Having many cards to choose from will allow for variety each time you play.
Get Your Free, Printable Indoor Movement Activity Cards
Terms and conditions:
These Free, Printable Indoor Movement Activity Cards are a creation of Hey Kelly Marie for personal and personal classroom use. 
The activities are also copyright protected. © 2021 Hey Kelly Marie and all rights reserved.
Additionally, these printable activities may not be sold, hosted, stored, or reproduced on any other site or blog.
Lastly, these children's activities require adult supervision. It is up to the child's caretakers to determine what is developmentally appropriate and safe for their child. Furthermore, caretakers have full responsibility for child safety and development.
To download the Free Printable Indoor Movement Activity, please subscribe to Hey Kelly Marie emails below, and you'll get an email including the password to my Printable Resources page. On this page, you'll find the PDF movement cards. 
Subscribe here for your movement idea cards.
Email subscribers get access to the entire Hey Kelly Marie Printable Resources Library, including the Preschool Math Workbook, Preschool Cutting Workbook, and Preschool Patterns Workbook.
I'm working on more workbooks and activities all the time, and I share them weekly with subscribers. You can also unsubscribe at any time. No spam, promise.
More Movement Activities for Kids
If you're interested in gathering more movement activities for kids, check out this post of Indoor Movement Activities for Preschoolers.
Let me know what you think!
I love hearing from readers and I want to know what you think of this free, printable resource. Please leave a comment below. You are also welcome to email me any time at heykellymarie@gmail.com.