Preschoolers love to move! And when the weather isn't cooperating, these Indoor Movement Activities for Preschoolers are a great way to burn some energy.
Indoor movement activities are a great tool
When it's sweltering, freezing, raining, or snowing, we are often stuck inside with our little ones. I have also often been stuck inside with my older children while a younger one is napping. In these instances, it's great to use indoor movement activities to allow kids to get their energy out.
I know my kids are generally happier when they've had an opportunity to move, but research also shows a link between cognitive development and movement. This article spells out several reasons to incorporate movement throughout learning activities.
There are lots of ways to get kids moving. Here are seven indoor movement ideas for preschoolers!
Disclaimer: The information published in this blog is for information and entertainment purposes only. I am not an expert (in child education or anything else) and you should look elsewhere for advice. There is no guarantee of gaining any specific skill from using my resources. I am not liable for any damages resulting from using the information on this blog. All activities for children require adult supervision. For further information, see the Disclaimer page.
Affiliate info: I sometimes publish endorsements and advertisements, which means that if you purchase something through one of the links here, I might receive a percentage of the sale, with no added cost to you. As an Amazon Associate, I earn from qualifying purchases. For further information, see the Affiliation Information Page.
1. Dance Action Songs
These dance action songs are a great way to get kids up and moving with little to no preparation.
Let's Get Fit: Count to 100 by 1's by Jack Hartmann
Stand Up, Sit Down by Patty Shukla
The Hokey Pokey, Jack Hartmann
2. Indoor Obstacle Course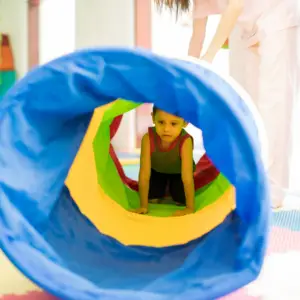 An indoor obstacle course is a great way to get kids moving. There are tons of movements to incorporate into your obstacle course. I encourage you to look at what you have in your environment and come up with ideas from there. Of course, always keep safety and the developmental stage of your child in mind.
Here are some common ideas to include in your obstacle course.
Balloon waddle: Place a balloon in between the child's legs and walk from a designated starting point to ending point.
Crab walk
Spoon race with a cotton ball
Crawl through a tunnel (affiliate link)
Plastic cones to run around (affiliate link)
Line of tape to balance on
Here is a set of Free, Printable Movement Cards for Kids. These cards direct kids to "waddle like a duck," "spin like a cement mixer," or "stretch like a giraffe." They are incredibly easy to use as kids can pick one card at a time.
Additionally, the cards have fun images, so kids do not necessarily need to read to understand what the card is saying.
This Alphabet Find Learning Activity from Busy Toddler is always a hit with my kids. An adult writes letters on pieces of paper and using tape, attaches them to walls all over the house. Once all the letters are placed, the adult can call out one letter at a time while the child(ren) retrieve them. As a bonus, this activity works on letter recognition skills.
5. Don't Let the Balloon Touch the Ground
This is a classic activity for good reason. Blow up a balloon and instruct kids to keep it from touching the ground. If there are many children playing, consider using more than one balloon at a time.
By rolling two of these activity dice from The Inspiration Board, kids are instructed to act out one movement for a specific length of time. Kids can take turns rolling the dice.
7. Hide and Seek
Does hide and seek ever get old? Don't underestimate the fun of this activity! Kids can take turns hiding from one another. Alternatively, an adult can hide a designated stuffed animal and the kids can look for it together.
What do you think of these indoor movement activities?
I'd love to know what you think of these indoor movement activities. Will you try any of these activities? Additionally, is there another activity I should add to the list? Please leave a comment below.