I am thrilled to share this set of Free, Printable Letter Picture Cards. This is a set of four picture cards for every letter of the alphabet. Kids can color them and cut them out to practice beginning letter sounds.
Disclaimer: The information published in this blog is for information and entertainment purposes only. I am not an expert (in child education or anything else) and you should look elsewhere for advice. There is no guarantee of gaining any specific skill from using my resources. I am not liable for any damages resulting from using the information on this blog. All activities for children require adult supervision. For further information, see the Disclaimer page.
Affiliate info: I sometimes publish endorsements and advertisements, which means that if you purchase something through one of the links here, I might receive a percentage of the sale, with no added cost to you. As an Amazon Associate, I earn from qualifying purchases. For further information, see the Affiliation Information Page.
What are Free, Printable Letter Picture Cards?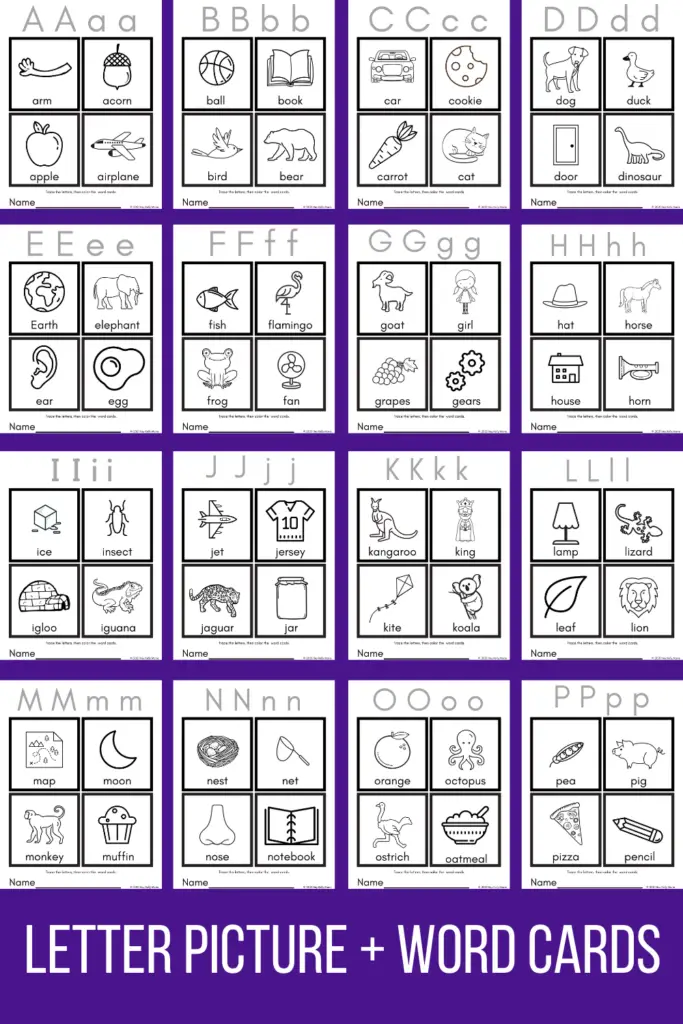 The Printable Letter Picture Cards are designed very simply so that kids can focus on the letter sounds! There is one printable page dedicated to every letter of the alphabet. On each page, there are two upper case and lower case letters at the top. Kids can trace the letters to practice writing letters.
There are also four picture cards, each with a fun image and word that starts with that letter sound. Kids can say each word and recognize the repeating letter sound. Kids can also have fun coloring the picture cards.
Additionally, the picture cards can be cut up and used to play letter sounds games with an adult. In one easy game, an adult can present three cards. Two of the cards have the same letter sound, while one card has another letter sound. The adult can ask the child which one has a different beginning sound.
Other Alphabet and Letter Activities from Hey Kelly Marie
Alphabet activities are some of the most popular on Hey Kelly Marie. Here are a few that are great:
Get Your Free Printable Letter Picture Cards
Terms and Conditions:
By downloading the Printable Letter Cards, you accept these terms and conditions. 
These letter cards were created by Hey Kelly Marie for personal and personal classroom use. 
The letter cards are also copyright protected. © 2021 Hey Kelly Marie and all rights reserved.
Additionally, these cards may not be sold, hosted, stored, or reproduced on any other site or blog.
Lastly, adult supervision is required for children's activities. It is up to the child's caretakers to determine what is developmentally appropriate and safe for their child. Caretakers have full responsibility for child safety and development.
To download the Free Printable Letter Cards, please subscribe to Hey Kelly Marie emails below. After subscribing, you'll quickly get a subsequent email including the password to the Printable Resources page. On this page, you'll find the PDF letter cards.
Subscribe here for your letter cards.
Email subscribers get access to the entire Hey Kelly Marie Printable Resources Library, including the Preschool Math Workbook, Preschool Cutting Workbook, and Preschool Patterns Workbook.
I'm working on more workbooks and activities all the time, and I share them weekly with subscribers. You can unsubscribe at any time. No spam, promise.
I want your feedback!
I want to know what you think of these alphabet picture cards. How are you going to use them? Is there a way that you'd like to see them changed or improved? Please leave a comment at the end of the post!