I have created an awesome set of Free Garden Store Dramatic Play Printables for awesome pretend play at school or at home. These printables include a welcome sign, garden store staff badges, flowers, trees, and seeds to sell and more! These printables are a start to a great garden store play center for the kids in your life.
Disclaimer: The information published in this blog is for information and entertainment purposes only. I am not an expert and you should look elsewhere for advice. I am not liable for any damages resulting from using the information on this blog. All activities for children require adult supervision. For further information, see the Disclaimer page.
Affiliate Links: I sometimes publish endorsements and advertisements, which means that if you purchase something through one of the links here, I might receive a percentage of the sale, with no added cost to you.As an Amazon Associate, I earn from qualifying purchases. For further information, see the Affiliation Information Page.
Free, Printable Garden Store Dramatic Play Printables
This set of 17 Free Garden Store Dramatic Play printables contains everything I could think of to create a wonderful garden play center for kids. The free printables include:
Welcome to the Garden Store sign
The Garden Store is Open/Closed signs
Flowers, Vegetables, and Tools Shelf Signs
Trees, Pots, and Soil Signs
Please Pay Here Cashier Sign
Nursery Staff Badges
Flowers to Sell
Tree to Sell
Second Tree to Sell
Third Tree to Sell
Flower Seed Packets
Herb Seed Packets
Vegetable Seed Packets
Soil Bag to Sell
Tomato Plants to Sell
One Dollar Bills for Cashier Station
Five Dollar Bills for Cashier Station



Ideas on How to Use the Garden Store Dramatic Play Printables
Here are some ideas on how to use the Garden Store Dramatic Play Printables. Of course, there is no "right way" and I encourage you to do what works for you with materials you already have! Additionally, I'd love to hear about how you use these printable resources. Please leave a comment below.
Use cardboard tubes (like recycled paper towel rolls) to stand up trees and tomato plants.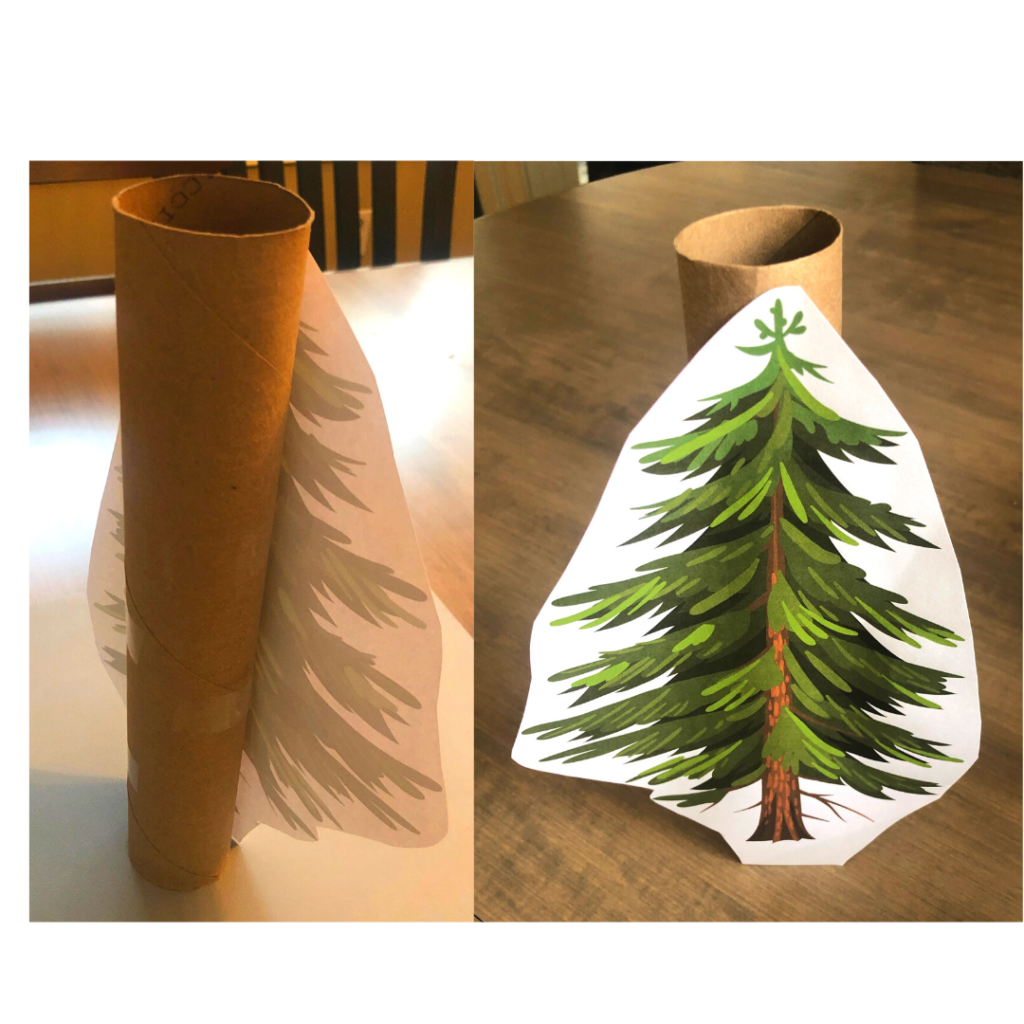 Attaching the tree and tomato plant printables to cardboard tubes is a great way to get them to stand up for your garden play center. I loosely cut around the trees and vegetables and then attached them to the cardboard tubes with tape. I think for younger kids that might have trouble standing up a cardboard tube, attaching the trees and vegetables to recycled cardboard boxes (i.e. cereal boxes) is a great alternative.
Brown paper bags make great pretend soil bags.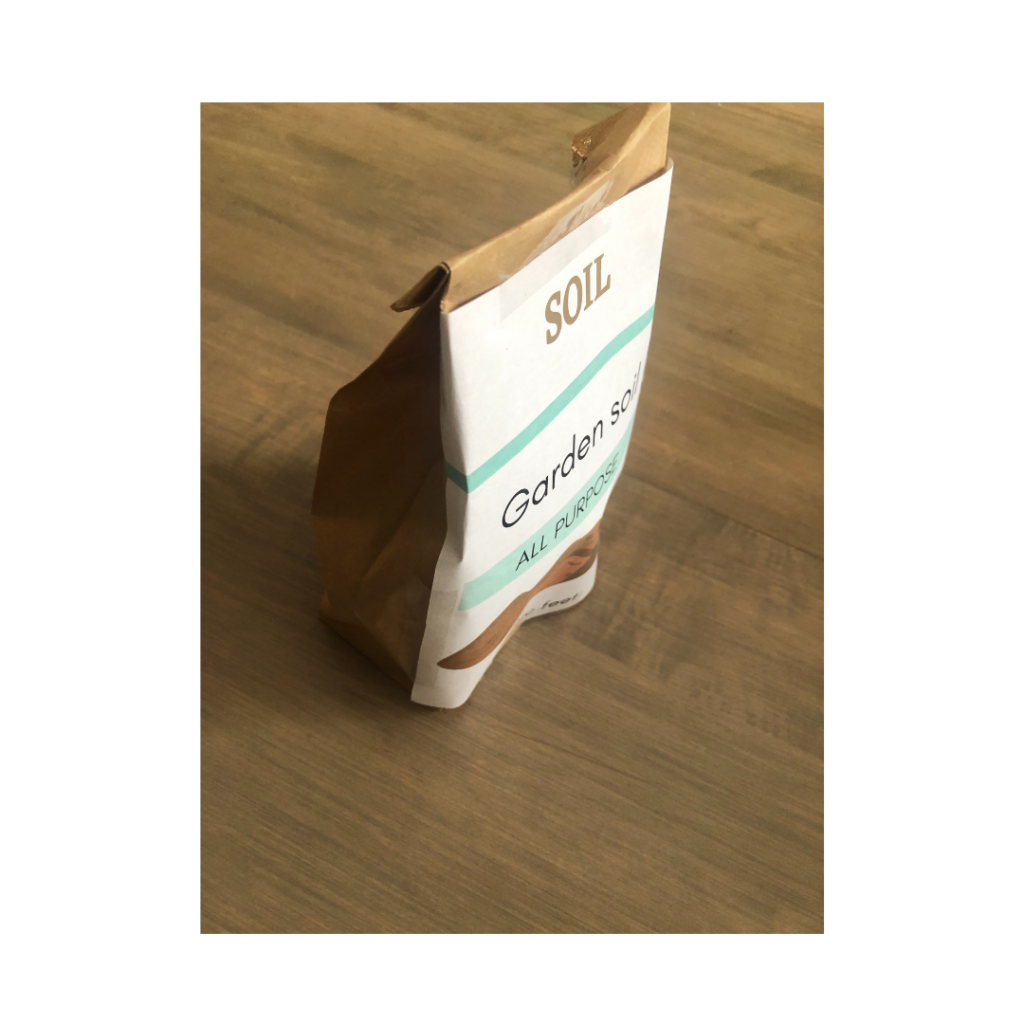 To create soil bags for the pretend garden store, I stuffed a brown paper lunch bag (affiliate link) with newspaper and taped the soil printable to the outside.
Attach seed packet printables to brown paper bags for a more substantial prop.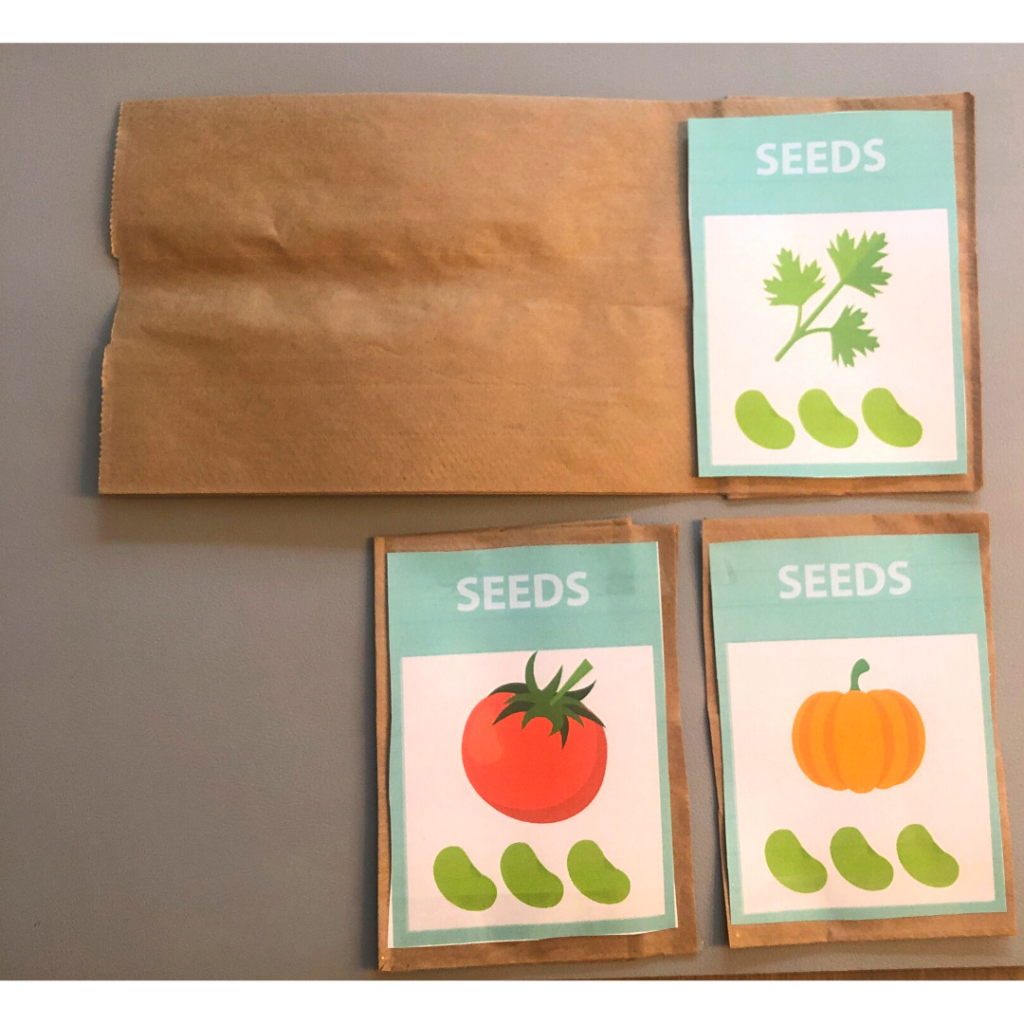 I also cut brown paper bags (affiliate link) into three equal pieces and attached each seed packet with tape. This process created a more substantial seed packet for kids to play with.
Use wooden craft sticks and a recycled egg carton to make a flower stand.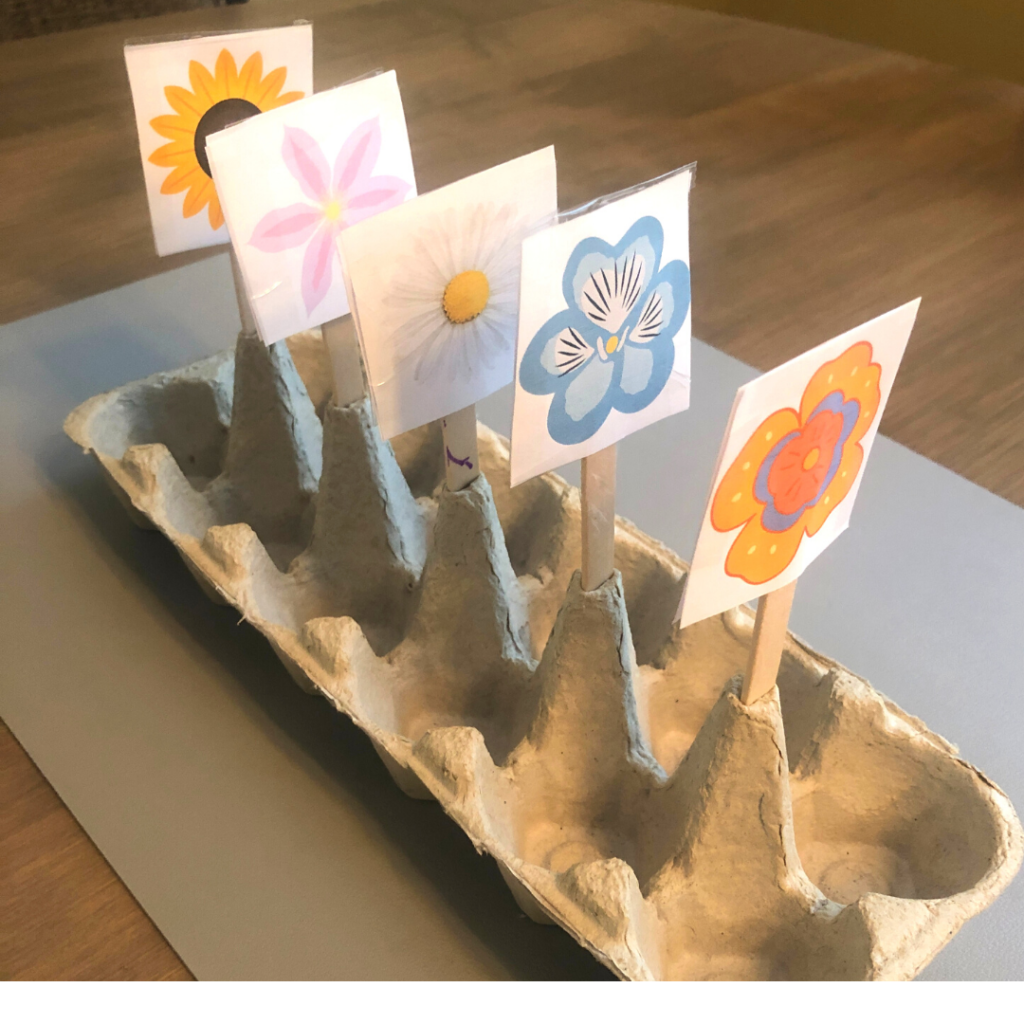 To make adorable flowers for our pretend garden stand, I cut out individual flowers from the flower printable and attached them to the ends of wooden craft sticks (affiliate link) with tape.
Once they were secure, I needed a stand for them. The bottom of an egg carton works perfectly when the ends of the popsicle stick are stuck through the peaks down the middle of the egg carton. The flowers can be easily taken out and replaced in this stand!
The recycled egg carton provides a spot for five flowers. You can obviously add more egg cartons if you wish to have more flowers in your dramatic play garden center.
Additional props to kick up your Garden Store Dramatic Play Center a notch!
There are some super fun kids' toys, costumes, and office supplies that might also enhance garden store play. Here they are.
Get Your Free Garden Store Dramatic Play Printables
Terms and conditions:
By downloading the Garden Store printables, you accept these terms and conditions. 
This printable resource was created by Hey Kelly Marie to be used for personal use. 
These printable resources are copyright protected. © 2021 Hey Kelly Marie and all rights reserved.
Additionally, this printable resource may not be sold, hosted, stored, or reproduced on any other site or blog.
Adult supervision should be provided for children's activities. It is up to the child's caretakers to determine what is developmentally appropriate and safe for their child. Caretakers have full responsibility for child safety and development.
To download the Garden Store Dramatic Play Printable Pages, please subscribe to Hey Kelly Marie emails below. After subscribing, you'll get another email including password to my Printable Resources page. On this page, you'll find the PDF file.
Subscribe here for your printable.
Email subscribers get access to the entire Hey Kelly Marie Printable Library.
I'm working on more articles and resources all the time and I also send out weekly updates of what I've been working on. You can also unsubscribe at any time. No spam, promise.
Other Dramatic Play Printables from Hey Kelly Marie
I have created several great sets of printable resources for dramatic play. In addition to getting access to the garden store dramatic play printables, email subscribers also have access to Doctor/ Hospital Dramatic Play printables, Library Dramatic Play printables, and Zoo Dramatic Play printables.
Let me know what you think!
I'd love to hear what you think of these pretend Garden Store Printable Resources. Did you find a creative way to use them that I didn't think of? Also, did your kids enjoy playing with them? Leave a comment below.