About a year ago, I learned about the magic of dot stickers for kids' activities. To keep the party going, I have created Free Printable Dot Sticker Art Activities for kids.
The concept is fun and simple. Using 3/4 inch red, yellow, blue, and green dot stickers (affiliate link), kids apply stickers according to a key to create a colorful image!
In hopes of targeting a wide variety of interests, I have created ELEVEN free, printable dot sticker art activity pages. There is a house, rainbow, drill, egg, flower, truck, and more.

Disclaimer: The information published in this blog is for information and entertainment purposes only. I am not an expert and you should look elsewhere for advice. I am not liable for any damages resulting from using the information on this blog. All activities for children require adult supervision. For further information, see the Disclaimer page.
Affiliate info: I sometimes publish endorsements and advertisements, which means that if you purchase something through one of the links here, I might receive a percentage of the sale, with no added cost to you. As an Amazon Associate, I earn from qualifying purchases. For further information, see the Affiliation Information Page.
How to Use Free Dot Sticker Art pages
To use these free Dot Sticker Art pages, you'll first need to print the pages. You'll find directions on how to download and print the PDF files below in the section "Get Your Free Dot Sticker Art Pages."
After printing, kids use red, yellow, blue, and green 3/4 inch dot stickers (affiliate link) to fill in the pictures.
Dot Sticker Tip!
I can't remember where I learned this trick, but it has made sticker activities with my kids much easier. Removing the sticker backing makes it easier for kids to peel stickers off the page.
These 3/4 inch dot stickers (affiliate link) work well with this printable activity and have a white backing that peels off easily into strips (see picture below). It takes an extra second to remove the back, but I think it's worth it!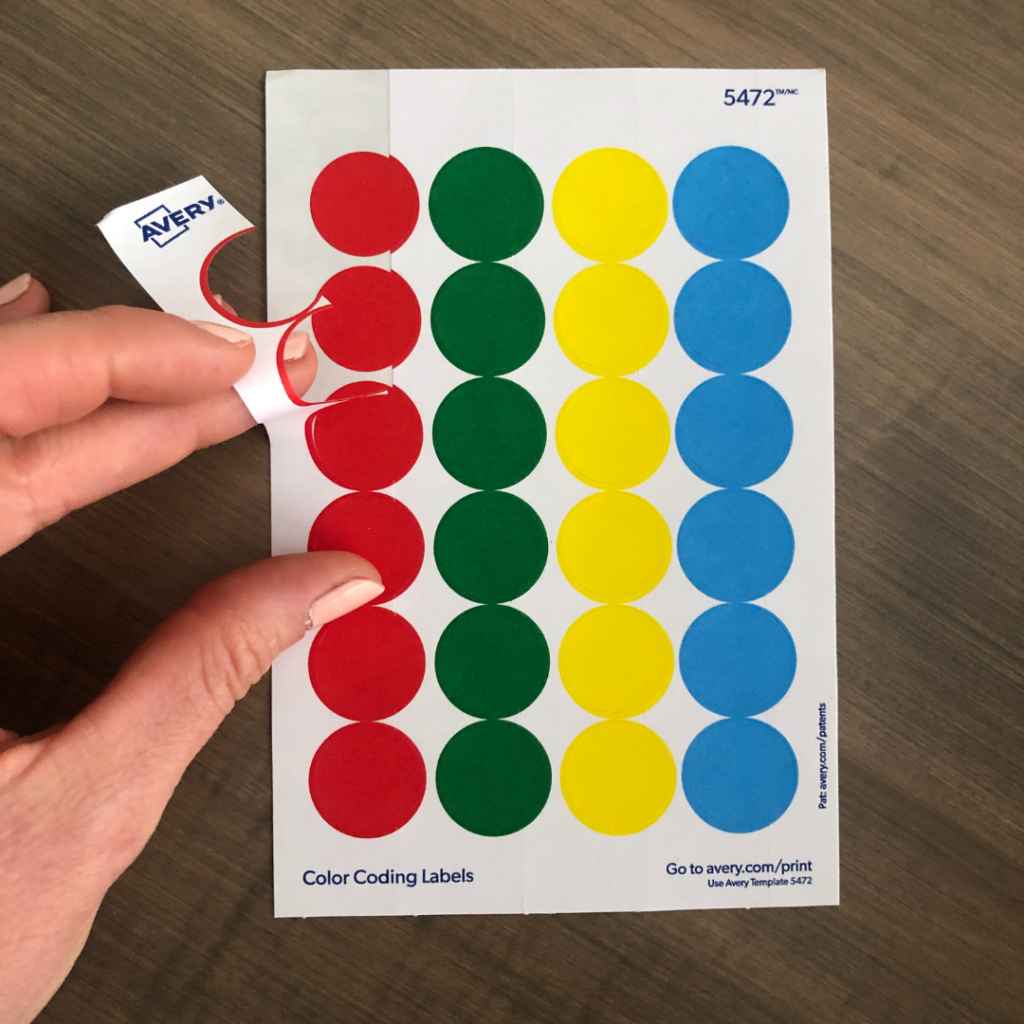 Dot Sticker Art Practices Fine Motor Skills
Did you know that working with stickers helps kids develop fine motor skills? Peeling stickers off of the sheet is great for fine motor skill development. Additionally, placing the sticker onto another piece of paper develops hand control.
Get Your Free Dot Sticker Art Pages
Terms and conditions:
These Free Dot Sticker Art Activities were created by Hey Kelly Marie for personal and personal classroom use. 
The activities are also copyright protected. © 2021 Hey Kelly Marie and all rights reserved.
Additionally, these printable activities may not be sold, hosted, stored, or reproduced on any other site or blog.
Lastly, adult supervision is required for children's activities. It is up to the child's caretakers to determine what is developmentally appropriate and safe for their child. Caretakers have full responsibility for child safety and development.
To download the Free Dot Sticker Art Activities, please subscribe to Hey Kelly Marie emails below, and you'll get an email including the password to my Printable Resources page. On this page, you'll find the PDF activity pages. 
Subscribe here for your activity pages.
Email subscribers get access to the entire Hey Kelly Marie Printable Resources Library, including the Preschool Math Workbook, Preschool Cutting Workbook, and Preschool Patterns Workbook.
I'm working on more workbooks and activities all the time, and I share them weekly with subscribers. You can unsubscribe at any time. No spam, promise.
Let me know what you think!
I love hearing from readers and would love to know what you think of this activity. Did your kids enjoy it? Is there a way I can improve it? Leave a comment below.