Here in Kentucky, we're seeing the first signs of spring and my kids are asking tons of questions about the changing seasons. I created four Free Seasons Coloring Pages to celebrate spring, summer, fall, and winter and to help kids learn about seasons and weather. I am excited to share them with you!
Disclaimer: The information published in this blog is for information and entertainment purposes only. I am not an expert and you should look elsewhere for advice. I am not liable for any damages resulting from using the information on this blog. All activities for children require adult supervision. For further information, see the Disclaimer page.
Affiliate info: I sometimes publish endorsements and advertisements, which means that if you purchase something through one of the links here, I might receive a percentage of the sale, with no added cost to you. As an Amazon Associate, I earn from qualifying purchases. For further information, see the Affiliation Information Page.
Preschoolers are Curious about the Four Seasons
As the weather is starting to change from winter to very early spring here in Kentucky, our kids are asking lots of questions about the seasons and weather. They want to know why we choose different clothes when the temperature is higher. They are noticing the tulips coming up in our yard and buds on trees. I love cultivating curiosity in my kids, and want to help them find answers to their questions.
There are plenty of awesome resources available to teach preschoolers about the seasons and weather, and I have compiled a few here that stuck out to me.
Pre-K Pages has an extensive list of Activities for Exploring the Four Seasons.
The 4 Seasons Cute Printable Tree Book from A Little Pinch of Perfect is an adorable activity that I plan to do with my kids this weekend.
When we do a printable activity, I will often add a short informational video or a book about the same topic. Why are there Seasons? by SciShow Kids is really informative, and The Seasons Song by Have Fun Teaching is a really catchy song and video that walks through the hallmarks often seen in each season.
There are so many books about seasons for kids with amazing reviews. Here is a list of the titles that look awesome (affiliate links):
I'd love to hear about any season and weather activities, books, and videos that you like. Leave a comment below or contact me at heykellymarie@gmail.com.
What are the Seasons Coloring Pages?
The Seasons Coloring Pages are four free, printable coloring sheets, each with images of items often seen in that season. Obviously the seasons vary based on location, so the images may not fit the weather exactly where you live.
It might be a great conversation starter to talk about the seasons where you live as compared to other places, like where a family member or grandparent lives, or a destination you have visited previously.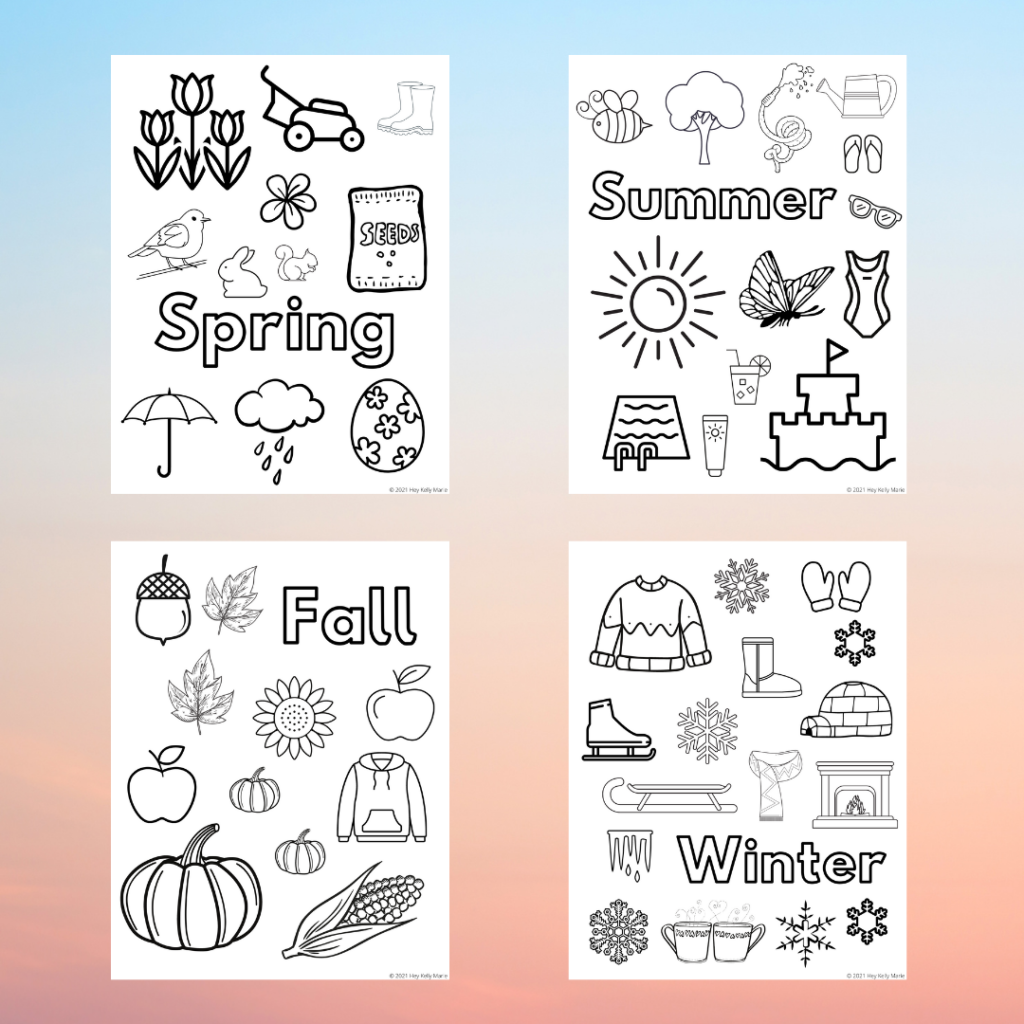 The spring coloring page has images of a lawn mower, rabbit, tulips blooming, rain, umbrella, Easter egg, and more.
The summer coloring page has images of a swimming pool, sun, sunglasses, sunscreen, swimsuit, and so on.
Also, the fall coloring page includes images of pumpkins, apples, leaves, a sweatshirt, and corn.
The winter coloring page has images of snowflakes, ice skates, mittens, scarf, sled, and fireplace.
Our Favorite Coloring Supplies
These markers and crayons are our long time favorite coloring supplies. We also recently purchased this set of markers and my kids love the wide variety of color choices.
Also, for small toddlers, I like these beeswax crayons. One set has lasted all three of my kids through their toddlers years.
Get Your Seasons Coloring Pages
Terms and conditions:
By downloading the Seasons Coloring Pages, you accept these terms and conditions. 
This printable resource was created by Hey Kelly Marie to be used for personal use. 
The Seasons Coloring Book is copyright protected. © 2021 Hey Kelly Marie and all rights reserved.
This printable resource may not be sold, hosted, stored, or reproduced on any other site or blog.
Adult supervision is required for children's activities. It is up to the child's caretakers to determine what is developmentally appropriate and safe for their child. Caretakers have full responsibility for child safety and development.
To download the Seasons Coloring Pages, please subscribe to Hey Kelly Marie emails below. Once you confirm your subscription, you'll get another email including password to my Printable Resources page. On this page, you'll find the PDF file.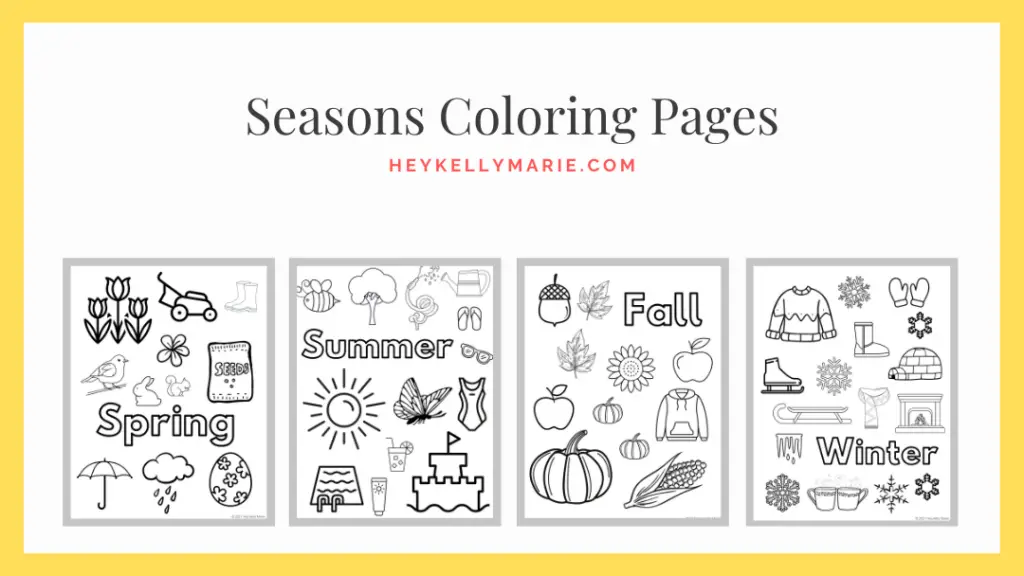 Subscribe here for your printable.
Email subscribers get access to the entire Hey Kelly Marie Printable Library.
I'm working on more articles and resources all the time and I send out weekly updates of what I've been working on. You can also unsubscribe at any time. No spam, promise.
Other free printables from Hey Kelly Marie
One of the most popular printable resources on the blog are the Alphabet Coloring Pages.
Also check out the Design My Own Fish Bowl Activity.
What do you think of the Seasons Coloring Pages?
I'd love to hear what you think of the Seasons Coloring Sheets. Did they inspire weather and season conversations with your kids? Is there a related activity that you'd like me to make? Leave a comment below.
Pin this post!
Sharing this post on social media helps you save it for later, and is a great way to support my blog. It helps other people to find the post!