My five year old twins love making puppets. Paper bag puppets are fun to make, but they are an especially great craft project because once the puppets are made, kids can play with them. Puppets inspire all types of imaginative play, and I'm here for it! We all enjoy these Make Your Own Princess and Prince Puppets and I'm thrilled to share them with you.
Disclaimer: The information published in this blog is for information and entertainment purposes only. I am not an expert and you should look elsewhere for advice. I am not liable for any damages resulting from using the information on this blog. All activities for children require adult supervision. For further information, see the Disclaimer page.
Affiliate Info: I sometimes publish endorsements and advertisements, which means that if you purchase something through one of the links here, I might receive a percentage of the sale, with no added cost to you. As an Amazon Associate, I earn from qualifying purchases. For further information, see the Affiliation Information Page.
Make Your Own Princess and Prince Puppets

These puppets are so fun to make. Once you've gathered supplies, kids color all the parts of the puppet, including the faces, bodies, and optional accessories.
The prince puppet and princess puppet each have accessories that kids can use to dress up their puppet and make them their own. The prince puppet has an additional sash, horn, and cat, while the princess puppet has a clutch, earrings, dog, and necklace. These are interchangeable and entirely optional. Your kids can make their puppets however they like.
After coloring, kids can cut out the pieces. My five year olds had difficulty cutting the detailed items out perfectly, so I had them cut out the general shapes.
Once the pieces are all cut out, it's time to assemble the puppets! Use glue or a glue stick to attach the puppet pieces to the paper bag. The faces go on the bottom of the paper bag, which ends up being the top flap of the puppet, and the bodies go just under the flap. Accessories can be placed anywhere!
Now, it's time to play with the puppets! Once the glue is dry, kids can act out any scene they can imagine.
Supplies needed to make your own princess and prince puppets
To make your own princess and prince puppets, you'll need:
paper bags: There are all different kinds available, but we just used regular brown paper lunch bags.
coloring supplies: We used these markers (affiliate link) because of the variety of colors available. They're new to us, but we really like them so far.
child-safe scissors
glue or glue sticks: I bought these glue sticks (affiliate link) in bulk some time ago and it's been really convenient to have a large stash around.
Get Your Prince and Princess Puppet Printable Template
Terms and Conditions: 
By downloading the Prince and Princess Puppet Printable Template, you accept these terms and conditions. 
This template is a creation of Hey Kelly Marie for personal and personal classroom use. 
Additionally, this activity is copyright protected. © 2020 Hey Kelly Marie and all rights reserved.
This activity PDF may also not be sold, hosted, stored, or reproduced on any other site or blog.
Furthermore, adult supervision should be provided for children's activities. It is up to the child's caretakers to determine what is developmentally appropriate and safe for their child. Caretakers have full responsibility for child safety and development.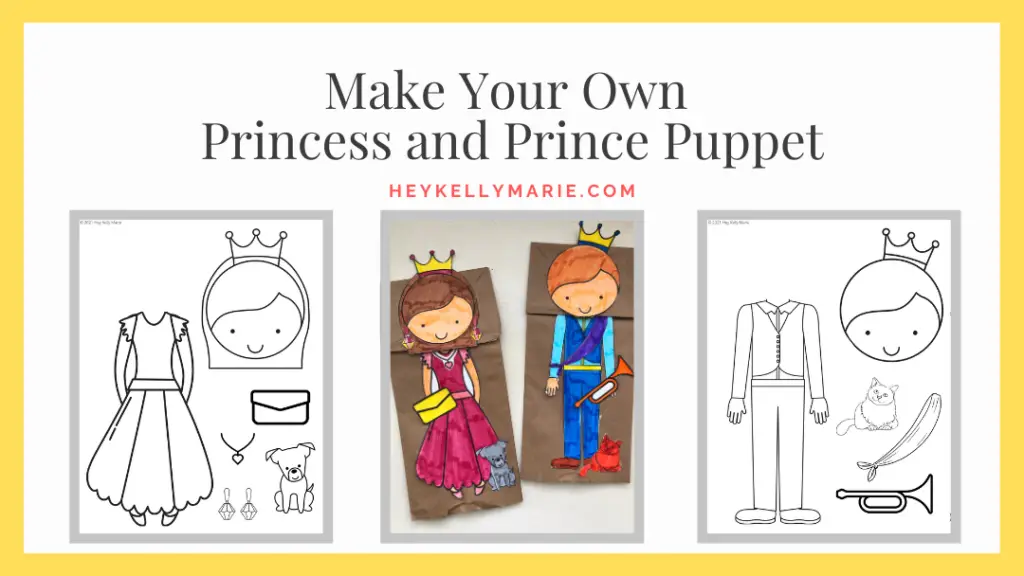 To download the Prince and Princess Puppet Printable Template, please subscribe to Hey Kelly Marie emails below. After subscribing, you'll get another email including the password to my Printable Resources page. On this page, you'll find the PDF activity file.
Subscribe here for access to the Princess and Prince Puppet PDF.
Pin this post!
Sharing this post on Pinterest in an awesome way to support the blog. It helps other people find the resources here.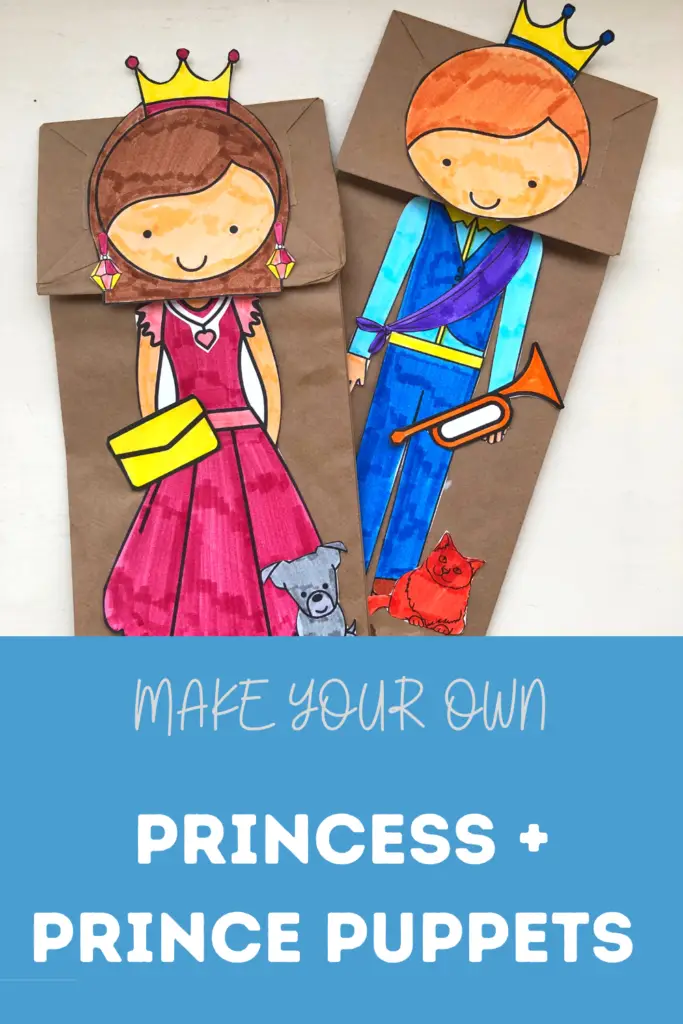 I love your feedback!
I want to hear what you think of these Make Your Own Prince and Princess Puppets. Did your kids enjoy them? Would your kids like more royal character puppet templates to make? My son has already put in a request for superhero puppets, so that may be coming in the near future. Leave a comment below to let me know your thoughts!
More from Hey Kelly Marie
If you love this craft project, you should check out Design My Own Fishbowl Activity and Printable Flower Shape Activity.
The Free, Printable Alphabet Coloring pages are also super popular.