Today, I'm sharing an awesome set of free, printable A-Z Letter Tracing Pages for early learners. There's a page devoted to every letter and additional lined writing pages for further practice. I hope your kids use and love them to practice writing this year!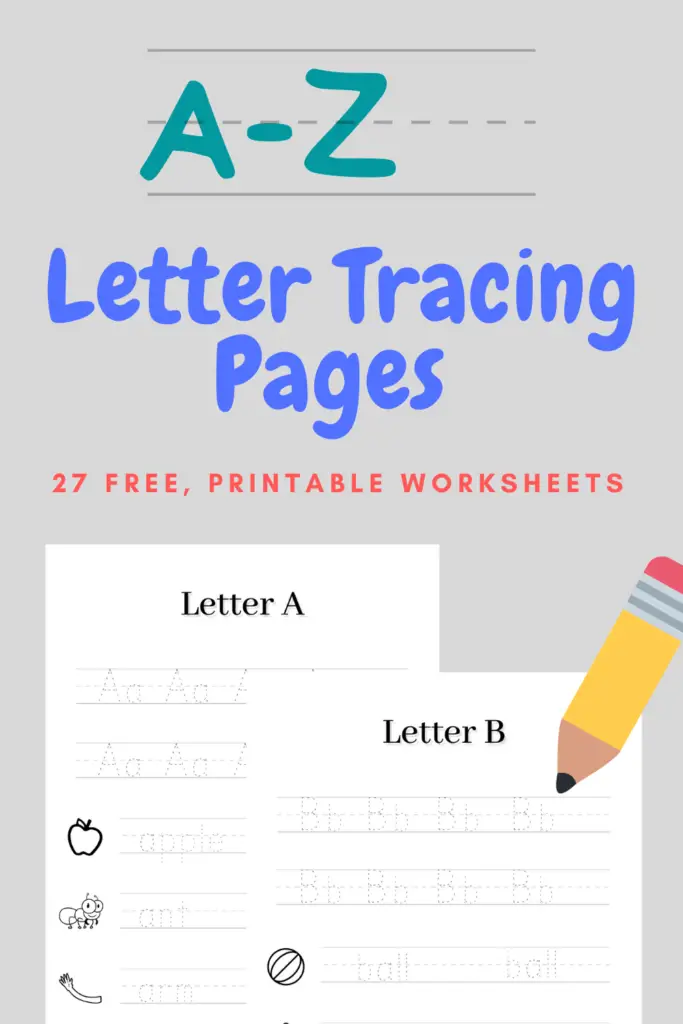 What activities are present in the A-Z Letter Tracing Pages?
Each page covers one letter and includes traceable upper and lower case letters. To further enforce writing skills, I have included traceable words that start with that letter. My kids love writing words and this is an additional way to keep their enthusiasm high.
Using words that start with that letter also reinforces letter sounds. I tried to choose common, short words that kids use often, where possible.
For more tips to get kids to write letters, I love this article from the OT Toolbox! This post from Parents.com also has great information on teaching kids to write.
Get the A-Z Letter Tracing Pages!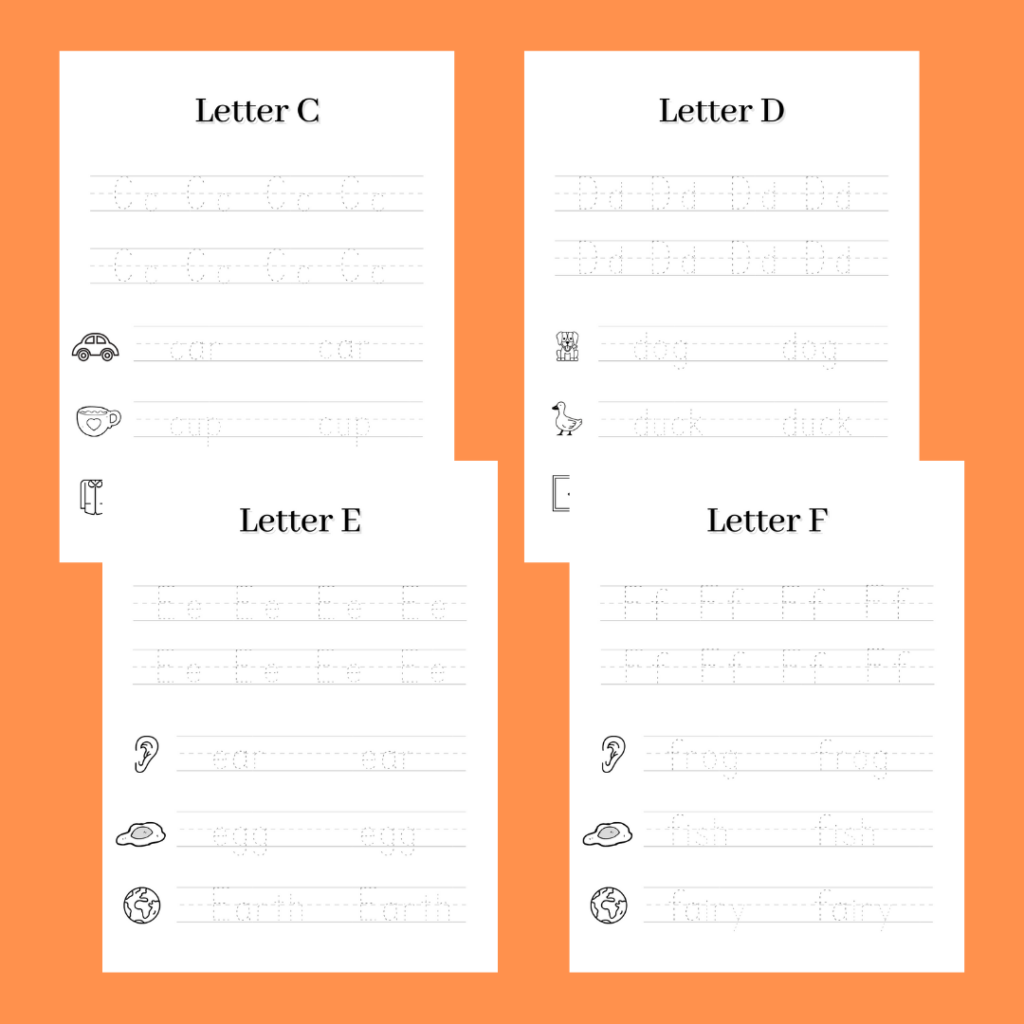 Terms and Conditions:
By downloading the A-Z Letter Tracing Pages, you accept these terms and conditions. 
The A-Z Letter Tracing Pages were created by Hey Kelly Marie to be used for personal and personal classroom use. 
The tracing pages are also copyright protected. © 2020 Hey Kelly Marie and all rights reserved.
The tracing pages may also not be sold, hosted, stored, or reproduced on any other site or blog.
Furthermore, adult supervision should be provided for children's activities. It is up to the child's caretakers to determine what is developmentally appropriate and safe for their child. Caretakers have full responsibility for child safety and development.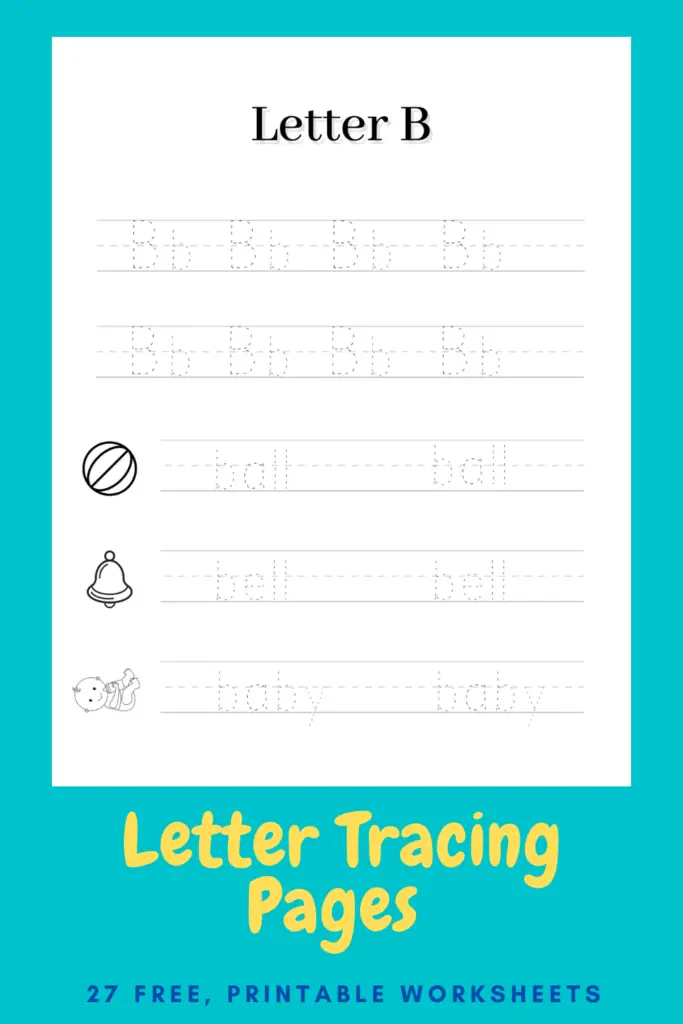 To download the Free A-Z Letter Tracing Pages, please subscribe to Hey Kelly Marie emails below. Once you confirm your subscription, you'll get another email including password to my Printable Resources page. On this page, you'll find the PDF workbook file.
Subscribe here for your Letter Tracing Pages.
Email subscribers also get access to the entire Hey Kelly Marie Printable Library, including the Free Preschool Math Workbook, Preschool Cutting Workbook, and Alphabet Coloring Pages. 
I'm working on more workbooks and activities all the time, and send out weekly updates of what I've been working on. You can also unsubscribe at any time. No spam, promise.
Other resources from Hey Kelly Marie!
I have several other free, printable workbooks and activities for early learnings, including a Preschool Math Workbook, Preschool Cutting Workbook, and (the most popular) Alphabet Coloring Pages.
Pin this post for later!
Let me know how you like it!
I'd love to hear how you and your kids like the A-Z Letter Tracing Pages. Please let me know what works for you and what doesn't! Leave a comment below. 
Also, if you love it, share it on social media so others can find it! This is a great way to support me!
Disclaimer: The information published in this blog is for information and entertainment purposes only. I am not an expert and you should look elsewhere for advice. I am not liable for any damages resulting from using the information on this blog. All activities for children require adult supervision. For further information, see the Disclaimer page.