I recently talked to a retired teacher that taught young kids to read her entire career. I asked her about ways to teach young children to read. I was surprised when she emphasized the importance of rhyming for early readers. She encouraged me to sing rhyming songs, read rhyming books and poems, and do rhyming activities with my kids. I've been on the hunt for rhyming activities since, and I created three free rhyming printable activities for early readers that my preschoolers love.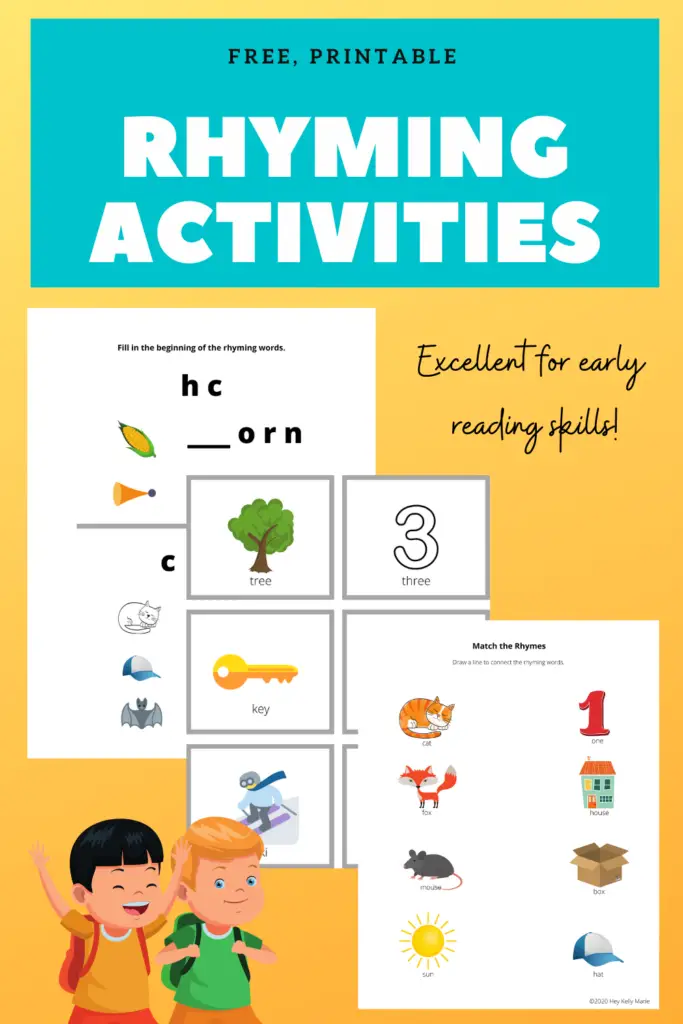 Why is rhyming important for early readers?
Rhyming helps kids hear and notice the sounds of language. Rhyming also helps kids hear many common word patterns, like -ed, -ick, and -ing, for example. Becoming audibly familiar with these sounds helps kids visualize them written.
Rhyming also helps kids understand the rhythm of language, and it's fun! My kids have always loved nursery rhymes and rhyming books.
What printable activities are in the PDF Free Rhyming Printable Activities for Early Readers?
Match the Rhymes – 3 pages of matching activities where kids draw lines to connect the rhymes.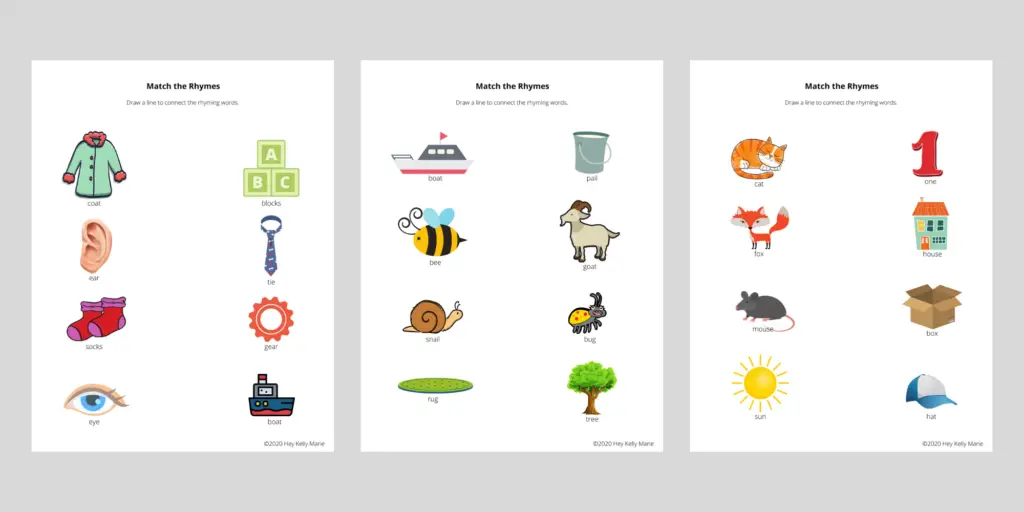 Rhyming Words Card Stack – 17 cards that kids can sort into three piles of rhyming words. I find this works best if I choose one card, and then we go through the other cards one at a time looking for rhymes.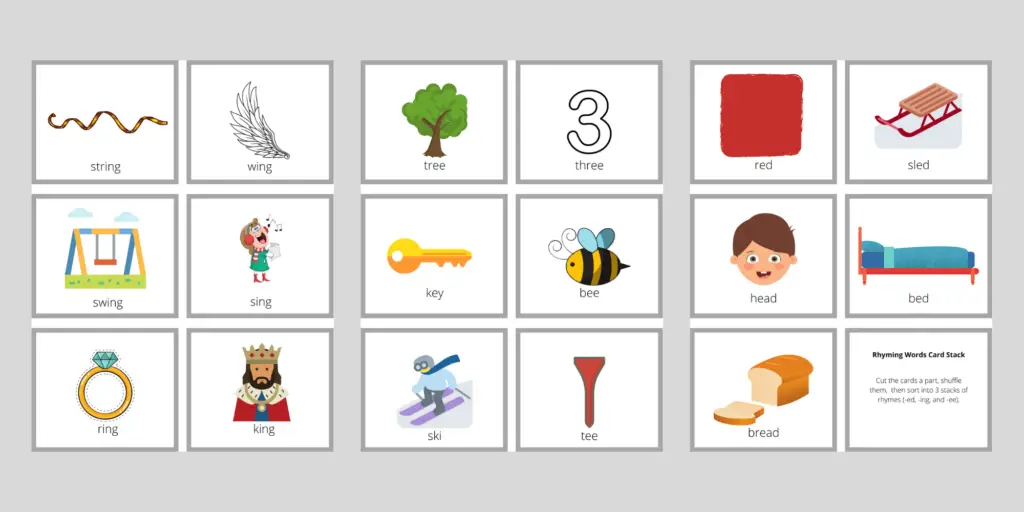 Fill in the beginning of the rhyming words – 2 activity pages where kids can fill in the beginning letter of a series of rhyming words.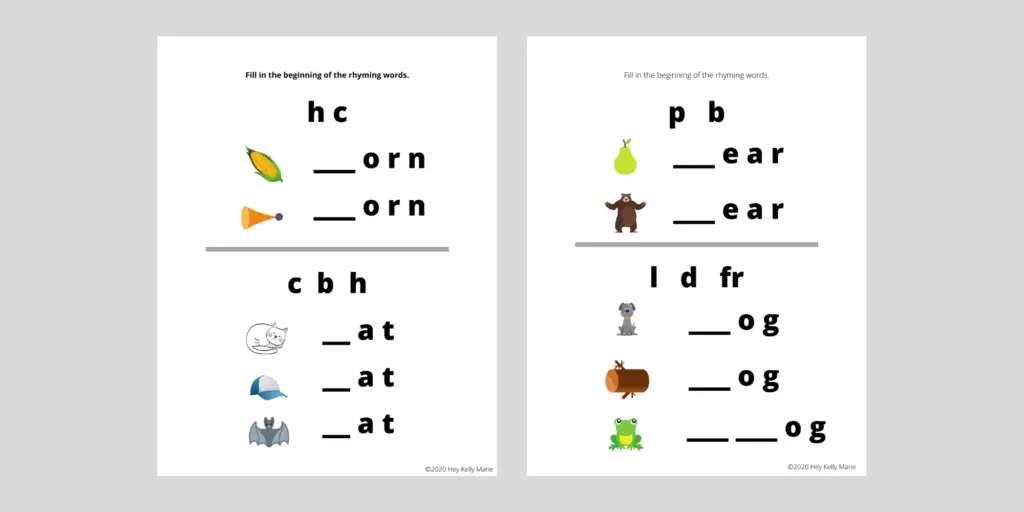 My four year old twins really enjoyed these activities. They were a challenge, and we worked through them together.
After completing these activities, my four year olds were interested in rhyming for the rest of the day. Additionally, they tried to find rhymes to words we used, and it seemed they noticed rhyming words more after these activities.
Get the Free Rhyming Printable Activities for Early Readers
Terms and Conditions:
By downloading the Free Rhyming Printable Activities for Early Readers, you accept these terms and conditions. 
This workbook is a creation of Hey Kelly Marie for personal and personal classroom use. 
Additionally, these activities are copyright protected. © 2020 Hey Kelly Marie and all rights reserved.
This activity PDF may also not be sold, hosted, stored, or reproduced on any other site or blog.
Furthermore, adult supervision should be provided for children's activities. It is up to the child's caretakers to determine what is developmentally appropriate and safe for their child. Caretakers have full responsibility for child safety and development.
To download the Free Rhyming Printable Activities for Early Readers, please subscribe to Hey Kelly Marie emails below. Once you confirm your subscription, you'll get another email including the password to my Printable Resources page. On this page, you'll find the PDF activity file.
Subscribe here for your activity pages.
Pin this Activity for Later!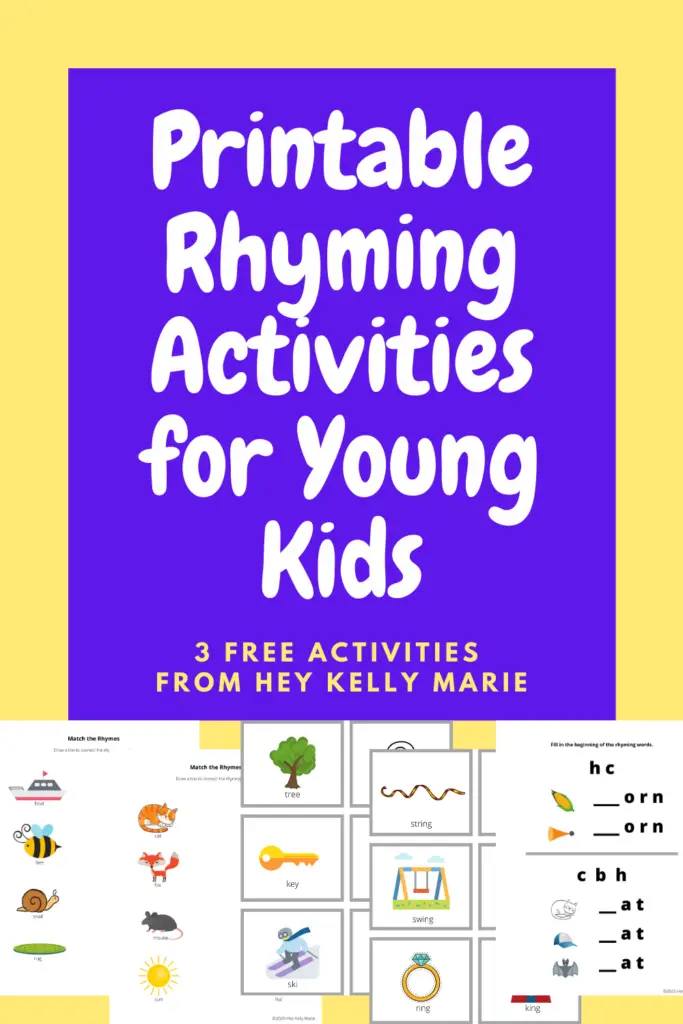 I love your feedback!
Let me know what you think of these free rhyming activities for early readers.
Did you enjoy them? Do you have other ideas for resources I can create? Leave a comment below.
Disclaimer: The information published in this blog is for information and entertainment purposes only. I am not an expert and you should look elsewhere for advice. I am not liable for any damages resulting from using the information on this blog. All activities for children require adult supervision. For further information, see the Disclaimer page.
Affiliate info: I sometimes publish endorsements and advertisements, which means that if you purchase something through one of the links here, I might receive a percentage of the sale, with no added cost to you. As an Amazon Associate, I earn from qualifying purchases. For further information, see the Affiliation Information Page.