I have always loved the start of school! As a parent, I love marking the start of school with pictures and fun, but EASY activities. They are a great way to capture a sweet moment in time, and so fun to look back on. I've created a few Back to School Printable Activities that I hope will help you celebrate the start of the school year!
Disclaimer: The information published in this blog is for information and entertainment purposes only. I am not an expert and you should look elsewhere for advice. I am not liable for any damages resulting from using the information on this blog. All activities for children require adult supervision. For further information, see the Disclaimer page.
Affiliate Info: I sometimes publish endorsements and advertisements, which means that if you purchase something through one of the links here, I might receive a percentage of the sale, with no added cost to you. As an Amazon Associate, I earn from qualifying purchases. For further information, see the Affiliation Information Page.
Back to School Printable Activities
"This is a Picture of Me" Self-Portrait Activity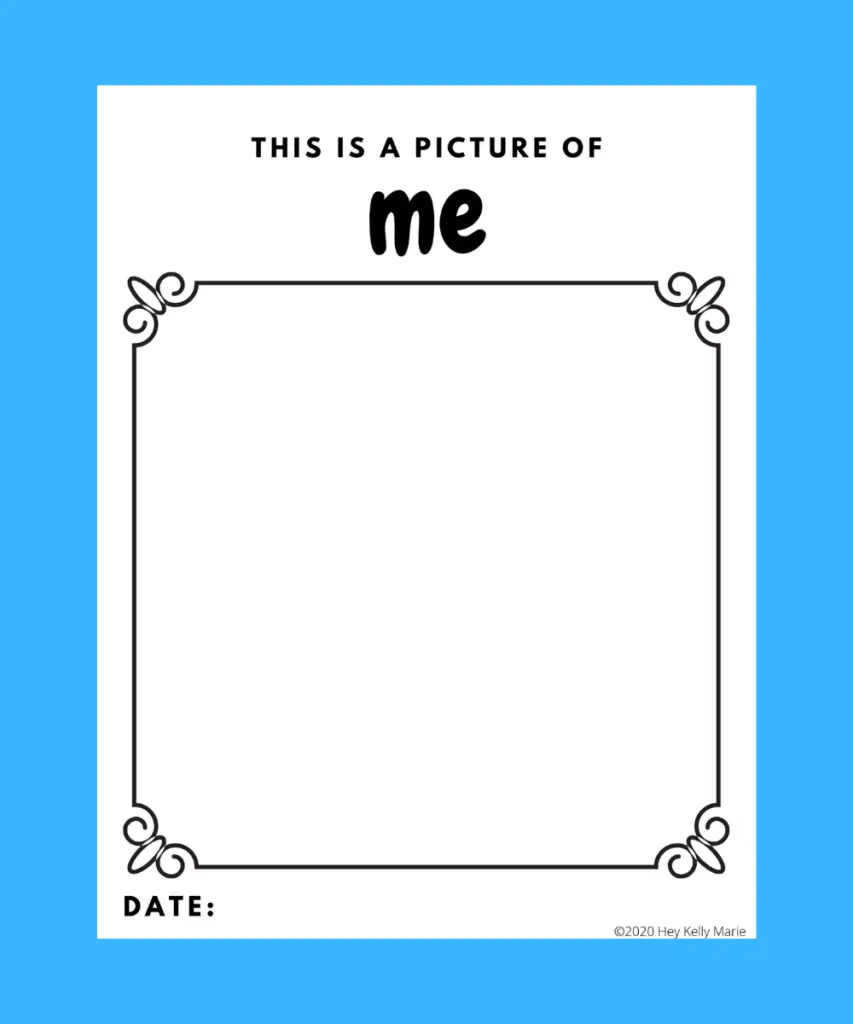 This activity is simple and straightforward. Kids draw a picture of themselves at the start of school. They can include their favorite shirt, sneakers, or whatever else they are loving at this point in time.
I think it will be especially fun to complete this activity again at the end of the year to compare their drawing ability from the beginning of the school year to the end.
Teachers, this printable also makes a great class activity. Kids can share their portraits with the class as a way to introduce themselves. Additionally, copies of all the portraits can be assembled into a class book.
"This is a Picture of My Family" Activity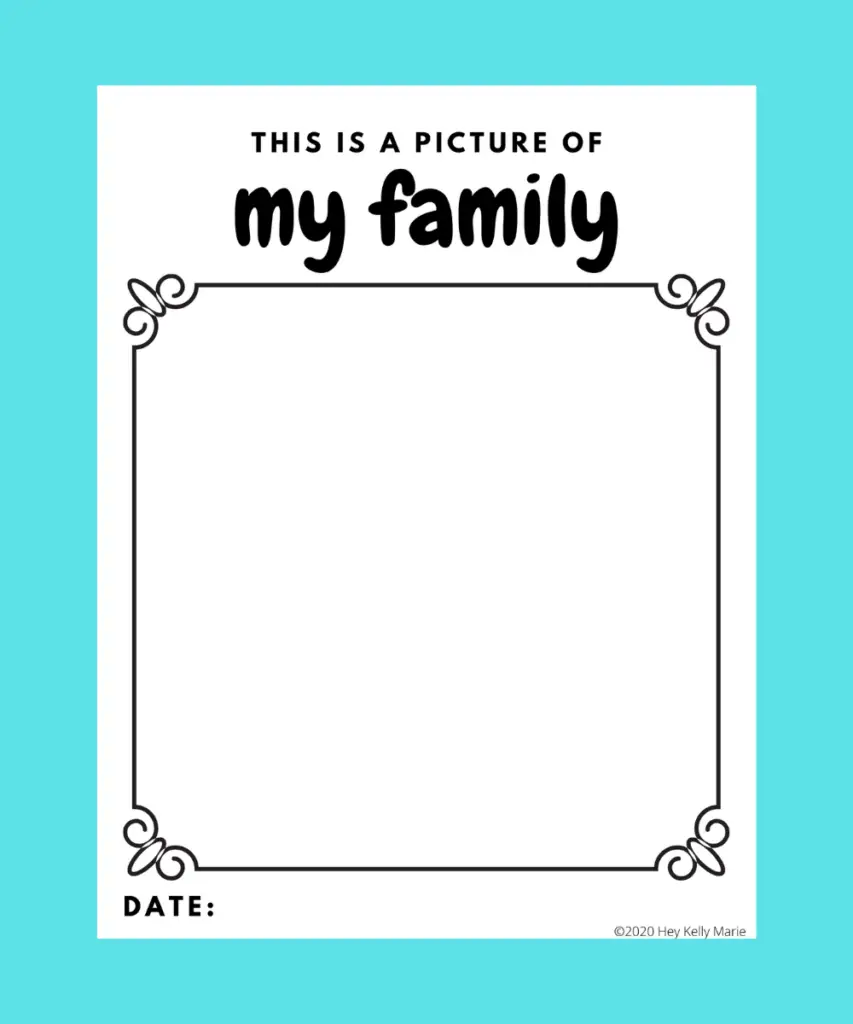 Here, kids draw a picture of their family. My kids have loved drawing pictures of our family for a while now, and I love seeing how they portray us. This activity makes a wonderful keepsake.
Back to School Questionnaire Activity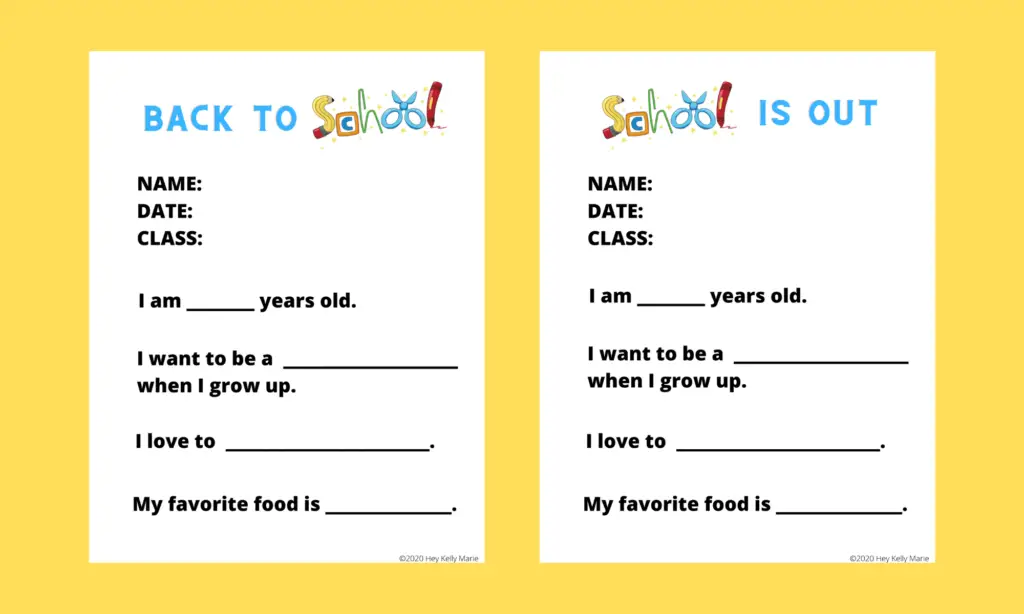 This activity is a short set of simple questions kids answer with the help of an adult. There are questions for the beginning of school and also for the end of the school year. Of course, you can just use one or other other if you prefer that.
I love hearing what my kids say when I ask them questions like, "What do you want to be when you grow up?" and this makes a great place to record their answers. One day it might seem impossible that our kids dreamed of being mermaids and dinosaurs when they grow up.
Supplies Needed
The supply list is very short and simple. All you need to complete these activities are drawing or coloring supplies.
My kids have been absolutely loving these crayons (affiliate link), and I can't recommend them enough. The color is really rich and can be used on all sorts of surfaces, including white boards. They're also really durable. If snapped crayons are a problem in your house, I suggest giving them a try!
Get the Back to School Printable Activities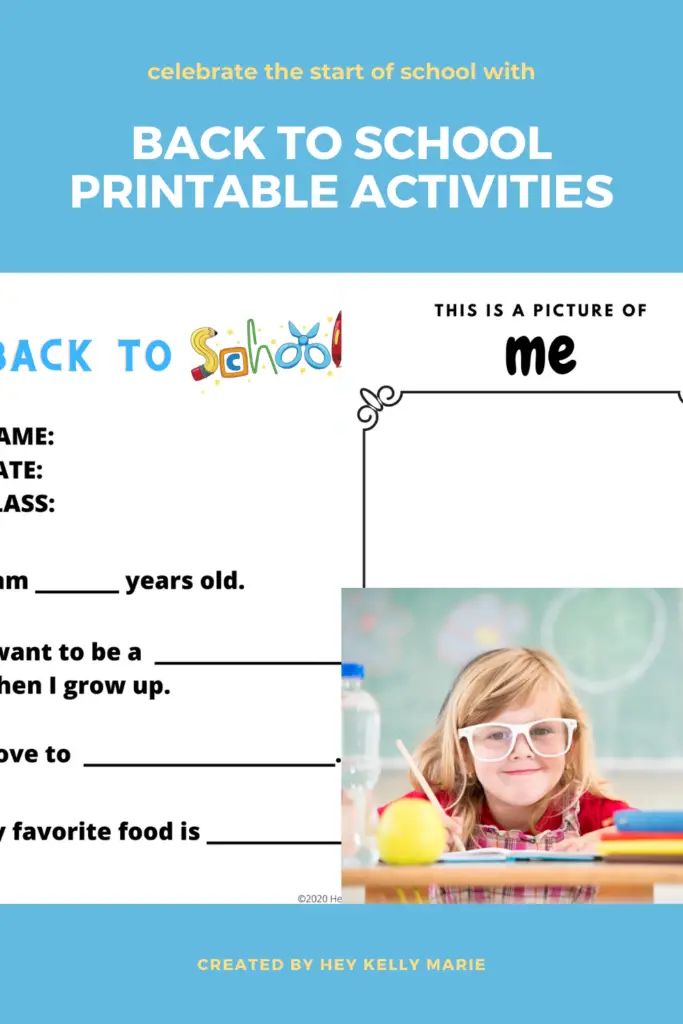 Terms and Conditions:
By downloading the Back to School Printable Activities, you accept these terms and conditions. 
These activities were created by Hey Kelly Marie for personal and personal classroom use. 
Additionally, the Back to School Printable Activities are copyright protected. © 2020 Hey Kelly Marie and all rights reserved.
These activities may also not be sold, hosted, stored, or reproduced on any other site or blog.
Adult supervision should be provided for children's activities. It is up to the child's caretakers to determine what is developmentally appropriate and safe for their child. Caretakers have full responsibility for child safety and development.
To download the Back to School Printable Activities, please subscribe to Hey Kelly Marie emails below. After subscribing, you'll get another email including password to the Printable Resources page. On this page, you'll find the PDF workbook file.
Email subscribers get access to the entire Hey Kelly Marie Printable Resources Library, including the Preschool Math Workbook, Preschool Cutting Workbook, and Preschool Patterns Workbook.
I'm working on more workbooks and activities all the time, and send out weekly updates of what I've been working on. Unsubscribe at any time. No spam, promise.
Pin this Post for Later!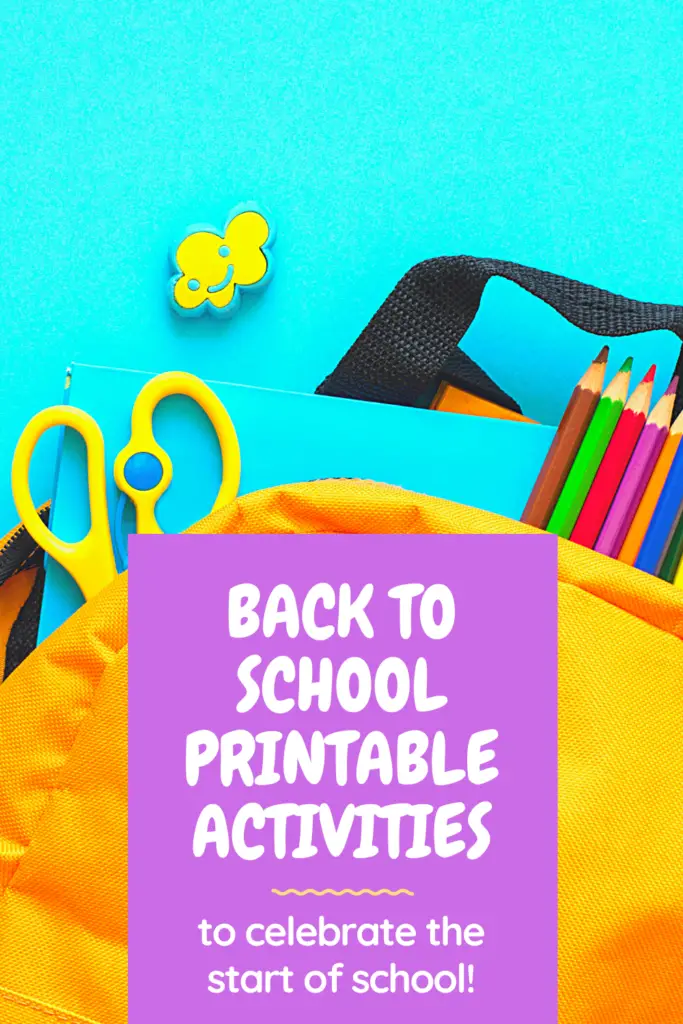 Let me know what you think of the Back to School Printable Activities
I'd love to hear what you think of the Back to School Printable Activities. Did your kids like them? What do you plan to do with their drawings? Leave a comment below.