My twins' preschool class has weekly show and tell, and each week's theme is a different letter of the alphabet. Every week, I spend at least a few minutes racking my brain for items we own that start with the letter of the week. I figure many other preschool and kindergarten parents are doing the same. I'm making all our lives easier and starting a series of posts that give show and tell ideas for each letter. Here are my show and tell ideas that start with A!
General tips for finding a show and tell item!
Preschoolers can learn a lot through show and tell, and my kids love it! Here are my tips to make choosing show and tell items a little easier.
Decide what to bring the day before (or even earlier!) There is nothing worse than scrambling to get out the door and thinking "Oh no! We forgot show and tell!" I have been there. It's not fun. Set an alarm or write it on your calendar to take care of this the day before.
If your child has a hard time sticking to the theme, it might help to lay out a few items that start with that letter and let them choose from those. The times I've taken my twins to the toy box to look for something, they often had a hard time limiting their focus to the letter of the week. They just wanted to bring their favorite toy.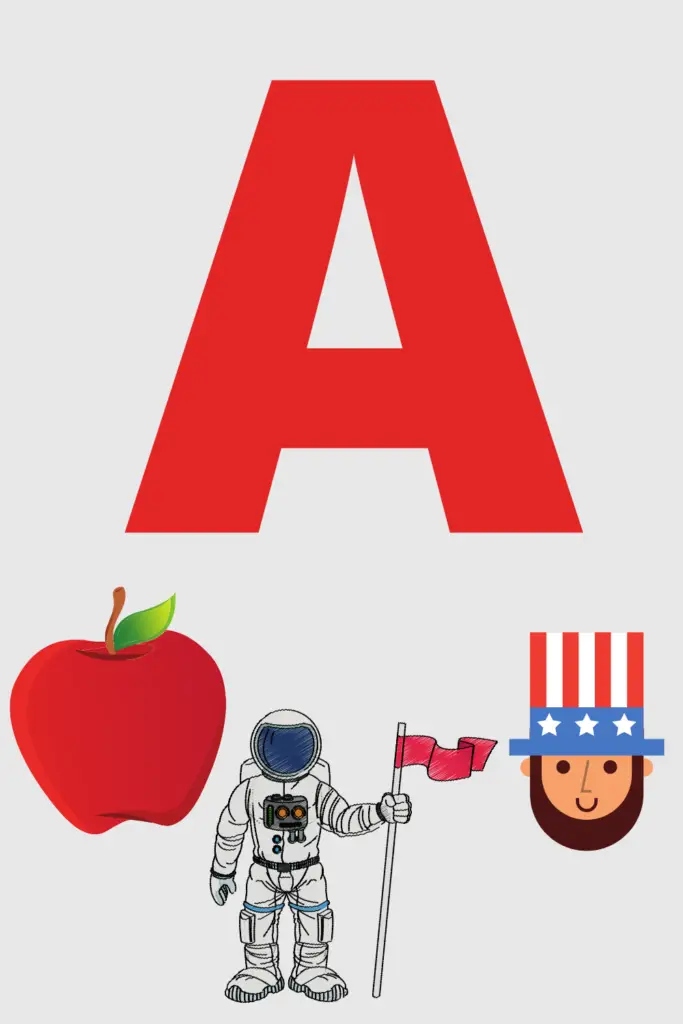 Considering discussing with your preschooler that once we decide, he/she can't change their mind. It has happened more than once that my twins decide what they want to bring, and then the morning of, decide that item isn't actually what they wanted. This leads to a frustrating last second scramble.
Search your toy box for ideas. You'll be surprised what you find! If you have letter blocks, they can be an easy go-to idea.
Search your book and DVD shelves for titles that start with the letter of the week.
Foods, animals, places, and characters are my other go-to categories for ideas.
Show and Tell Ideas that Start with A
Alligator
Acorn
Astronaut
Airplane
Award (trophy or ribbon)
Apple (real or from a toy kitchen)
Avocado
Apple sauce
Apple juice
Almonds (not a good idea at a nut-free school)
Asia, Africa, America, Australia, and so on (show on a map or globe)
Ace (from a deck of cards)
Angel (Christmas decor)
Arm (your own or on a toy)
Armadillo
Ant
Aardvark
Animal (an excuse for any stuffed animal or figurine)
Aladdin
Abu from Aladdin
Ariel Disney Princess from The Little Mermaid
Aurora Disney Princess from Sleeping Beauty
Alice and Wonderland
Anna from Frozen
Asparagus
Angelina Ballerina
Apricot
Artichoke
Apple Jack and Apple Bloom from My Little Pony
Alvin and the Chipmunks
Arthur
Abby Cadabby
Andy from Toy Story
Anita from 101 Dalmations
Abraham Lincoln (Could bring a penny)
Andrew Jackson (Could bring a $20 bill if you trust that it will come back)
Alexander Hamilton
Albert Einstein
Angelica from The Rugrats
Anakin Skywalker from Star Wars
Albatross
Antelope
I'd love your feedback on these show and tell ideas that start with A!
Let me know what you think of these show and tell ideas that start with A! And if I forgot anything, please let me know and I'll add it to the list! I really hope this is helpful to you! Comment below.
Pin this Post for Later
Other Resources from Hey Kelly Marie
Check out my other resources for preschoolers!
I have created several free printable workbooks, including Preschool Math and Preschool Patterns.
I also have No mess, No Prep, Activities for Preschoolers.
Additionally, the Easy Rainbow Craft for Young Kids is easy, fun, and is a great way to practice cutting and gluing. Free printable available!
If you're in the mood for a wacky, but super easy activity, also try Preschool Counting Activity Using Toilet Paper Rolls.
Disclaimer: The information published in this blog is for information and entertainment purposes only. I am not an expert (in child education or anything else) and you should look elsewhere for advice. There is no guarantee of gaining any specific skill from using my resources. I am not liable for any damages resulting from using the information on this blog. All activities for children should be done with adult supervision. For further information, see the Disclaimer page.