I am so excited for you to check out these free, printable valentines for kids. I had so much fun creating them! There are eight different styles, with a variety of themes including rainbows, superheroes, sports, unicorns, diamonds, birds, and bears. Many of the themes also pair easily with a candy, snack treat, or non-food item. I hope there is a design that your kids will love to give their friends this year.
Free, Printable Valentines for Kids
Check out the eight unique free, printable valentine designs I have created!



When you download the valentine PDF file, you will receive all eight valentine styles. There is one full page for each style of valentine. For best results, I recommend printing them on cardstock or glossy paper.
If you wish and if your kid's school allows, you can attach a treat to the back of the valentine. Skittles and Smarties are really cute on the back of the rainbow and unicorn themed valentines, while Ring Pops are super fun on the back of the gem themed valentines. I also think gummy bears would be adorable on the back of the bear valentine.
There are plenty of non-food items that work wonderfully on the back of these valentines, including pencils, erasers, crayons, stickers, rings, and clay. My kids have received several of these items from classmates in the past and have loved them.
The valentines are a great size to attach whatever food or non-food item if you choose!
Download your Free, Printable Valentines Here
Terms and Conditions:
By downloading the free, printable valentines, you accept these terms and conditions. 
These valentines were created by Hey Kelly Marie for personal and personal classroom use. 
The valentines are copyright protected. © 2021 Hey Kelly Marie and all rights reserved.
These valentines may not be sold, hosted, stored, or reproduced on any other site or blog.
Lastly, adult supervision should be provided for children's activities. It is up to the child's caretakers to determine what is developmentally appropriate and safe for their child. Caretakers have full responsibility for child safety and development.
When you download the valentines, you will get all the styles in an 8 page PDF file. Obviously, you will only need to print the styles that you want to use. For best results, I also recommend that you print the free, printable valentines on cardstock or glossy paper.
Download the Free, Printable Valentines HERE
What do you think of these valentines?
I'd love to hear what you think of these free, printable valentines for kids. Is there a design I forgot that is a "must" for your child? Does your child love them? Leave a comment below.
Pin this post!
Pinning this post means you'll be able to find it later! Also, sharing my posts via Pinterest helps others find my posts and is one of the best (and free) ways to support my blog.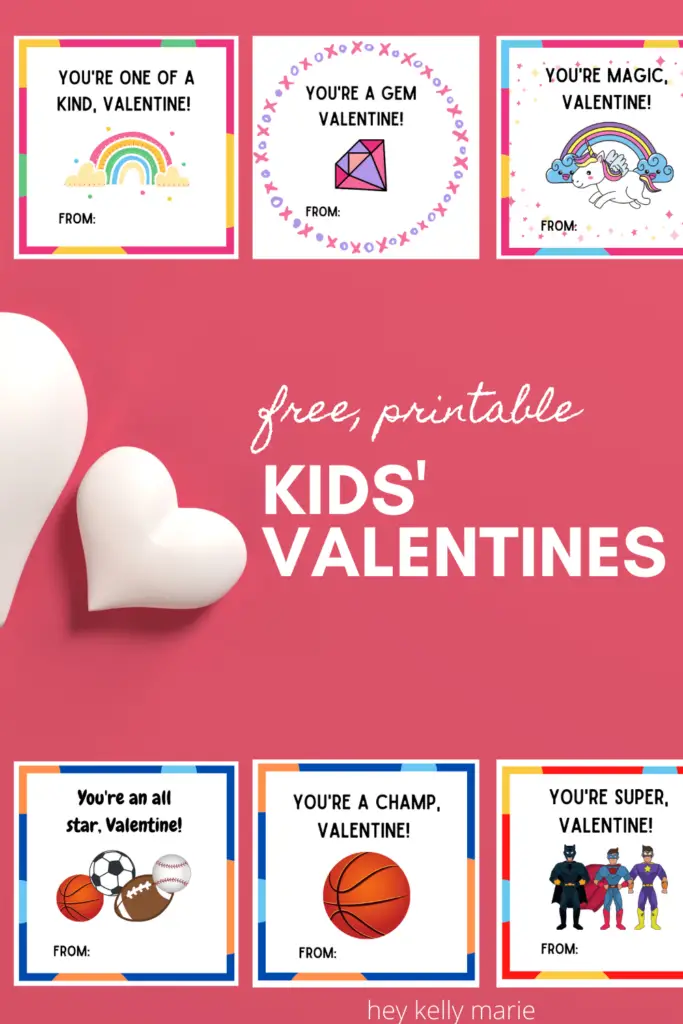 Other Resources for Preschoolers and Parents!
Check out the super popular Alphabet Coloring Pages, where you'll find a coloring page for each letter.
How to Celebrate Kids' Birthdays in Quarantine is also a very popular post that I hope will give you plenty of doable ideas to make your kids' birthdays special throughout the pandemic.
Disclaimer: The information published in this blog is for information and entertainment purposes only. I am not an expert and you should look elsewhere for advice. I am not liable for any damages resulting from using the information on this blog. All activities for children should be done with adult supervision. For further information, see the Disclaimer page.
Affiliate info: I sometimes publish endorsements and advertisements, which means that if you purchase something through one of the links here, I might receive a percentage of the sale, with no added cost to you. lAs an Amazon Associate, I earn from qualifying purchases. For further information, see the Affiliation Information Page.