I have so many vivid memories playing pretend school with my cousins as a child. One of us played the teacher, while the others were the students. The "teacher" thoroughly enjoyed instructing the other kids in our makeshift classroom. We played school so often that our parents picked up some old fashioned school desks at a second hand sale. Now that I'm a parent, my kids also love playing school. I have created this set of Pretend Play School Printable Resources for them to use. I am thrilled to also share them with you!
These are the printable resources I would have loved to play with as a child! This set of Pretend Play School Printables includes a variety of printable pages to enhance dramatic school play. There is an attendance sheet and a morning meeting sheet with spots for the date, weather, and schedule. There are also name tags for teachers, cafeteria staff, and librarian. Additionally, there is a lunch menu, worksheets to give kids a jump start creating their lessons, and a blank handwriting practice page.
Benefits to Dramatic Play
Pretend and dramatic play are often a lot of fun for kids. This type of play also has many benefits for kids. Pretend play gives kids an opportunity for self-expression, to learn new skills, and to creatively solve problems. Be sure to also check out the other dramatic play printable resources from Hey Kelly Marie below.
Disclaimer: The information published in this blog is for information and entertainment purposes only. I am not an expert (in child development or anything else) and you should look elsewhere for advice. I am not liable for any damages resulting from using the information on this blog. All activities for children require adult supervision. For further information, see the Disclaimer page.
Affiliate info: I sometimes publish endorsements and advertisements, which means that if you purchase something through one of the links here, I might receive a percentage of the sale, with no added cost to you. As an Amazon Associate, I earn from qualifying purchases. For further information, see the Affiliation Information Page.
What Does the Play School Printable Set Include?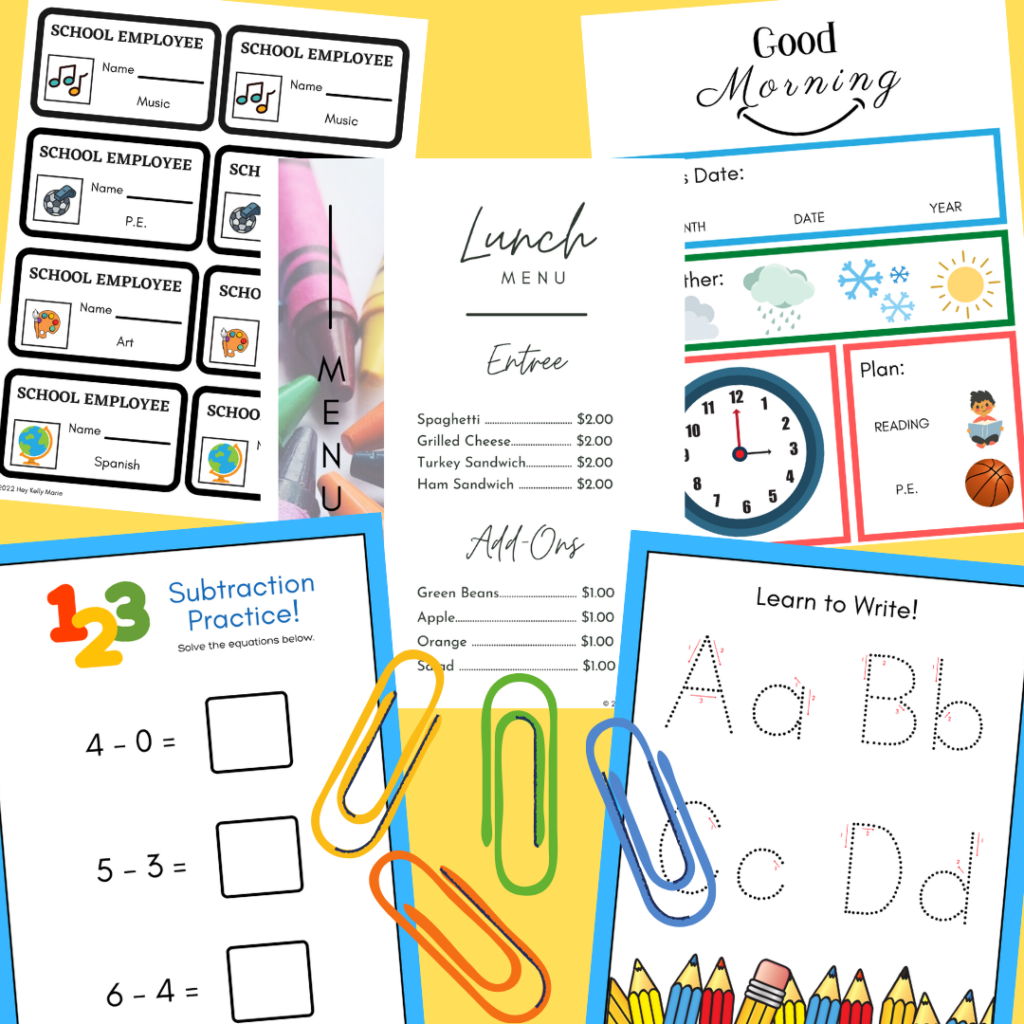 This set of Pretend Play School Printables is 10 pages. Here is what is available in the free PDF download:
Welcome to school sign
School employee name tags for teachers, cafeteria, library, and more (2 pages)
Teacher's desk sign
"Good morning" morning meeting page
Handwriting practice page
Learn to write letter formation page
Subtraction practice worksheet
Lunch menu
Class attendance record sheet
Other Dramatic and Pretend Play Printables from Hey Kelly Marie
There are several sets of very popular dramatic and pretend play printable resources on Hey Kelly Marie.
The Pretend Doctor and Hospital Dramatic Play Printable Pages are a lot of fun.
Also, the Post Office, Zoo, and Library dramatic play printable resources are a great starting point for dramatic play.
Get Your Pretend Play School Printable Set
Terms and Conditions:
By downloading the Pretend School Printable Set, you accept these terms and conditions. 
These printable pages are a creation of Hey Kelly Marie for personal and personal classroom use. 
The pages are also copyright protected. © 2022 Hey Kelly Marie and all rights reserved.
Additionally, this free printable may not be sold, hosted, stored, or reproduced on any other site or blog.
Adult supervision is essential for children's activities. It is up to the child's caretakers to determine what is developmentally appropriate and safe for their child. Caretakers have full responsibility for child safety and development.
To download the Play School Printable Set, please subscribe to Hey Kelly Marie emails below. You'll quickly get a subsequent email including the password to the Printable Resources page. On this page, you'll find the PDF coloring pages titled Play School Printable Set.
Subscribe here for your pretend school printable resource.
What do you think of these dramatic play printables?
I love hearing from readers. I want to know what you think of this printable resource. Do your kids love playing school? Did you also play pretend school as a child? Additionally, is there another set of dramatic play printable resources that I can create? Please comment below or send me an email at heykellymarie@gmail.com.