Are you at a loss as to what to get the wine lover on your list this holiday season? I'm here to help! I have rounded up 16 Awesome Amazon Gifts for the Wine Lovers on Your List.
The gifts on this list range from low cost wine charms and a stainless steel wine tumbler, to fancier charcuterie boards and a vacuum wine saver. My hope is that this roundup includes something the man or woman on your list will love. I also think many of these items will make fantastic host or hostess gifts.
Affiliate info: This post contains affiliate links, which means that if you purchase something through one of the links here, I might receive a percentage of the sale, with no added cost to you. As an Amazon Associate, I earn from qualifying purchases. For further information, see the Affiliation Information Page.
Disclaimer: The information published in this blog is for information and entertainment purposes only. I am not an expert and nothing here is advice. I am not liable for any damages resulting from using the information on this blog. All activities for children require adult supervision. For further information, see the Disclaimer page.
Amazon Gifts for Wine Lovers
Did you know that a person that loves wine and knows a lot about it is called an oenophile? Here are 16 awesome Amazon gifts for the oenophile, man or woman, on your list!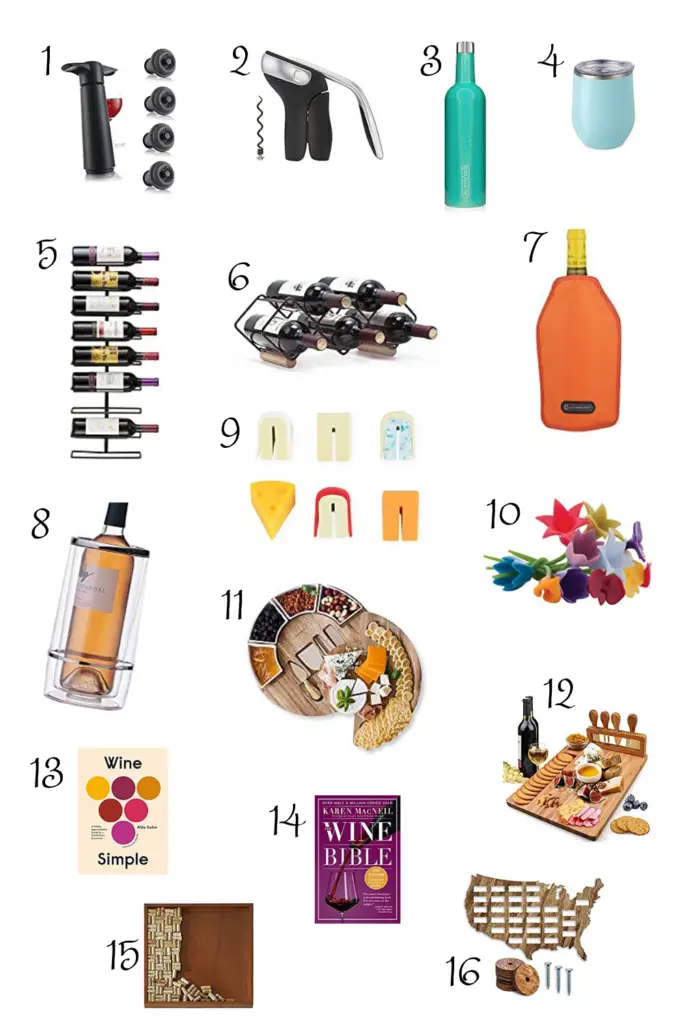 This gadget keeps an open bottle of red or white wine tasting new for up to a week.
Oxo is a brand I trust for kitchen tools, and this corkscrew has great reviews for opening bottles easily.
This stainless steel wine canteen can keep a bottle of wine at the perfect temperature for up to 24 hours. I think this would be awesome for hot outdoor events, like BBQs in the summer.
An insulated wine cup great for keeping drinks warm or cold. It's affordable and I love that it is dishwasher safe.
This wine rack is a beautiful way to store wine. I love that with this rack, wine doesn't have to take up valuable cabinet space.
This wine rack makes for a beautiful addition to a bar cart or credenza. It's both decorative and functional.
Le Creuset is known for high quality products, and I love that this wine cooler sleeve is an affordable price. Additionally, it has great reviews and comes in many colors.
This wine cooler is beautiful and I love that you don't need ice to use it.
These charms are an adorable way to mark glasses so they don't get mixed up. I also love that you can set them up like a wheel of cheese when they're not being used.
These wine charms are so fun and tie right around wine stems.
What goes better with wine than a beautiful cheese board? This cheese and charcuterie board comes with a set of four knives. Conveniently, the knives store inside the board.
I love that this cheese board is at a great price point and also comes with knives and a holder for the knives while serving.
This book is awesome for the person that enjoys drinking wine, but hasn't taken the time to learn much about it. It also has many glowing reviews.
This book is over 1000 pages of information and entertainment from one of the "foremost wine experts in the United States." I also think it would make a useful and beautiful coffee table book.
This gift is a kit where you can create your own bulletin board out of corks you collect over time.
A beautiful wall hanging USA map with slots for wine corks. This is a great way to remember special bottles of wine.
I'd love your feedback on these Amazon gifts for wine lovers!
What do you think of the 16 Amazon gifts for wine lovers on my list? Is there anything I forgot?
Also, do you have and love any of these items? I love getting feedback from readers, so please leave a comment below.
Pin this post!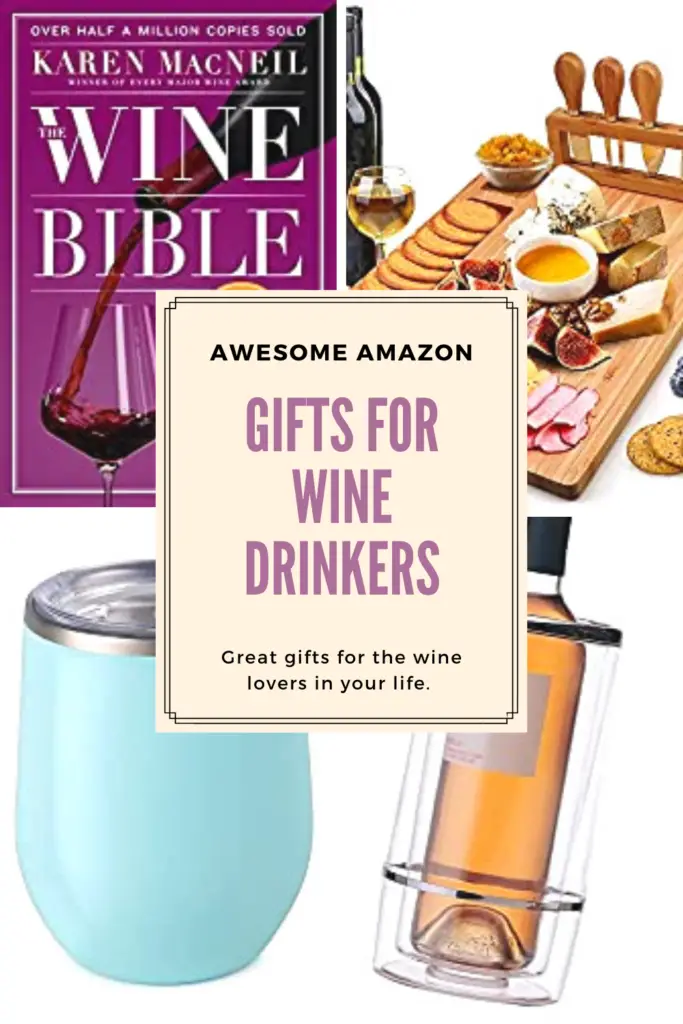 More Posts from Hey Kelly Marie
One of the most popular pages on my blog is the free, printable Alphabet Coloring Pages.
I have also rounded up Gadgets that Make Mom Life Easier and the Best Toys for Preschoolers in 2020. Check them out!