Writing a letter to Santa about the items on your Christmas wish list is a wonderful tradition. My kids write a letter to Santa every year and they're so fun to look back on. I've created several free, printable Letter to Santa templates for you and your kids to enjoy this holiday season.
What are the Free, Printable Letters to Santa?
The Letters to Santa are simple and straightforward and leave plenty of room for personalization by each child. The child can write in their age, where they live, and the items they'd like from Santa this year for Christmas. Finally, they can sign their name at the end.
There are four different versions to download, both colorful and black and white. My hope is that there is a template that everyone will love!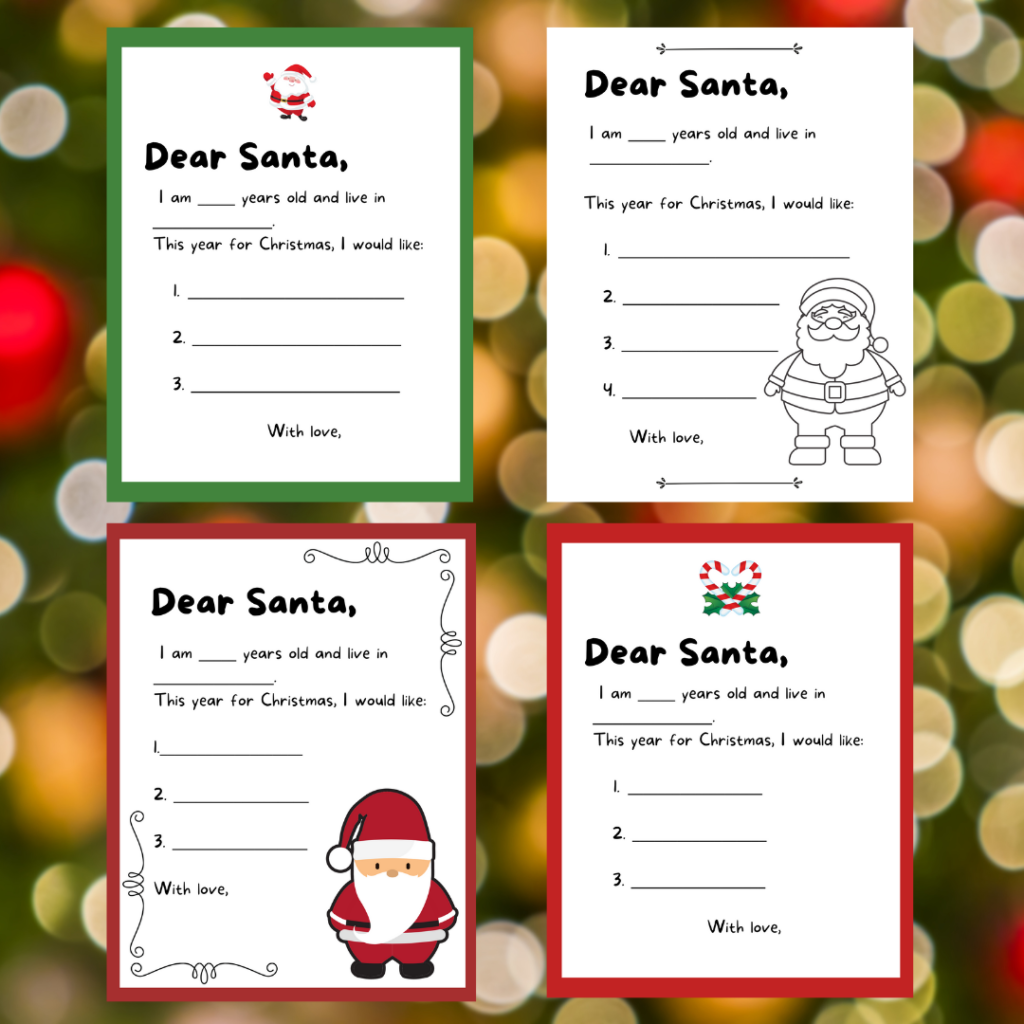 What to do with Your Child's Letter to Santa
There are a few options of what to do with your child's Letter to Santa. In years past, we have kept them but this year, we might go the extra step and mail them to Santa. I will be sure to at least take a picture of our Letters to Santa to look back on.
If you want to mail your letter through the post office, the USPS will actually provide a reply to your child's Letter to Santa with a North Pole Postmark. The USPS provides the steps to make this happen on their website. I think it's an adorable idea.
Additionally, Macy's also accepts Letters to Santa and will donate $1 to the Make-a-Wish Foundation (up to $1 million) for every letter submitted in their stores or online.
I have never tried either of these options, but if you have, I'd love to hear about it! Comment below.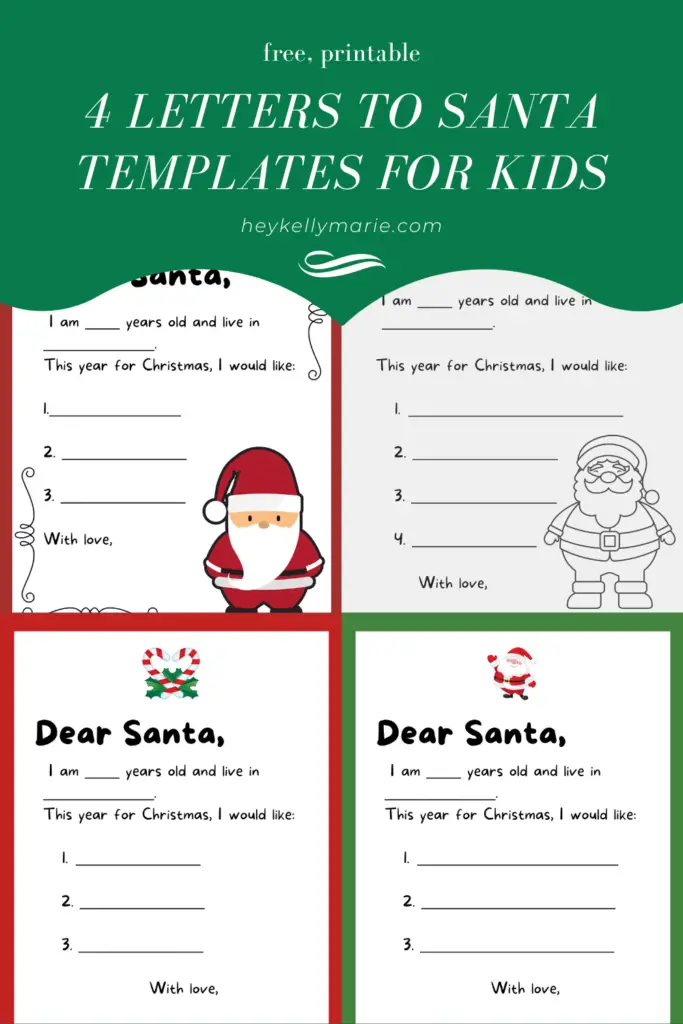 Get Your Free PDF Letter to Santa Template
Terms and Conditions:
By downloading the Letter to Santa PDF, you accept these terms and conditions. 
The Letters to Santa templates were created by Hey Kelly Marie to be used for personal and personal classroom use. 
The PDF is copyright protected. © 2020 Hey Kelly Marie and all rights reserved.
The Letters to Santa may not be sold, hosted, stored, or reproduced on any other site or blog.
Adult supervision should be provided for children's activities. It is up to the child's caretakers to determine what is developmentally appropriate and safe for their child. Caretakers have full responsibility for child safety and development.
DOWNLOAD YOUR FREE LETTERS TO SANTA PDF HERE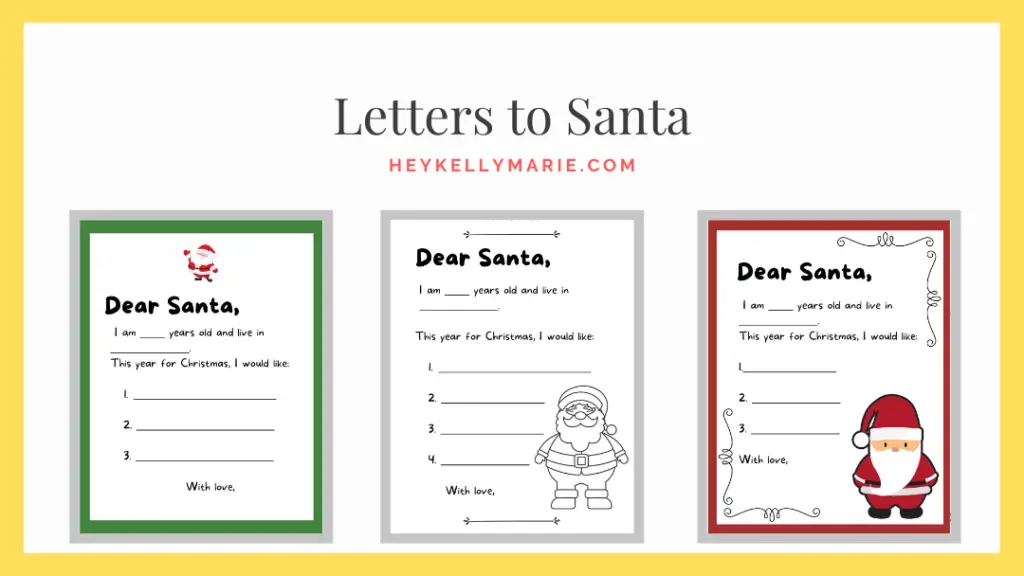 Subscribe to Hey Kelly Marie emails
If you'd like to know what printable resources and content are new on the blog, be sure to subscribe to Hey Kelly Marie emails. Subscribers also have access to an entire Printable Resources page with lots of great resources. Subscribe here.
Pin this post!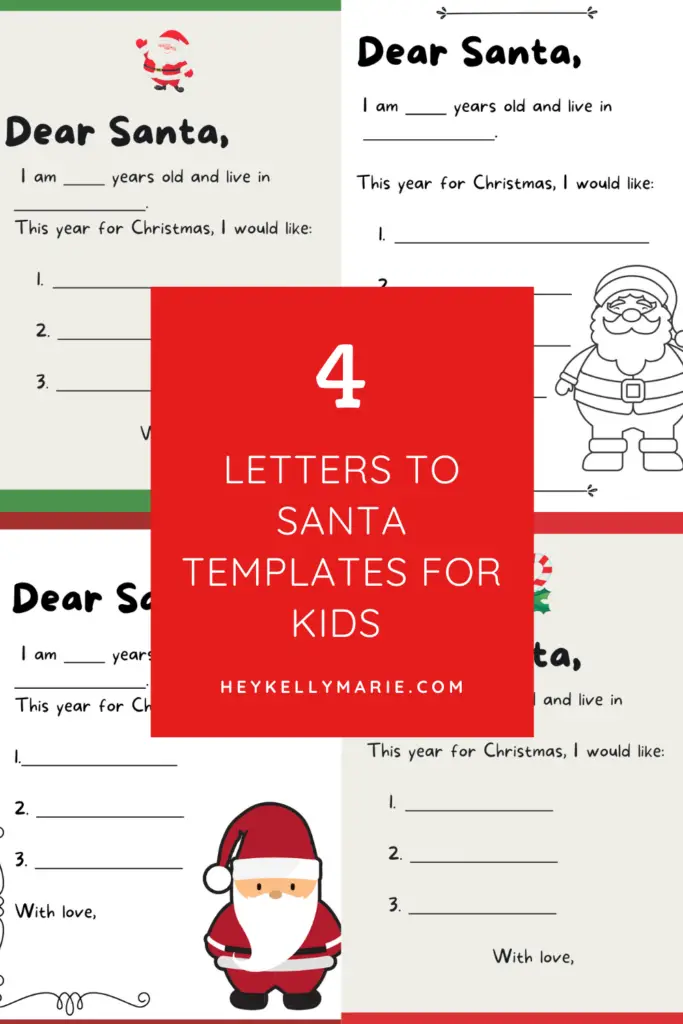 Check out these other awesome Christmas posts!
I've rounded up our favorite Toys for Preschoolers. They make great gifts. Check them out!
I also have free, printable Alphabet Christmas Coloring Sheets.
Let me know what you think of the Letter to Santa Templates!
I love hearing from readers. Did you and your kids enjoy these Letters to Santa? Leave a comment below.
Disclaimer: The information published in this blog is for information and entertainment purposes only. I am not an expert and you should look elsewhere for advice. I am not liable for any damages resulting from using the information on this blog. All activities for children should be done with adult supervision. For further information, see the Disclaimer page.
Affiliate info: I sometimes publish endorsements and advertisements, which means that if you purchase something through one of the links here, I might receive a percentage of the sale, with no added cost to you. As an Amazon Associate, I earn from qualifying purchases. For further information, see the Affiliation Information Page.