My kids love to draw, and as they continue to grow, I hear regularly that they "can't draw" a certain thing. Step-by-step drawings or directed drawing worksheets are an awesome way to simplify drawing for them and break it down in a way they enjoy. Today, I'm sharing an "I can draw" Worksheet Bundle with 4 awesome step-by-step drawings of a butterfly, baby, boat, and bunny!
These worksheets will have your kids drawing adorable pictures in just a few minutes, with minimal effort on your part!
Disclaimer: The information published in this blog is for information and entertainment purposes only. I am not an expert and you should look elsewhere for advice. I am not liable for any damages resulting from using the information on this blog. All activities for children require adult supervision. For further information, see the Disclaimer page.
Affiliate info: I sometimes publish endorsements and advertisements, which means that if you purchase something through one of the links here, I might receive a percentage of the sale, with no added cost to you. As an Amazon Associate, I earn from qualifying purchases. For further information, see the Affiliation Information Page.
Does directed drawing benefit kids?
There are several great benefits to directed drawing activities for kids. This article from Proud to be Primary outlines 5 Reasons to Use Directed Drawing in the Classroom. As explained in the article, directed drawing gives kids great practice on following directions and paying attention to detail. It also gives kids confidence in drawing, and helps them see themselves as artists.
I love that these activities give my kids an opportunity to draw independently. Step by step drawing shows my kids how to break down more complicated drawings, a process they can use to draw other items as well.
What's included in the "I Can Draw" Worksheet Bundle?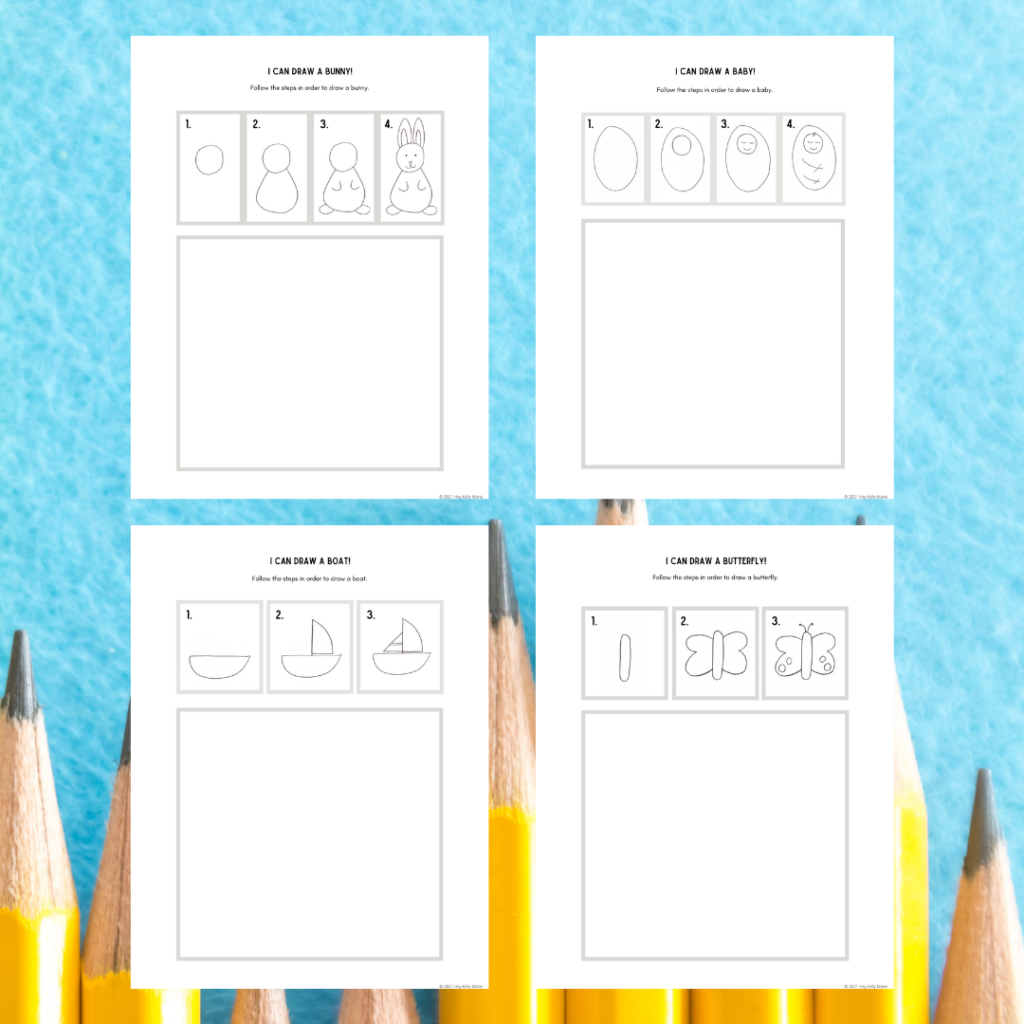 The "I Can Draw" Worksheet Bundle includes four step-by-step drawing activities of a butterfly, baby, bunny, and a boat. The butterfly, baby, and boat are three step drawings, while the bunny is four steps.
Once my kids complete the steps of their drawing, I encourage them to color the picture and/or add details to make it their own. When they're confident in completing a particular drawing, I'll also challenge them to draw the picture without looking at the steps.
Furthermore, they'll often repeat the drawings they've learned to make cards and pictures for friends and family and decorations for their room. They enjoy knowing how to draw an image on their own.
Get Your "I Can Draw" Worksheet Bundle
Terms and conditions:
By downloading the "I Can Draw" Worksheet Bundle, you accept these terms and conditions.
These worksheets were created by Hey Kelly Marie to be used for personal and personal classroom use. 
The worksheets are copyright protected. © 2020 Hey Kelly Marie and all rights reserved.
This bundle may not be sold, hosted, stored, or reproduced on any other site or blog.
Furthermore, this activity requires adult supervision. It is up to the child's caretakers to determine what is developmentally appropriate and safe for their child. Caretakers have full responsibility for child safety and development.
To download the "I Can Draw" Worksheet Bundle, please subscribe to Hey Kelly Marie emails below. After subscribing, you'll quickly get another email including the password to my private Printable Resources page. On the Printable Resources page, click on the image below, and your "I Can Draw" Worksheet Bundle PDF will download.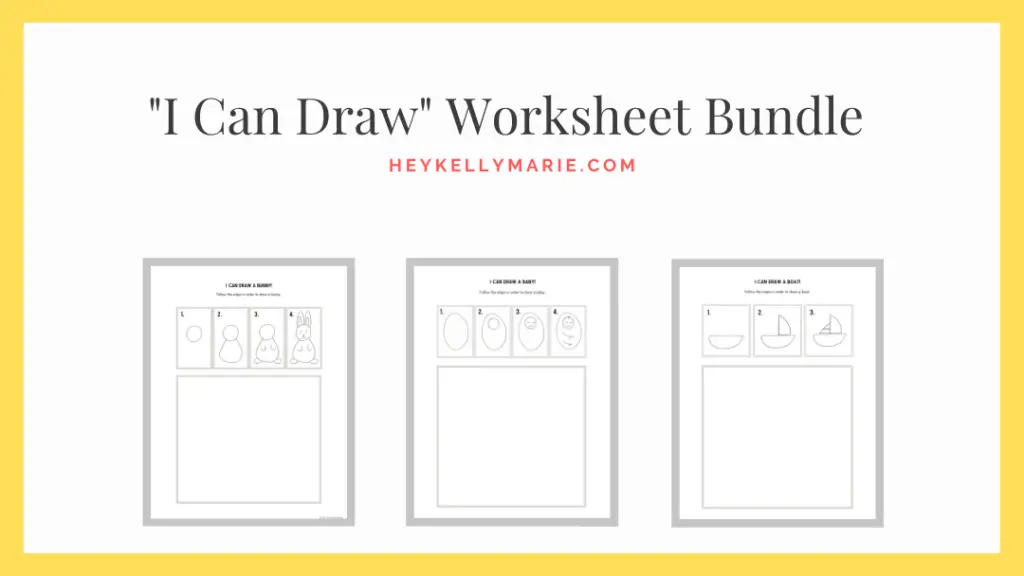 Subscribe here for your "I Can Draw" Worksheet Bundle.
Other Free Printable Activities from Hey Kelly Marie
Take a look at the hugely popular Alphabet Coloring Pages.
Another great worksheet you should check out is Design My Own Fish Bowl Activity!
Pin this post!
Sharing this post is a great way to spread the word about this great activity. It helps other people find the post, and also supports my work here.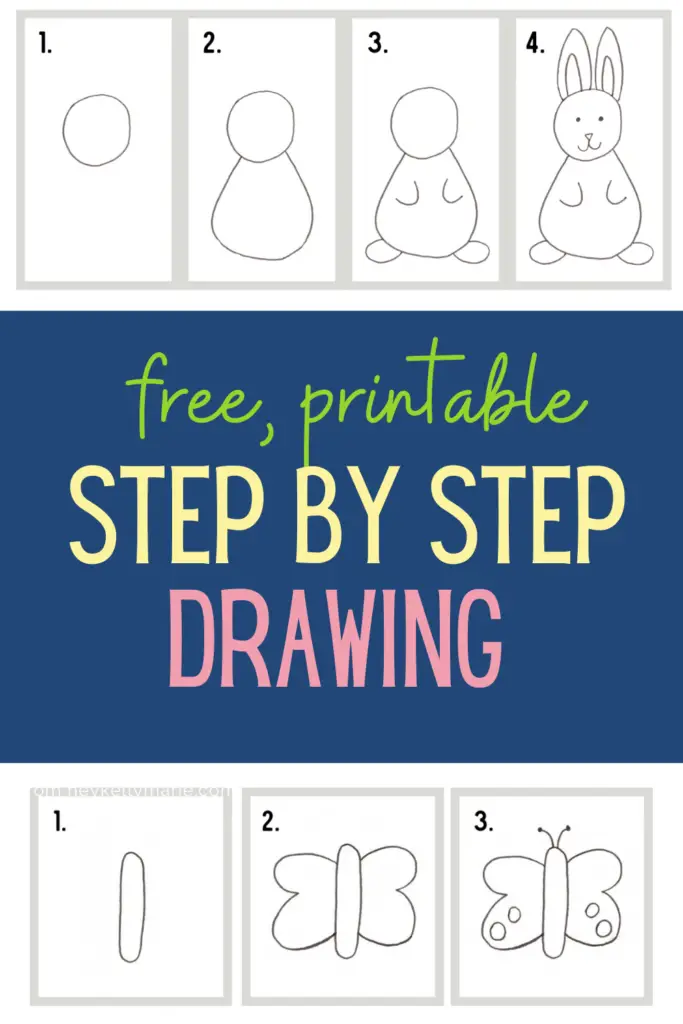 What do you think of this directed drawing activity bundle?
Did you and your kids enjoy this activity? Would you like me to create more directed drawing worksheets for kids? I love getting reader feedback. Leave a comment below or send me an email at heykellymarie@gmail.com.