My twins' preschool class has show and tell every week, and each week's theme is a different letter of the alphabet. Every week, I spend at least a few minutes brainstorming items we own that start with the letter of the week. I know many other preschool and kindergarten parents are doing the same. I'm making all our lives easier and compiling as many ideas as I can think of for each letter of the alphabet! Here is the ultimate alphabet show and tell guide with ideas for every letter of the alphabet.
General tips for finding an alphabet show and tell item!
Preschoolers can learn a lot through show and tell, and my kids love it! Here are my tips to make choosing alphabet show and tell items a little easier.
Decide what to bring the day before (or even earlier!) There is nothing worse than scrambling to get out the door and thinking "Oh no! We forgot show and tell!" I have been there. It's not fun. Set an alarm or write it on your calendar to take care of this the day before.
If your child has a hard time sticking to the theme, it might help to lay out a few items that start with that letter and let them choose from those. The times I've taken my twins to the toy box to look for something, they often had a hard time limiting their focus to the letter of the week. They just want to bring their favorite toy.
Consider discussing with your preschooler that once we decide on an alphabet show and tell item, he/she can't change their mind. It has happened more than once that my twins decide what they want to bring, and then the morning of, decide that item isn't actually what they wanted. This leads to a frustrating last second scramble.
Search your toy box for ideas. You'll be surprised what you find! If you have letter blocks, they can be an easy go-to idea.
Search your book and DVD shelves for titles that start with the letter of the week.
Foods, animals, places, and characters are my other go-to categories for ideas for alphabet show and tell.

Disclaimer: The information published in this blog is for information and entertainment purposes only. I am not an expert and you should look elsewhere for advice. I am not liable for any damages resulting from using the information or resources on this blog. All activities for children should be done with adult supervision. For further information, see the Disclaimer page.
Affiliate info: I sometimes publish endorsements and advertisements, which means that if you purchase something through one of the links here, I might receive a percentage of the sale, with no added cost to you.As an Amazon Associate, I earn from qualifying purchases. For further information, see the Affiliation Information Page.
Jump to the letter you're interested in:
A B C D E F G H I J K L M N O P Q R S T U V W X Y Z
A
alligator
acorn
astronaut
airplane
award (trophy or ribbon)
apple (real or from a toy kitchen)
avocado
apple sauce
apple juice
almonds (not a good idea at a nut-free school)
Asia, Africa, America, Australia, and so on (show on a map or globe)
ace (from a deck of cards)
angel (Christmas decor)
arm (your own or on a toy)
armadillo
ant
aardvark
animal (any stuffed animal or figurine)
Aladdin
Abu from Aladdin
Ariel Disney Princess from The Little Mermaid
Aurora Disney Princess from Sleeping Beauty
Alice and Wonderland
Anna from Frozen
asparagus
Angelina Ballerina
apricot
artichoke
Apple Jack and Apple Bloom from My Little Pony
Alvin and the Chipmunks
Arthur
Abby Cadabby
Andy from Toy Story
Anita from 101 Dalmations
Abraham Lincoln (Could bring a penny)
Andrew Jackson (Could bring a $20 bill if you trust that it will come back)
Alexander Hamilton
Albert Einstein
Angelica from The Rugrats
Anakin Skywalker from Star Wars
albatross
antelope
arrow from bow and arrow toy
ambulance
American girl doll
B
baby doll
bag
backpack
basket
ball
bandage or Band-Aid
baseball
bean
bear
bell
belt
bird
blanket
block
boat
bottle
bowl
box
branch
Bob the Builder
Barbie doll
burger 
battle ship
Bugs Bunny
Disney Princess Belle
Beast from Beauty and the Beast
Bambi
Buzz Lightyear or Bullseye from Toy Story
Batman
Boots from Dora the Explorer
bubble wand or machine
banana
broccoli
beets
bell peppers
brownies
blackberries
biscuits
badger
barn 
Bahamas, Barbados, Belize, etc. on a map
bunny
Bert from Sesame Street
binoculars
bow and arrow toy
ballerina or ballet costume
beads
brick (LEGO or cardboard building brick)
bracelet
Bitty Baby
Branch from Trolls
Bluey or Bingo
C
cat
cardinal bird
comb
coat
cookie
candy
cup
chicken
carrot
cheese
car
camera
castle
caterpillar (The Very Hungry Caterpillar would be great!)
cobra
cheetah
cow
crab
chameleon
chimpanzee
coin
coral
crane
crocodile
corn
cake
cupcake
cherries
cantaloupe
clementine
cucumber
cereal
coffee
camel
conch shell
cricket
coyote
Canada, China, Cuba, Czech Republic, and so on.
clown
cup
circle
cymbal
can
circus
celery
city (something with the name of your city on it)
Cinderella
Casper the Friendly Ghost
Christopher Robbin from Winnie the Pooh
Clifford the Big Red Dog
Clarabelle Cow
Caillou
Charlie Brown
crib
Chelsea Barbie doll
clock
cactus
costume
compass
cannon (we have one with a pirate ship set)
Cocomelon
D
dog
dice
deer
dollar
dime
dad
dart (like from Nerf toy)
doughnut
daisy
drum
dragon
doll
duck
dolphin
doctor (kit or costume)
diamond
Duplo Legos
dove
donkey
digger
dinosaur
dalmatian
dandelion
dessert
drumstick
Dallas, Denver, Dominican Republic etc. on a Map
dumptruck
drill
Daisy Duck
Donald Duck
Dash from The Incredibles
Dumbo
Daniel Tiger
Doc McStuffins
Dora the Explorer
Diego from Dora the Explorer
Dory from Finding Nemo
Didi Pickles from the Rugrats
Dennis the Menace
Darth Vadar
D.W. from Arthur
Disney
E
elephant
envelope
ear (Mr. Potato Head part, for example)
earring
ear muffs
eggplant
eye or eyeglasses
egg
Easter egg
Earth
elf
eagle
England, Ecuador, Europe etc. (on a map)
eel
egg roll
engine
elk
emerald
Elsa from Frozen
Elena of Avalor
Elmer Fudd
Eeyore from Winnie the Pooh
Elmo
Elastigirl from Incredibles
Esmerelda
eraser
excavator
F
frog
fish
firetruck
friendship bracelet
friend (picture)
flag
farmer
fairy
flower
flashlight
fox
finger or finger nail
fork
feather
flamingo
fan
football
falcon
ferret
face
father
ferry boat
firefly
flea
frisbee
flip flop
flour
foot
folk music
forest
fig
french fries
fruit
fiddle
french toast
fortune cookies
Froot Loops or Frosted Flakes
Fred Flinstone
Flounder from The Little Mermaid
Franklin the turtle
Frosty the Snowman
Fiona from Shrek
Flynn Rider from Tangled
France, Finland, Fiji and other countries that start with F
Frozen movie, book, or toy
family (picture)
fan
flippers
G
grill
gorilla
girl
game
golf club or ball
grass
giraffe
grape
grasshopper
gear
glove
guitar
glasses
gong
gazelle
green tea
gecko
gerbil
goldfish
goose
grizzly bear
green pepper
green beans
garlic
ginger
garbage truck
Garfield
globe
ghost
Gumby
Goldilocks
Grover from Sesame Street
Goofy
Guess who?
Garden or gardening tools
Goal (soccer or football goal)
gold coins
grandparents (picture)
gummy bears
gum
Gaston from Beauty and the Beast
Genie from Aladdin
Grumpy from Snow White
G.I. Joe
George from Curious George
Godzilla
Green Hornet
groceries
George Washington ($1 bill)
Germany, Greece, Guatemala, etc.
gift (a box wrapped up)
gymnastics
galaxy
governor (picture of your local governor)
goggles
H
harp
hippo 
Hulk 
Hello Kitty 
home (picture) 
horse 
Halloween (decor, shirt, costume, etc.) 
Hatchimals 
heart (shape or organ) 
honey 
Harry Potter 
Hot Wheels car 
hazelnut 
hair (brush, bow, hairdryer, Mrs. Potato Head piece)
halo 
hammer (from toy tool bench)
head
helicopter 
herb 
hero 
husky 
hexagon 
hospital 
hot dog 
hot air balloon 
hundred (100 of any item)
horoscope 
hornet 
hockey stick or puck
honor 
hawk 
hay 
hatchet 
hard hat 
hat 
hand (Mr. Potato Head)
handbag 
handkerchief 
hamster 
ham 
handcuff 
hot cakes (pancakes)
hummingbird 
hyena 
hare
hedgehog 
Hamm from Toy Story 
Homer Simpson
Hermione Granger from Harry Potter
Hawaii, Honduras, Hungary etc on a map 
Hannah Montana 
Han Solo 
hippy (costume, wig, clothing item, etc.)
horn
heron
hose
headphones
headband
I
ice cream
iron
ivy leaf
iris
ice cube
ice skate
ink pen
insect
infant (baby doll)
ice cream scoop
iguana
igloo
icing
Idaho potato
instrument
inch (ruler)
inchworm
Iron Man
Inspector Gadget
Incredible Hulk
The Incredibles
Ice Age
J
jacket
Jack in the box
jaguar
jellyfish
jet
jump rope
jewelry or jewelry box
jigsaw puzzle
jelly beans
jeep
jersey
Jake from Jake and the Neverland Pirates
Justice League toy
Japan
janitor
jack russell terrior
January, June, or July (calendar page)
Jesus (baby Jesus from a Nativity scene)
juice
joke (copy of a joke to tell to the class)
jungle
Jupiter
jeans
jam
jingle bell
juke box
Jafar from Aladdin
Princess Jasmine
Jessie from Toy Story
Jack Sparrow
Junie B. Jones
Jabba the Hut
Jack Jack from The Incredibles
Jiminy Cricket
jackhammer
K
kangaroo
kite
key chain
keyboard
kitchen (small toy set)
kiss (Hersey kiss)
king
kaleidoscope
koala
Kinetic sand
knife (toy)
kitten
keys
knight
karaoke machine
Kansas or Kentucky (on a map)
kiwifruit
killer whale
karate belt
kindergarten (picture of teacher or friend)
ketchup from toy kitchen set
Ken doll
Katniss Everdeen
Kermit the frog
Kim Possible
King Arthur
kitty
Kristoff from Frozen
Kool Aid man
King Louie from The Jungle Book
King Triton
Kanga the kangaroo
kid
kettle
knickknack
knapsack
kick board
Katerina from Daniel Tiger's Neighborhood
L
lion
ladybug
lips (Mr. Potato head)
leaf
lock
ladder
lamp (from dollhouse)
lunchbox
light (flashlight)
lollipop
letter
lamb
lobster
locket
lantern
lemon
lime
lace
Laborador retriever
lid
leg
lava
luggage
light saber
LEGO
leopard
Leapfrog toy
lanyard
leggings
leotard
library book
leprechaun
Little People figure
Leatherback sea turtle
llama
lorikeet
lacrosse
Louisiana (on a map)
Lisa Simpson
Lilo from Lilo and Stitch
Loki
Lois Lane
Luigi
Little Red Riding Hood
Lion King
Lightning McQueen
Lone Ranger
Luke Skywalker
Little Mermaid
Lumiere from Beauty and the Beast
Lotso from Toy Story
Lord Farquaad
linguini
M
meatball
monster
Magnatiles
magnet
milk
melon
mint
martian
makeup
mask
marshmallow
mustard
mail
maple syrup
mango
mushroom
muffin
marker
mouse
moose
Mickey Mouse
microphone
money or money clip
microscope
Michigan or Minnesota (on a map)
Mars
mermaids
magic trick
music box
motorcycle
mitten
Matchbox car
monkey
maraca
Mega Bloks
M&Ms candy
Minnie Mouse
Mufasa from The Lion King
Minions
Mulan
Michelangelo Ninja Turtles
Miss Piggy
mummy
Merida from Brave
mandarin orange
macaroni and cheese
mountain
manta ray
mockingbird
Moana
mirror (kid safe)
mustache (we have a set of dress up sticker mustaches that would be fun)
Margaret from Daniel Tiger's Neighborhood
Miss Elaina from Daniel Tiger's Neighborhood
N
Neptune
nail polish
nail
naan
nuggets
Nutella
nachos
noodles
narwhal
newt
nightengale
nighthawk
newspaper
nose
nest
net
nurse
necklace
necktie
nuts
notebook
ninja
note
nectarine
neighbor
neighborhood
Nana
nickel
Nevada, Nebraska, New York, New Hampshire, New Mexico, New Jersey on a map
Nancy (Fancy Nancy)
Nemo
Norville the Dragon (Wallykazam)
Nala from Lion King
O
octopus
octagon
ocean
operation
opera
olive
onion
oats
owl
oar
oven (from a doll set)
orange
ostrich
omelet
ox
oil
orca
origami
orchid
oyster
oval
one
otter
oboe
Olaf
Optimus Prime
Obi won Kenobi
Oliver Twist
Oscar the Grouch
Olive Oyl
O the Owl from Daniel Tiger
Oompa Loompa
ogre
ocra
P
popcorn
peanut
pig
Piglet from Winnie the Pooh
person
purse
pot
potato
print or printer paper
paint
paintbrush
pickle
pony
ponytail
pecan
pumpkin
pump
purple
pineapple
pine tree
pencil
pen
paper
Pope
pipe
pool
putter
pillow
part
pet
pebble
penny
pentagon
Pastor or Priest (picture of)
pastry
paste
parents
package
pizza
peppers
papaya
pear
plum
pea
parsnip
pail
Peppa Pig
panda bear
polar bear
PJ Masks
pajamas
penguin
puppy
princess
Paw Patrol
pink
Power Ranger
porcupine
piano
pirate
party favor
Pac-Man
palm tree
plants
parachute
Pluto
pug
Perdita from 101 Dalmatians
Pongo from 101 Dalmatians
poncho
Pinocchio
Pocahontas
Pumbaa from Lion King
Porky Pig
peach
planet
Prince Wednesday from Daniel Tiger's Neighborhood
Poppy from Trolls
Q
queen (deck of cards or figurine)
quilt
quack
quarter
quail
quiet
Quaker Oats
quiz
quadrilateral shape
Quasimodo
Queen of hearts
quinoa
quiche
R
robe
Robin Hood
rope
ring
rice
rectangle
rector
recipe
receipt
right (glove, shoe)
rabbit
raisin
radicchio
radio
radish
red
roof
Rhode Island
road
ravioli
raspberry
rose
rosemary
Rapunzal
Red Riding Hood
Rex from Toy Story
Roger Rabbit
Rafiki
Roo
Rudolph the red nosed reindeer
reindeer
rhinoceros
rainbow
rain jacket
rat
racket
Raffi
rocket
railway
Radio Flyer
remote
raccoon
ribbon
rocking horse
ruler
rolling pin
recycle truck
S
sock
soccer ball
soap
sunglasses
snake
scale
Superman
Spider-Man
spider
sunflower
squash
solar system
shield (like Captain America's shield)
saw (from tool bench toy)
screwdriver (from tool bench toy)
sucker
Skittles
sneaker
shoe
sandal
sleeping bag
spaghetti
strawberry
seed
salt
silverware
stone
sailboat
sushi
sweater
saddle
stamp
seashell
sugar
swing
slipper
scarf
squirrel
swan
sword
Scar, Sarabi, or Simba from Lion King
Snow White
Sven from Frozen
Sofia the First
Stitch from Lilo and Stitch
Slink and Sheriff Stinky from Toy Story
Shriek
Scooby Doo
Snoopy
Smurf
Sonic the Hedgehog
stopwatch
Skipper Barbie doll
stethoscope (play doctor or vet set)
scoop or shovel (sand toys)
snorkel
T
triangle
tape measure (toy tool set)
tree
taco
tangerine
teddy bear
tiara
train
tractor
truck
top
tyrannosaurus rex
tarantula
tire
t-shirt
toy tool
turtle
tea
tiger
Tinkerbell
Princess Tiana
tape
tie
tennis ball or racket
tomato
Tigger
Teletubbies
Thomas the Tank Engine
telephone
Toy Story (movie, book, or toy)
tutu
toast
tuna
turkey (stuffed toy or play food)
Tarzan
Thor
T'Challa
Tom and Jerry
Tooth Fairy
toothbrush
Texas or Tennessee on a map
trumpet or trombone (toy instrument)
tow truck
U
umbrella
unicorn
Ursula (from Little Mermaid)
Umizoomi (Team Umizoomi)
Uno game
USA (flag, map)
uncle
ukelele
Utah on a map
undershirt
utensils
Ugg boots
uniform, any kind
upside down cake
Ugly doll
Underdog toy
V
violin
vulture
viking
villian
valentine's day card (print one free here)
video
video recorder
vegetable (play food)
vehicle
vet play set
vet figurine
vampire
van
vanilla (ice cream play food)
volleyball
Very Hungry Caterpillar
Voldemort
Vampirina toy or book
Velveteen Rabbit
velcro (often on shoes or coats)
vase (kid safe)
vacuum toy
vest
velvet
vine
volleyball
vote (I voted sticker)
viper
vacation (picture or souvenir)
W
Wonder Woman
Winnie the Pooh
whistle
wooden toy or car
watch
walrus
washcloth
water bottle
whale
whisk
wig
Where's Waldo book
window (from LEGO set)
worm toy
wallet
Webkins
wedding (photo)
waffle (play set)
windup toy
wasp picture
weasel
warthog (Pumbaa from Lion King)
wildebeest
woodpecker
wolf
watermelon
Where the Wild Things Are
world (globe)
walnuts
wild rice
Washington D.C. or Washington state on a map
wrench from toy tool set
wreath (mini one would be fun)
web
washing machine (from doll house)
wizard
wooly mammoth
wolverine
X
xylophone
x-ray picture
X letter from puzzle, book, cut out of magazine
X-men
X marks the spot
Y
yo-yo
yearbook
yarn
yogurt
yam
Yahtzi
Yoda
yolk
yellow
yellowjacket
yak
you (picture of yourself)
Yosemite Same
Yoshi dinosaur from Nintendo
Yu-Gi-Oh
Z
zombie
zero
zeppelin
zebra
zinnia flower
zoo
Zurg from Toy Story
zipper
zig zag line
zucchini
zookeeper figurine
Zeus
Zelda
Zora
Zoe 101
Zeina
Pin this post so you can always find the Ultimate Alphabet Show and Tell Guide!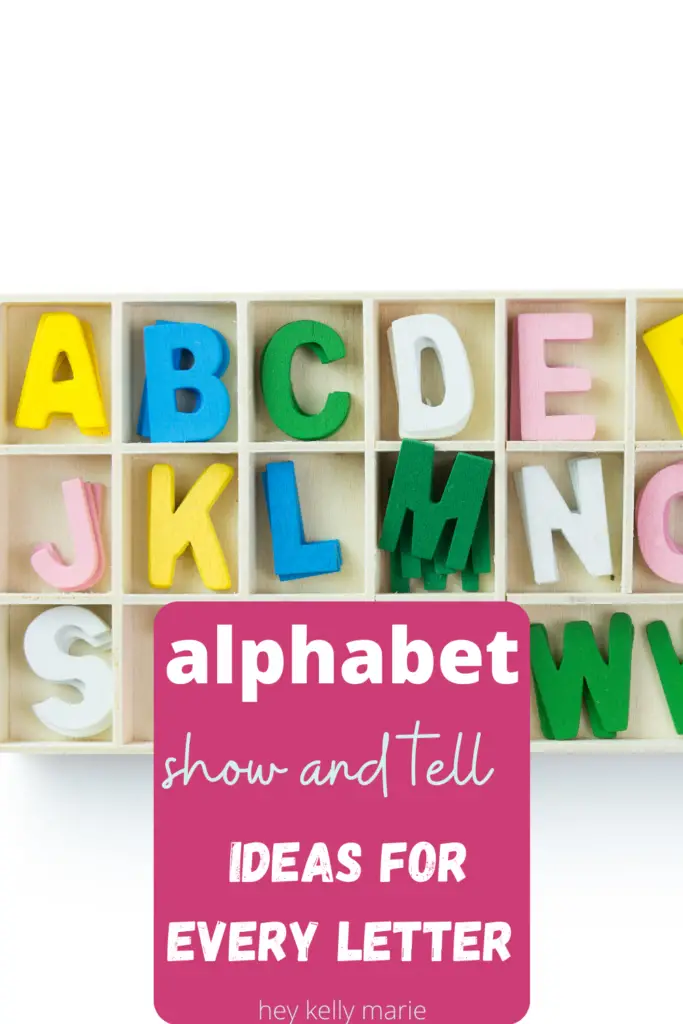 What do you think of the ultimate guide to alphabet show and tell?
I love hearing from readers and I'd love to know what you think of this alphabet show and tell guide! I have tried to think of all the ideas for every letter of the alphabet, but I am sure there are ideas I am missing. Is there an idea that I should add? Leave a comment below.