Are you tired of stockings overflowing with junk? You know, the trinkets that fall apart after a few minutes of play or candy that results in a full on meltdown Christmas afternoon. You are not alone! To help solve this problem, I have brainstormed a list of practical stocking stuffers.
Christmas stockings hung near the fireplace are a classic tradition that go back as far as 1823. I have found that stocking stuffers are a great opportunity to stock up on items that we buy and use normally, but are maybe running low on or that could use a refresh. In our house, these are often art supplies, school/homework supplies, toiletries, cold weather accessories, and so on.
I encourage you to consider items your kids use up often and take the opportunity to put those things in stockings. I don't feel the need to necessarily provide "magic" to my kids through stocking stuffers. Our kids are little and they are most excited about the toys and gifts Santa brings under the tree. That said, they do still really enjoy seeing what is in their stockings. Providing them with things that they both will use and love is a great balance for our family. Of course, every family is different and I in no way expect that what works for us will work for every family. Practical stocking stuffers are merely an option to consider.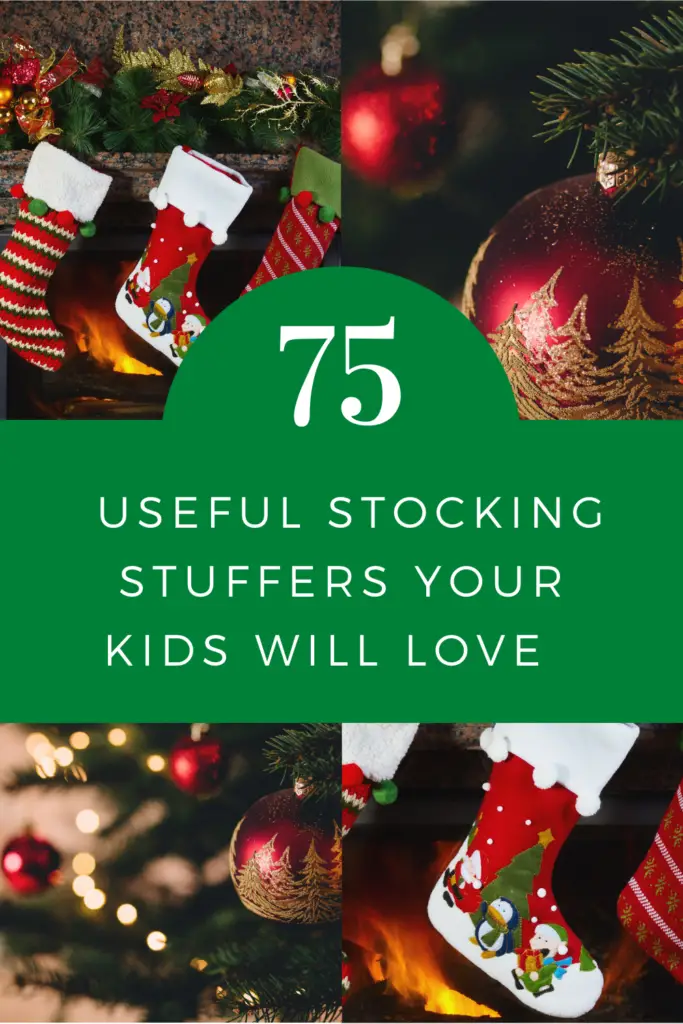 Also, I know this goes without saying. But, please use your best judgement when considering what is appropriate for the age of your child. Some of these items are appropriate for older or younger children and every item will not work for every age.
I'd love to know what you think of these practical stocking stuffers and also hear about what gifts your kids receive in their stockings. Please leave a comment below.
Disclaimer: The information published in this blog is for information and entertainment purposes only. I am not an expert and you should look elsewhere for advice. I am not liable for any damages resulting from using the information on this blog. All activities for children require adult supervision. For further information, see the Disclaimer page.
Affiliate info: I sometimes publish endorsements and advertisements, which means that if you purchase something through one of the links here, I might receive a percentage of the sale, with no added cost to you. As an Amazon Associate, I earn from qualifying purchases. For further information, see the Affiliation Information Page.
Practical Stocking Stuffers Kids Love
markers
crayons
glue or glue stick
colored paper
toothbrush
sticky notes
card games
socks
pajamas
watercolor paints
stickers
small notebook
hair bows
hair brush
hand sanitizer
nightlight
bike bell
bike lights
toboggan or beanie
gloves or mittens
chapstick
stamp pad
flash light
magnifying glass
hair ties
slippers
play doh
paint brushes
hole puncher
magnets (for the fridge or magnet board)
ornament (I love gifting an ornament specific to that year)
sunglasses
dot markers
kid's umbrella
child garden tools
figurines (doll house figures, superhero figures, zoo animals, etc.)
small craft kit
pencil sharpener
Wikki sticks or pipe cleaners
Tempera paint sticks
bubble bath
underwear
kid-friendly stopwatch
mother-child or father-child journal
water bottle or straw cup
sand timer (great for taking turns)
hair detangling spray
pencil erasers
small board game
kid identification bracelet
small puzzle
colorful tape
label stickers
bubbles
bubble wand or blower
kinetic sand
eating utensils
divided plates
baking supplies (baking mixes, cupcake/muffin liners, sprinkles, or cookie cutters) for a kid that likes to bake
seed packets for spring
memory book or photo book
tape dispenser
pom pom balls
stamps
headphones
walkie talkies
binoculars
bandaids
kite
rain boots
rain jacket
sidewalk chalk
face mask
hand warmers for kids
body soap or lotion
Pin this post for later!
If you found this post helpful, please share it so others can find it. Sharing posts through Pinterest is also a great way to support my blog.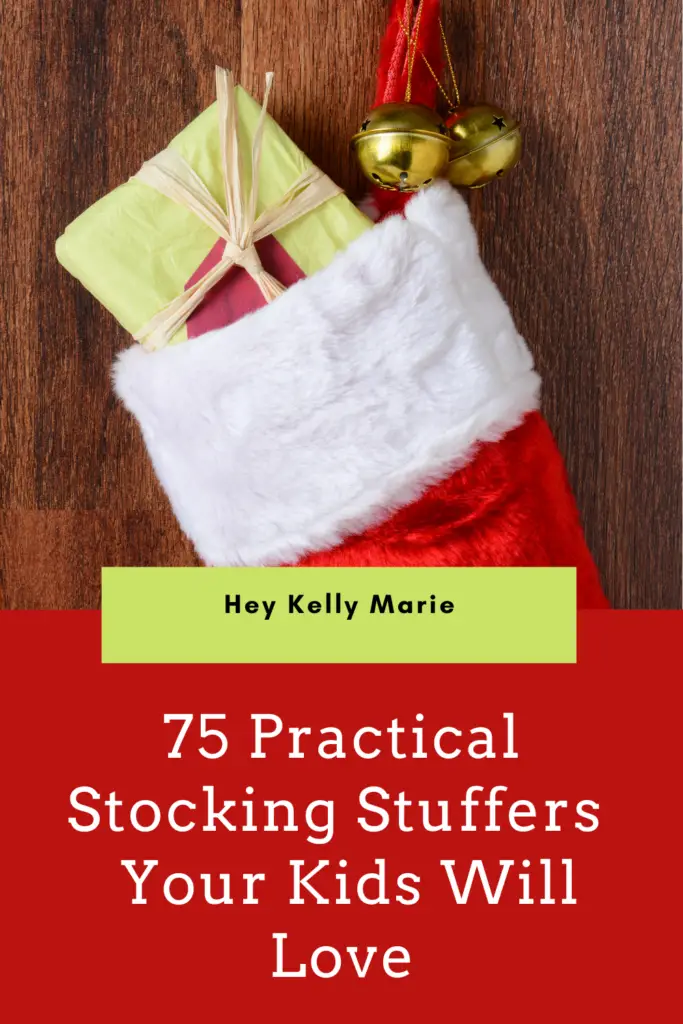 What do you think of these practical stocking stuffers kids love?
I love hearing from readers and I'd love to hear what you think of this list. Did I forget anything? What do your kids get in their stockings? Leave a comment below.
Check out my list of Top Toys for Preschoolers
This post is packed full of gift ideas for preschool aged kids. Check it out HERE.