Who doesn't love a first day of school photo? Start of school pictures signify the fresh start of a new school year, and they make great keepsakes. To make this tradition super fun, easy, and FREE for busy parents and teachers, I have created a free, printable First Day of School Sign.
This First Day of School Sign is an instant download. All you have to do is click the link at the bottom of the post, and the PDF sign is yours. Enjoy!
Disclaimer: The information published in this blog is for information and entertainment purposes only. I am not an expert and you should look elsewhere for advice. I am not liable for any damages resulting from using the information on this blog. All activities for children require adult supervision. For further information, see the Disclaimer page.
Affiliate Info: I sometimes publish endorsements and advertisements, which means that if you purchase something through one of the links here, I might receive a percentage of the sale, with no added cost to you.As an Amazon Associate, I earn from qualifying purchases. For further information, see the Affiliation Information Page.
First Day of School Sign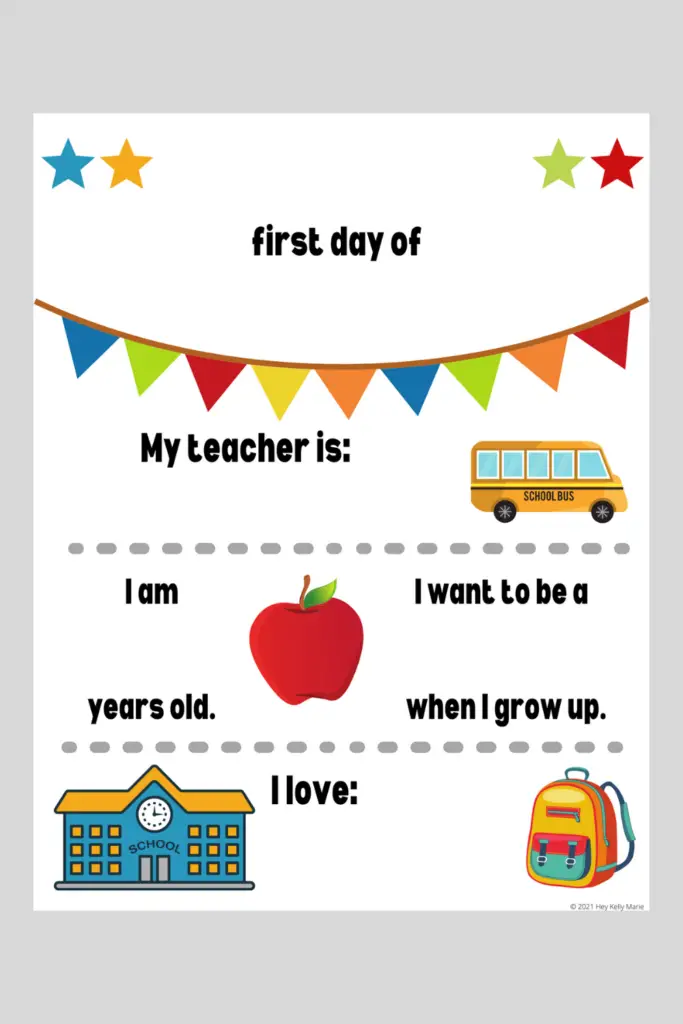 This free printable First Day of School Sign is really simple and cute. There are spaces to fill in the child's name, year in school, teacher, and age.
Additionally, there are spots to record what they want to be when they grow up and what they're loving right now.
Get Your Free, Printable First Day of School Sign Here
Terms and Conditions:
This First Day of School Sign was created by Hey Kelly Marie for personal and personal classroom use. 
The sign is also copyright protected. © 2021 Hey Kelly Marie and all rights reserved.
Additionally, this printable sign may not be sold, hosted, stored, or reproduced on any other site or blog.
Lastly, adult supervision should be provided for children's activities. It is up to each child's caretakers to determine what is developmentally appropriate and safe for their child. Caretakers have full responsibility for child safety and development.
Other Back to School Posts from Hey Kelly Marie
Check out these free, printable Back to School Activities for Kids. There's an opportunity for kids to create a self portrait, a family portrait, and more.
What do you think of this Free, Printable First Day of School Sign?
I'd love to hear what you think of this free, printable start of school sign. Will it make the first day of school easier for you? Is there a way you'd like to see the sign changed or improved? Leave a comment below.