Here are 10 free, printable paper mosaics templates for kids. Use them to create awesome paper mosaics today!
Mosaics are art decorations made up of small closely placed pieces of material, usually glass, stone or tile. They are also often very colorful.
Kids can learn about mosaics by creating images out of small pieces of colorful paper!
Disclaimer: The information published in this blog is for information and entertainment purposes only. I am not an expert and you should look elsewhere for advice. I am not liable for any damages resulting from using the information on this blog. All activities for children require adult supervision. For further information, see the Disclaimer page.
Affiliate info: I sometimes publish endorsements and advertisements, which means that if you purchase something through one of the links here, I might receive a percentage of the sale, with no added cost to you. As an Amazon Associate, I earn from qualifying purchases. For further information, see the Affiliation Information Page.
How to make a paper mosaic


Paper mosaics are easy and fun to make, and you probably already have everything you need. You'll first need a larger piece of paper to cover with smaller pieces of paper. Then, you'll cut colorful pieces of paper into small squares, rectangles, diamonds, or any shape you like and glue them to create a beautiful pattern or decoration. The possibilities are endless.
We use this type of colorful paper (affiliate link), but of course, others will work just fine.
You can create your own design or if you'd like some ideas to work from, I have created 10 free, printable mosaic templates that can be found at the end of this post.
In addition to learning about mosaics, this is a great activity for kids to work on fine motor skills, cutting, and pasting.
Tips and Tricks for Paper Mosaics with Kids
After completing this project, I've learned a few tips and tricks.
Smaller mosaic pieces allow for more detail. I suggest using smaller pieces on the more intricate template designs, like the dinosaur and bird.
Larger mosaic pieces make for a quicker project. For smaller kids that may not have long attention spans, I suggest using bigger pieces of paper. They will be able to cover more surface area in less time and won't get frustrated. Bigger pieces are also a little easier for smaller hands to grasp.
Creating a border with color is an easy way to give the project a finished look.
Get Your Free, Printable Paper Mosaics Templates
By downloading the Paper Mosaics Templates, you accept these terms and conditions. 
These templates were created by Hey Kelly Marie for personal and personal classroom use. 
The templates are copyright protected. © 2021 Hey Kelly Marie and all rights reserved.
Additionally, these templates may not be sold, hosted, stored, or reproduced on any other site or blog.
Adult supervision should be provided for children's activities. It is up to the child's caretakers to determine what is developmentally appropriate and safe for their child. Caretakers have full responsibility for child safety and development.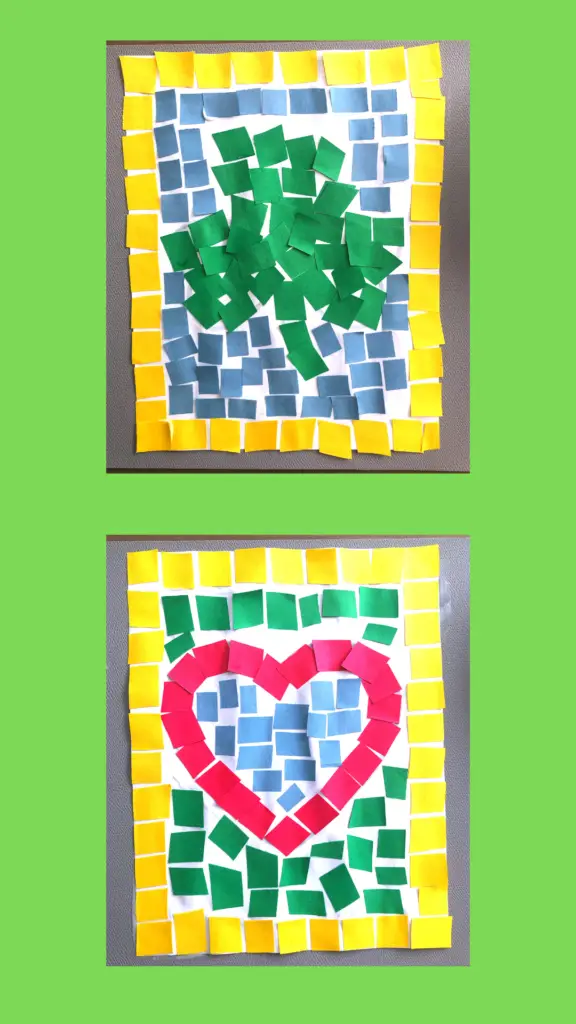 CLICK HERE TO DOWNLOAD YOUR PAPER MOSAICS TEMPLATES
What do you think of these free, printable paper mosaics templates?
I'd love to hear what you think of these free, printable paper mosaics templates for kids' art projects. Have you made mosaics with kids before? I'd love to know your tips and tricks and also any advice you may have! Leave a comment below.