Getting dinner on the table night after night can be a struggle. There is one easy meal prep step that I do every week that saves me time, energy, and stress at dinnertime. Let me tell you all about it!
Disclaimer: The information published in this blog is for information and entertainment purposes only. I am not an expert and you should look elsewhere for advice. I am not liable for any damages resulting from using the information on this blog. All activities for children should be done with adult supervision. For further information, see the Disclaimer page.
Affiliate info: I sometimes publish endorsements and advertisements, which means that if you purchase something through one of the links here, I might receive a percentage of the sale, with no added cost to you. As an Amazon Associate, I earn from qualifying purchases. For further information, see the Affiliation Information Page.
My Easy Meal Prep Hack
Okay, so this is really simple. The day after I buy groceries, I season and cook the meat for the meals that week. I will season and bake chicken breasts for soup, brown ground beef for tacos, or make shredded chicken for enchiladas in the Instant Pot.
This week, for instance, I baked Greek seasoned chicken breasts that I plan to serve with pasta and broccoli, browned ground beef for chili stew, and baked chicken thighs for tacos. This took me about 10 minutes of prep, and then it's just about waiting for the meat to cook and storing it until we're ready to eat it. Check out the FDA guidelines on food storage if you have any questions about how to store food safely.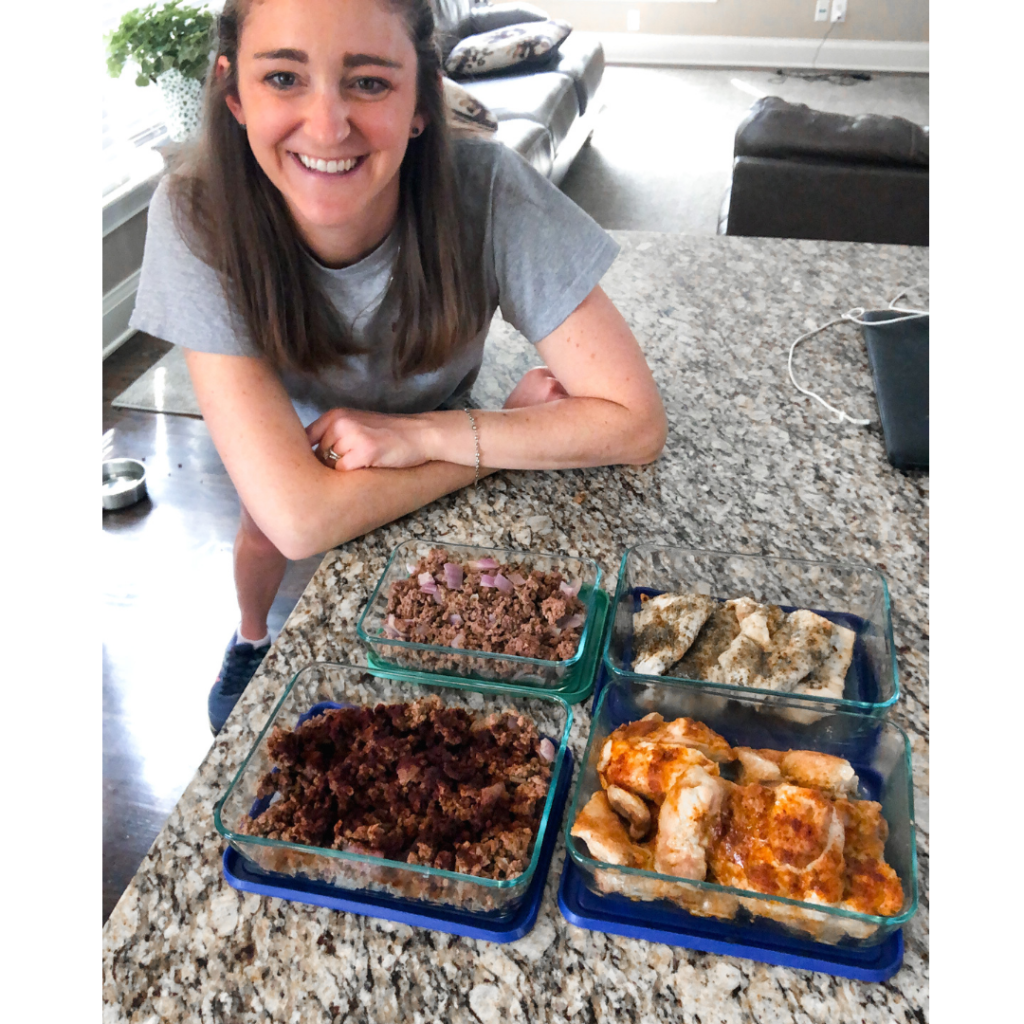 When dinner time rolls around, I have a huge head start on cooking the meal. Often, I'll just need to cook pasta or rice, or stir fry some veggies to go with the meat I've prepped.
You can simplify this meal prep step even further!
One way to greatly simplify this step is to cook the same meat for every meal in a given week. For instance, baked chicken breast can be used in enchiladas, chicken soup, chicken stir fry, and more. If you only want to prep one type of meat, but want to make several dishes from it, this is a great way to do that.
Most Helpful Supplies for Meal Prep
There are a few kitchen supplies I turn to again and again to make meal prep quick and easy. They are:
A note on glass storage containers: I prefer rectangular storage containers because I think the shape allows me to fit more in my refrigerator. I also prefer 6-7 cup containers for the meat I've prepped for one meal. 6-7 cups is about the right size for my family, but of course, if your family is bigger or smaller, you'll need to buy a different size.
Why do I prep meat?
Before I started taking this one meal prep step, I used to freeze all raw meat immediately when I'd bring home groceries. Then, the day I wanted to prepare a meal, I'd have to thaw the meat, season it, and cook it. It wasn't a crazy amount of work, but it was several steps that had to be taken throughout the day. Now, when I go ahead and season and cook the meat, I can either store it in the fridge or freezer, pull it out and use it as is.
I determine whether I should store food in the fridge or freezer based on how long it is going to before it is eaten. Check out the FDA article "Are you storing food safely?" to get tips on how best to store food.
How can I prep a meatless dish?
Often our meals contain meat, but definitely not all of them. If there isn't any meat on the menu, I will prepare another main component of the dish. This main component might be beans for rice and beans, rice for a vegetable stir fry, or roasted potatoes. The prepared component might also be a sauce, like a delicious tomato sauce for pasta, for instance. I will usually pick the longest cooking element of the dish to prepare ahead of time.
The benefit of the meal prep is the same. If you get a jump start preparing the meal, you can pull it together quickly when meal time rolls around.
What do you think of my meal prep hack?
I'd love to hear what you think of this meal prep step. I know it's simple and I am surely not the first person to think of it, but it has saved me so much time and energy that I just had to share. Do you do another type of meal prep or do you wing it come dinnertime? Leave a comment below.