About a month ago, I set out to update our kids' bathroom decor and I am so happy with how it turned out! The kids' bathroom is bright and cheerful, and the decor was affordable, too!
Disclaimer: The information published in this blog is for information and entertainment purposes only. I am not an expert and you should look elsewhere for advice. I am not liable for any damages resulting from using the information on this blog. All activities for children should be done with adult supervision. For further information, see the Disclaimer page.
Affiliate info: I sometimes publish endorsements and advertisements, which means that if you purchase something through one of the links here, I might receive a percentage of the sale, with no added cost to you. As an Amazon Associate, I earn from qualifying purchases. For further information, see the Affiliation Information Page.
The Kids' Bathroom Backstory
When we moved in our house nearly four years ago, we made it a priority to furnish and decorate the main living spaces, including the living room, kitchen, and den. That was about all we could handle at the time. We had just had our third baby and had 2 year old twins. Needless to say, we quickly ran out of steam. The kids' bathroom was never decorated.
The bathroom stayed a pale green paint color with a solid white shower curtain. Check out the "before" picture at the bottom of the post.
Fast forward several years and I finally took the time to decorate the kids' bathroom. I have two sons and one daughter, so it was important to me that the bathroom have a good balance of masculine and feminine. We wanted the bathroom to be colorful and cheerful.
Kids' Bathroom Decor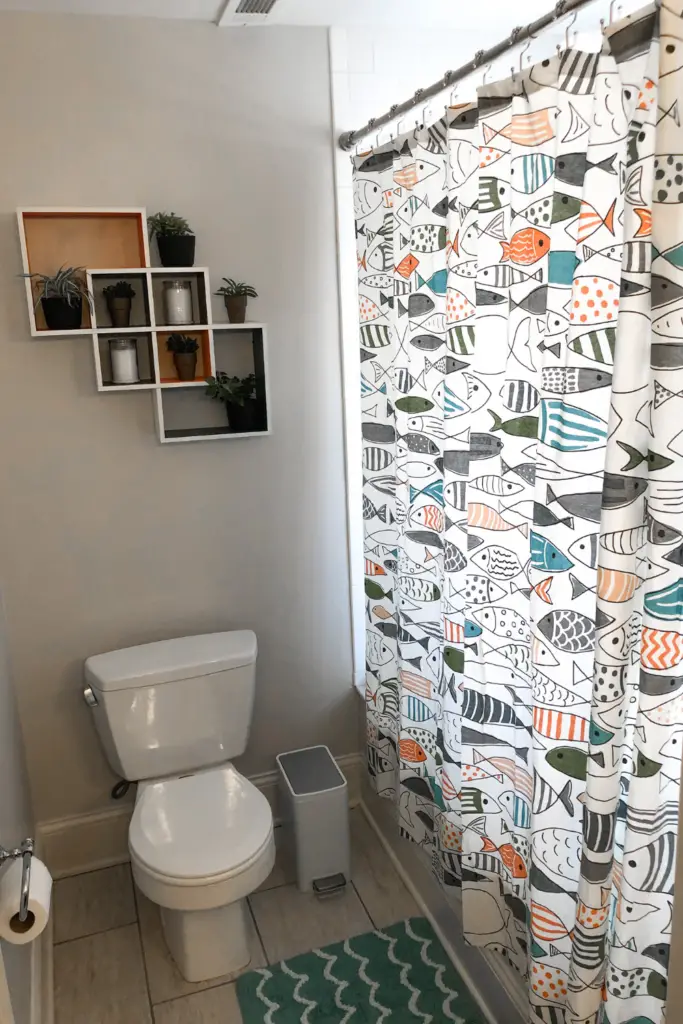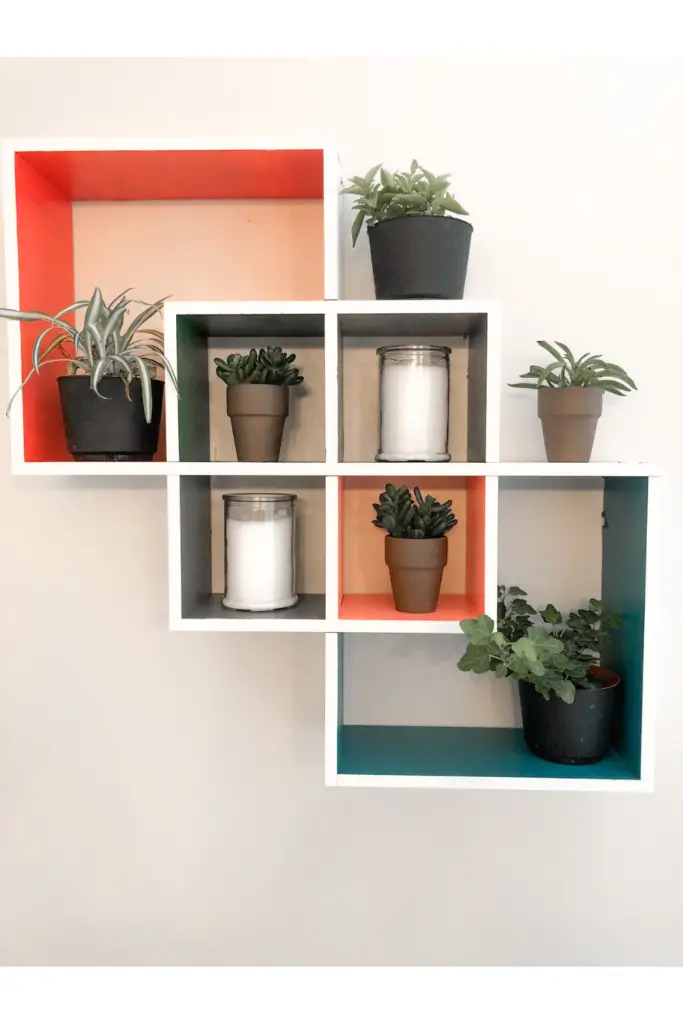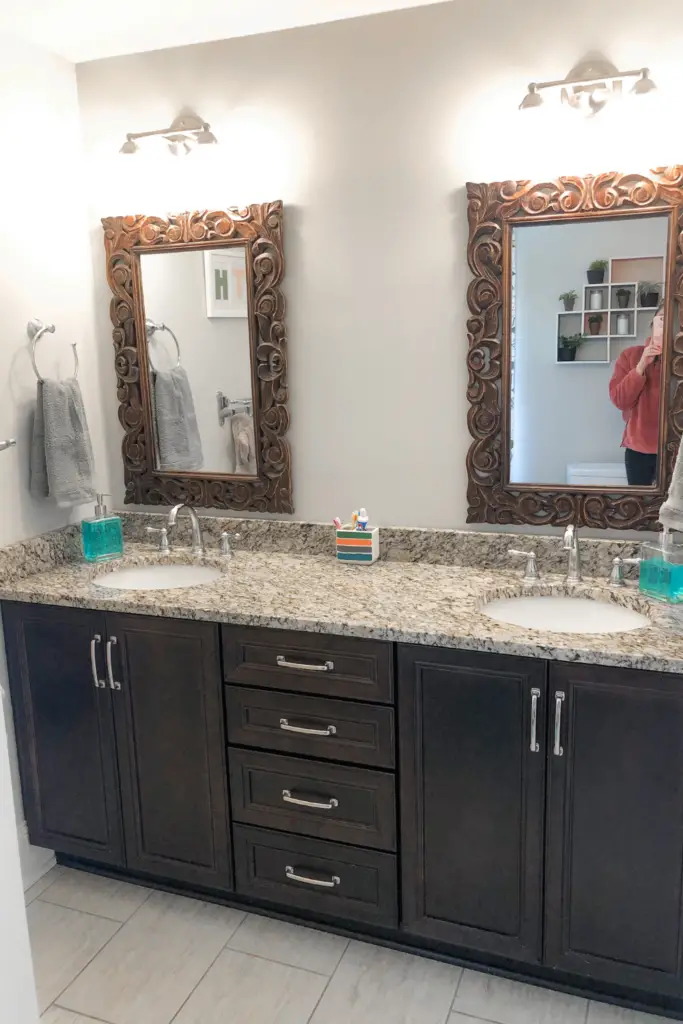 Thankfully, most of the main structures of the room (i.e. expensive parts) could stay. We kept the espresso wood double vanity, granite countertops, light fixtures, and tile floor.
We painted the room Sherwin Williams Agreeable Gray to compliment the vanity and countertops. This is such a great neutral color. This color also provides a nice backdrop for brighter decor elements.
I found this bright and cheerful shower curtain (affiliate link) and decided to use the colors in it to direct the rest of the decor. I picked a teal bath mat to bring some color to the floor, and play off of the colors in the shower curtain.
The hanging wall shelf (affiliate link) was originally solid white and I decided to paint the interior cubes coral, charcoal, teal, and orange. I love the pop of bright color it brings to the bathroom. The shelves are decorated with succulents and glass jars (affiliate link) right now, but I love that we can change them over time as our kids grow and their needs change.
I used a multi-image frame (not an affiliate link) to spell BATH in bright colors above the towel rack. I also filled the soap dispensers with teal hand soap (affiliate link) to bring color to the vanity.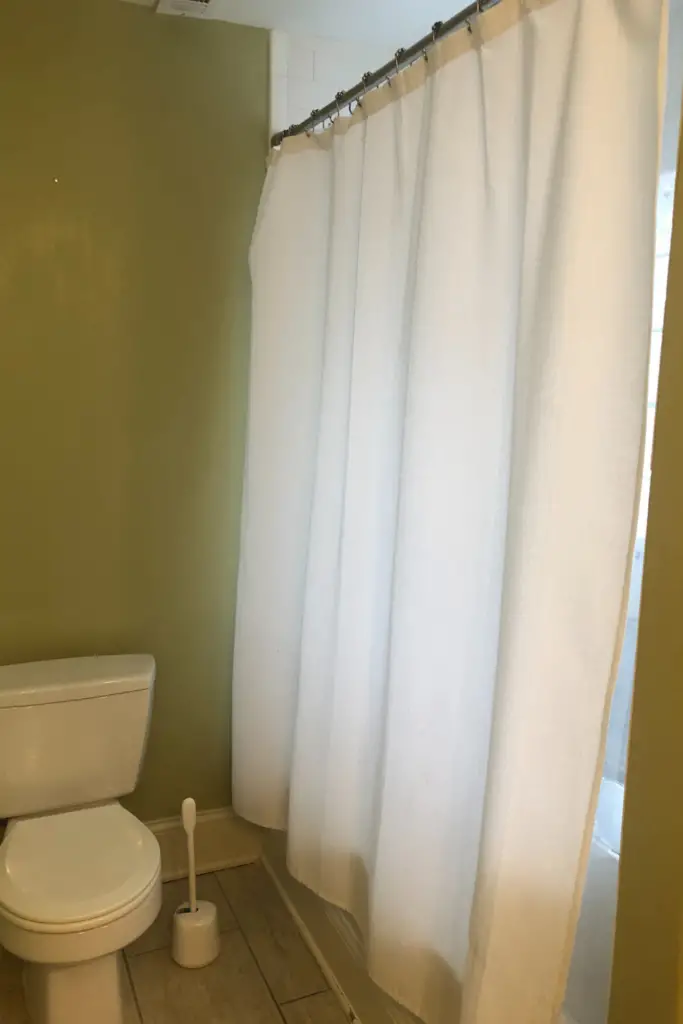 What do you think?
I'd love to know what you think of our bright and cheery, affordable kids' bathroom decor update! Are you in the middle of a bathroom update? How do you go about decorating kids' rooms? I'd love to hear about it. Leave a comment below.
More from Hey Kelly Marie
Check out my 8 Quick Tips for New Gardeners!