The coronavirus pandemic has significantly impacted many kids' lives. Their schools closed early, sports leagues were canceled, and even trips with mom or dad to the store are often no longer part of their routine. All these changes can bring about big feelings in kids. I have created a five page coloring book to help kids explore their feelings about staying home. My hope is that it will facilitate conversations between parents and kids about the COVID-19 pandemic.
Talking to Kids About the Pandemic
As a parent to three young kids, I have pondered how best to broach the topic of coronavirus with my kids. I want to give them truthful information, and reassure them at the same time.
I found several resources very helpful in guiding these conversations. This post from the Child Mind Institute and this article from the CDC were so helpful. Also, this podcast was so encouraging and enlightening!
Through talking to my kids about COVID-19, I realized that my kids were sorting through their own feelings about the pandemic. Consequently, I was inspired to create this coloring book to help kids explore their feelings regarding quarantine and social distancing.
What is the How I Feel About Staying at Home Coloring Book?
The coloring book has 5 different activities to get kids thinking about how they feel about staying home, what and who they miss, who cares for them, and what might make them feel better. Lastly, there is space for kids to create a picture to send to a friend or family member.
Table of Contents:
How do you feel?
What or who do you miss?
People that care about you.
How you might feel better.
Connect with a friend or family member.
Supplies Needed for the Coloring Book
The list of supplies you need for to complete this coloring book is very short!
All you need are coloring supplies and a method to send a picture to a friend or family member. Either a stamp and envelope to mail the picture, or a smart phone to text or email it will work.
What the How I Feel About Staying Home Coloring Book is NOT
This workbook does not serve as mental health advice or treatment. Additionally, I am not an expert in child development or mental health, and nothing here is expert advice. Please consult real experts for these things. Read more here.
Terms and Conditions:
By downloading the How I Feel About Staying at Home coloring book, you accept these terms and conditions. 
This coloring book was created by Hey Kelly Marie to be used for personal and personal classroom use. 
The workbook is copyright protected. © 2020 Hey Kelly Marie and all rights reserved.
This workbook may not be sold, hosted, stored, or reproduced on any other site or blog.
Adult supervision should be provided for children's activities. It is up to the child's caretakers to determine what is developmentally appropriate and safe for each child. Caretakers have full responsibility for child safety and development.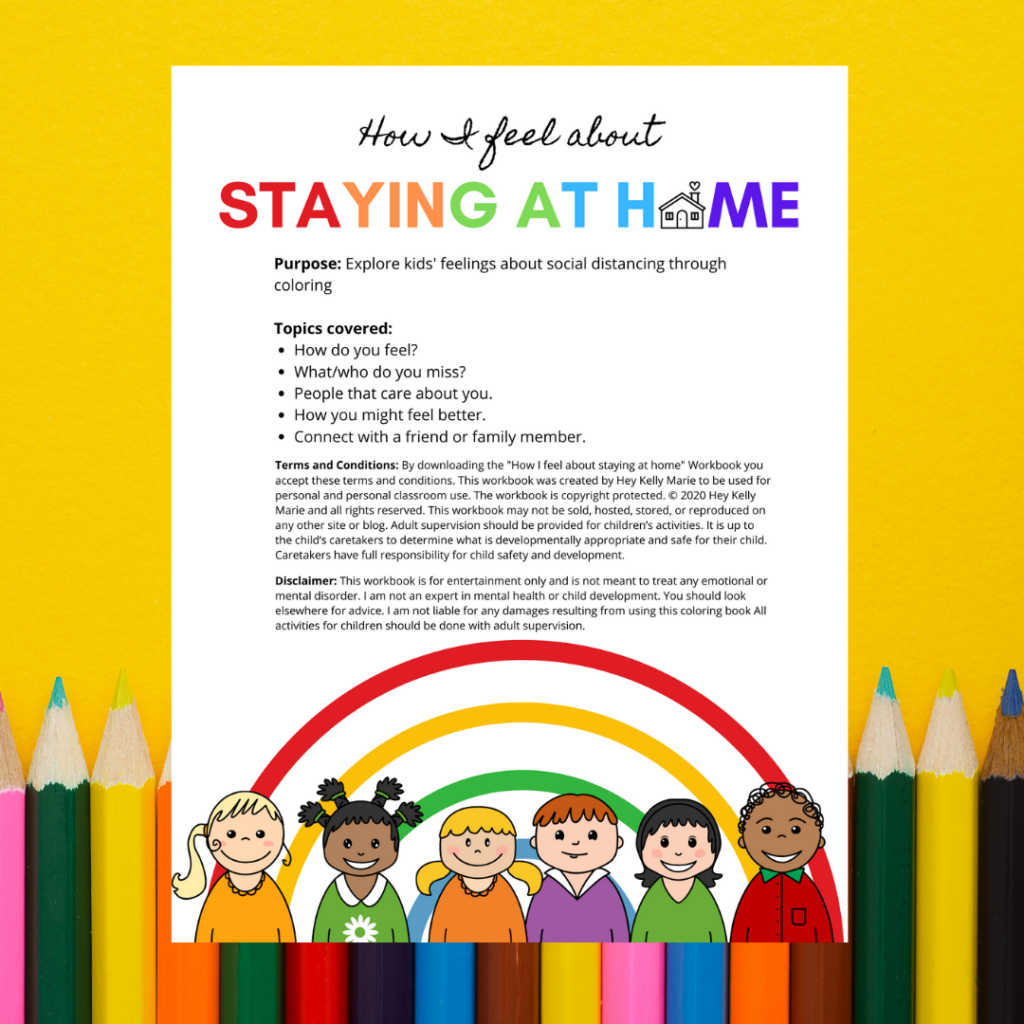 Get Your Free, Printable Copy of The How I Feel About Staying at Home Coloring book
To download the Free How I Feel About Staying at Home coloring book, please subscribe to Hey Kelly Marie emails below.
Once you confirm your subscription, you'll quickly get another email including the password to my Printable Resources page. On this page, you'll find the PDF coloring book file.
Subscribe here for your coloring book.
Pin this post for later!
Did this book help your kids explore their feelings on staying home?
I create free preschool workbooks because I enjoy providing resources to parents and kids. I'd love to hear how your kids like it, and furthermore, any ideas for other resources I can provide. Please comment below.
Disclaimer: This coloring book is for information and entertainment purposes only and does not treat any emotional or mental disorder. I am not an expert in mental health or child development. You should look elsewhere for advice. There is no guarantee of outcome. I am not liable for any damages resulting from using this coloring book. All activities for children require adult supervision.