It's no secret that we love preschool activities and workbooks at my house. I've even created several of my own preschool workbooks that are printable and free to email subscribers. There are several store-bought workbooks that we've used and loved through the preschool years, and they have tremendous bang for your buck. Today, I'm sharing my family's top picks for Best Bargain Preschool Workbooks.
We've purchased all of these bargain preschool workbooks with our own money and as always, the reviews and opinions are my own.
This post contains affiliate links, which means that if you purchase something through one of the links here, I might receive a percentage of the sale, with no added cost to you. As an Amazon Associate, I earn from qualifying purchases. For further information, see the Affiliation Information Page.
When do we use Preschool Workbooks?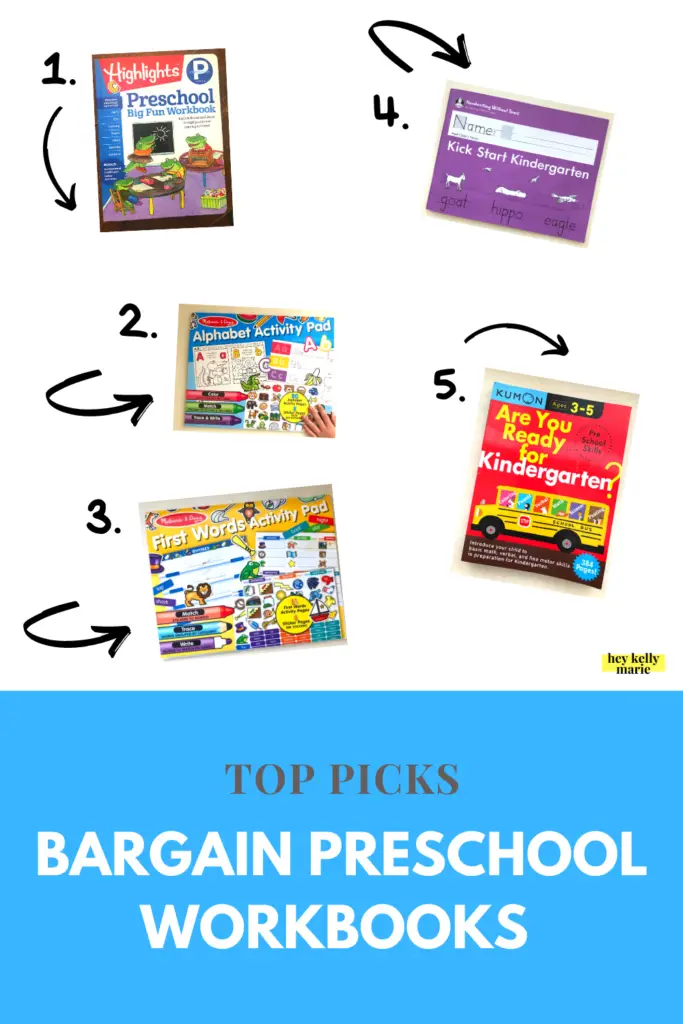 We use preschool workbooks in several instances. My favorite time to use workbooks is during quiet time in the afternoon. At our house, we all take at least an hour break every afternoon. This has become especially important through the pandemic, as we're home most of the time and we all need our space. My two year old will nap, and often I will set my four year old twins up with some fun workbook or coloring pages in their rooms. They are much less resistant to quiet play alone when they have a project to work on. We always use washable crayons and markers.
Another time we use these workbooks is during road trips. Activity pages break up the trip and get my kids' brains working during the long hours in the car.
When we go out to restaurants, workbooks are also super fun to bring along. They help pass the time while we're waiting for our food to be prepared. It might be totally nerdy to bring a workbook to a restaurant, but it helps my kids willingly sit at the table, and often prompts conversations between all members of the family. When the kids are happier, we all have a better time.
We also use workbooks throughout the summer months to brush up on educational skills and keep kids learning while they're not in school. After everyone is dressed and has had breakfast, we'll sit down at the dining room table and complete some workbook pages, an art activity, or a science experiment. We'll also bake sometimes or play a game. These activities help break up the day and have created lots of opportunities for quality time together. Workbook pages are usually the easiest of these options and are great for days that I don't have the bandwidth to create an activity. These workbooks minimize prep time and get us up and running quickly.
Now you know how we use workbooks, let's get to which workbooks we use and love! As a bonus, all of these workbooks are under $11 on Amazon. Score!
Best Bargain Preschool Workbooks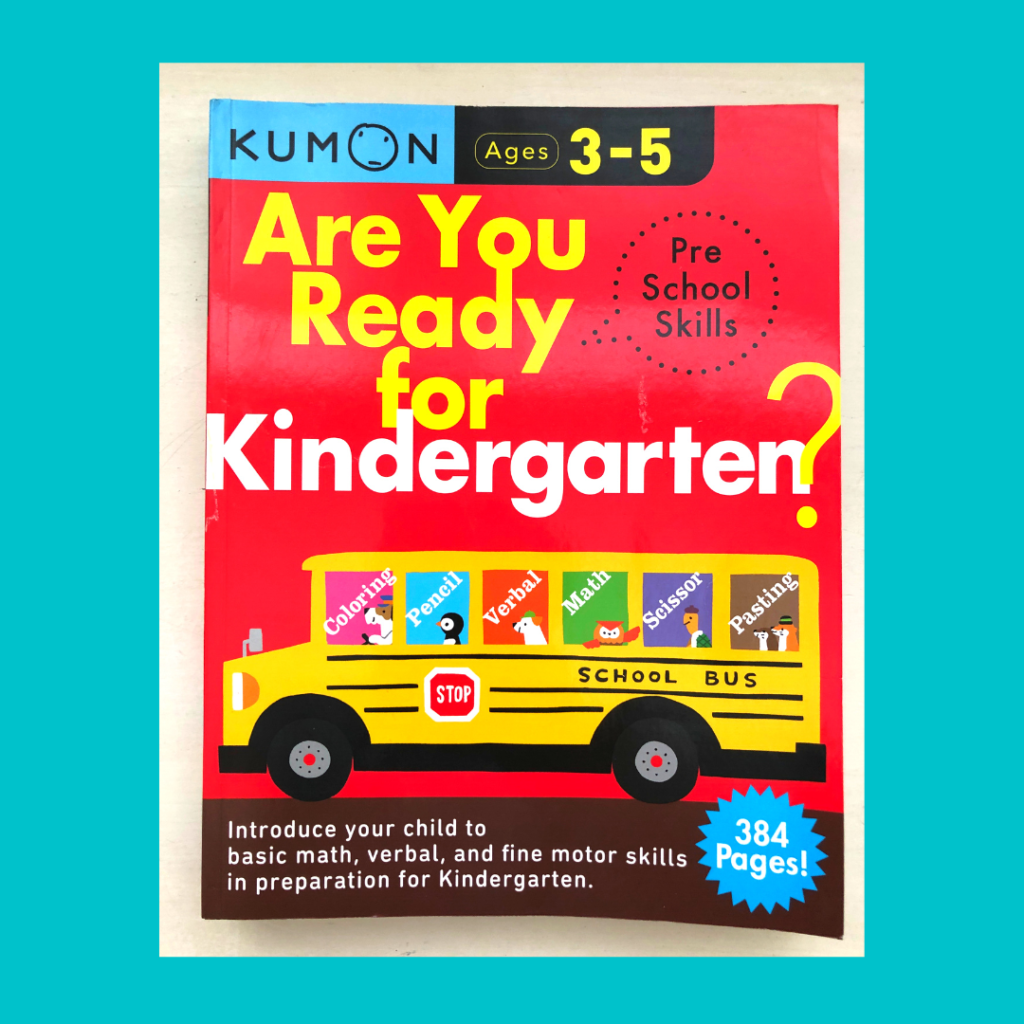 This is a fantastic all-in-one preschool workbook, with colorful pages covering coloring, pencil skills, verbal skills, math skills, cutting and pasting. It has tremendous bang for your buck with almost 400 pages. This is one of the first workbooks I purchased.
2. Handwriting Without Tears, Kick Start Kindergarten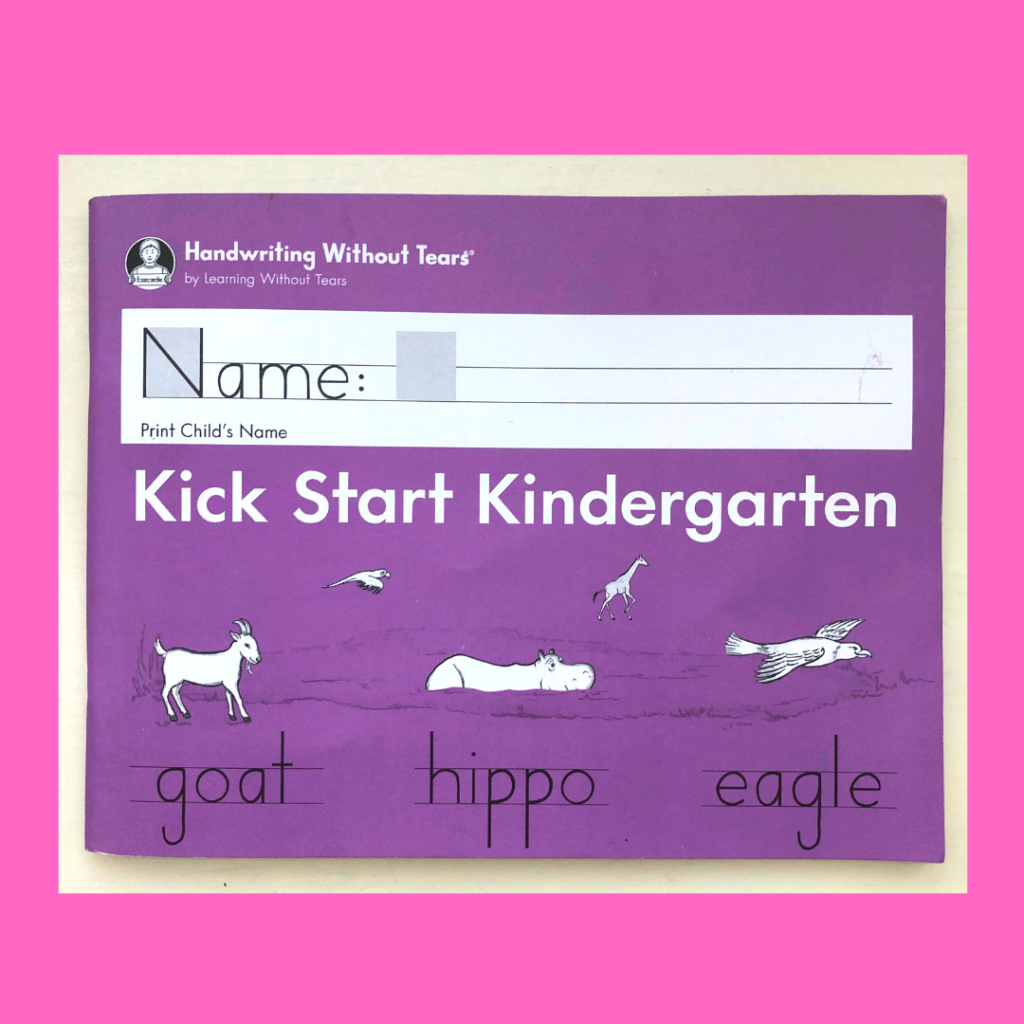 I want my preschoolers to have a strong foundation in writing skills, and this book teaches letter formation in a really simple and straightforward way. I often give my kids a few pages to work on at a time. In general, each page addresses one letter, shows the steps to form it, and has a fun picture of an item that begins with that letter. My kids love it and I feel great about the skills they're learning. My preschoolers are almost five and this book is great for them, but for younger preschoolers, I would have purchased Handwriting Without Tears, My First School Book.
3. Preschool Big Fun Workbook by Highlights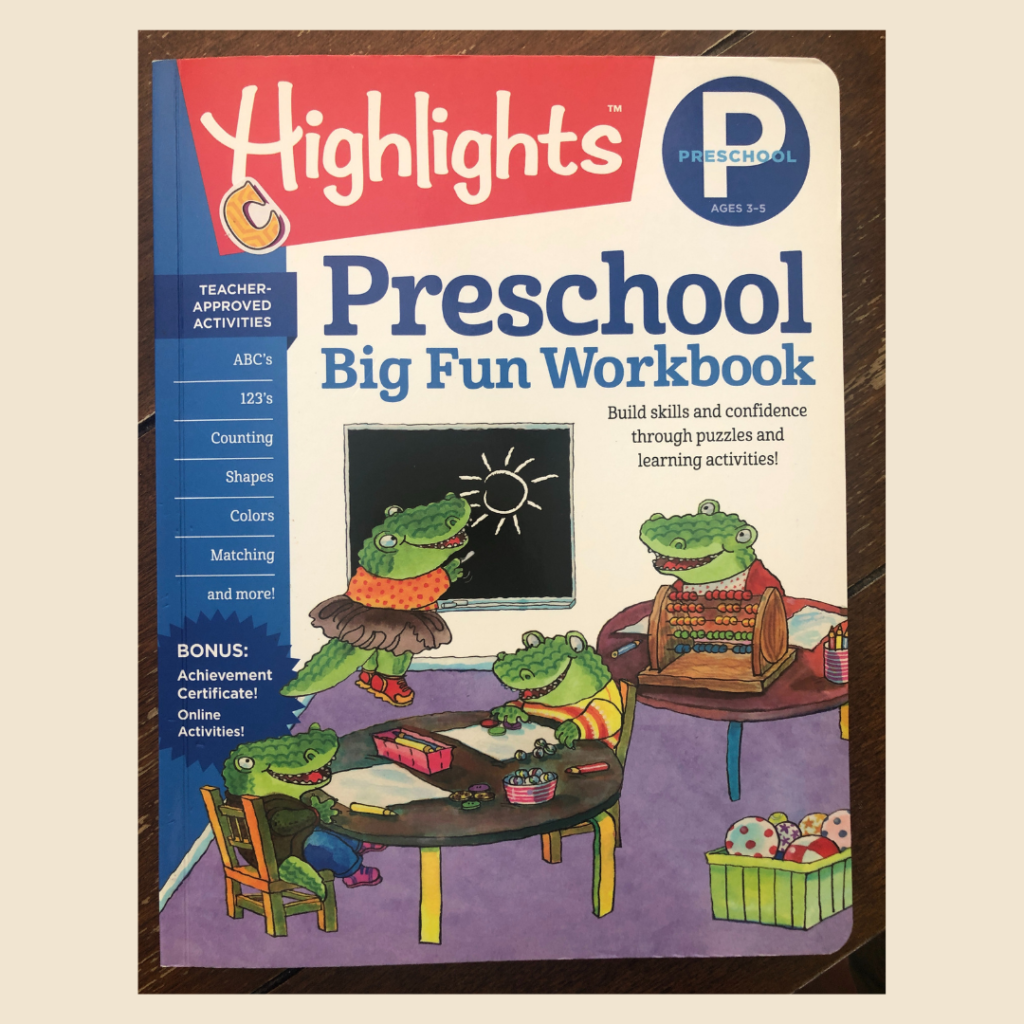 This book is a super value for the price. It's full color pages and almost 350 pages for well under $10. I loved Highlights books as a kid, and this book has plenty of seek and find pages along with pages covering the alphabet, numbers, shapes, colors, opposites, and more.
4. First Words Activity Pad by Melissa and Doug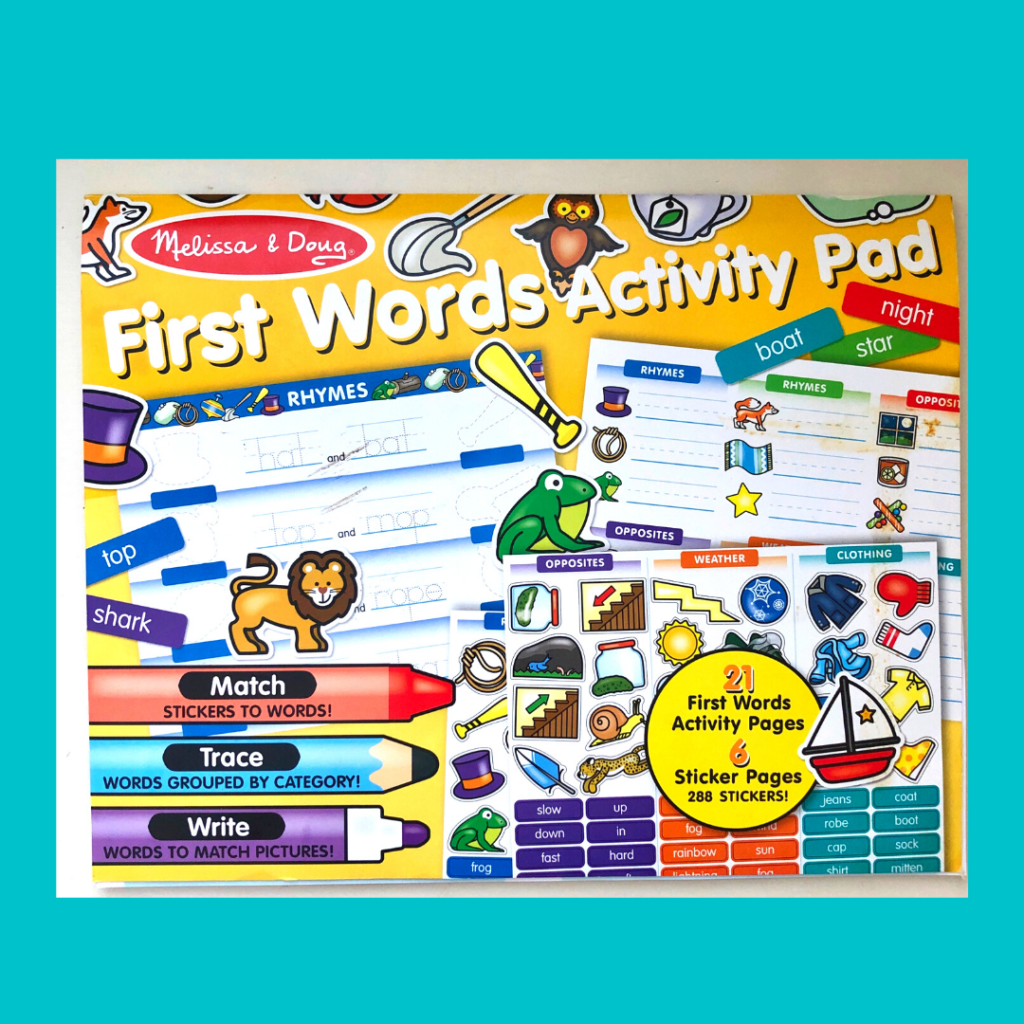 My kids absolutely love this book. They love finding the correct sticker and can peel them off all on their own. I love that they also practice writing and recognizing words with this book. They often need help identifying the words on the stickers as they're not reading yet.
5. Alphabet Activity Pad by Melissa and Doug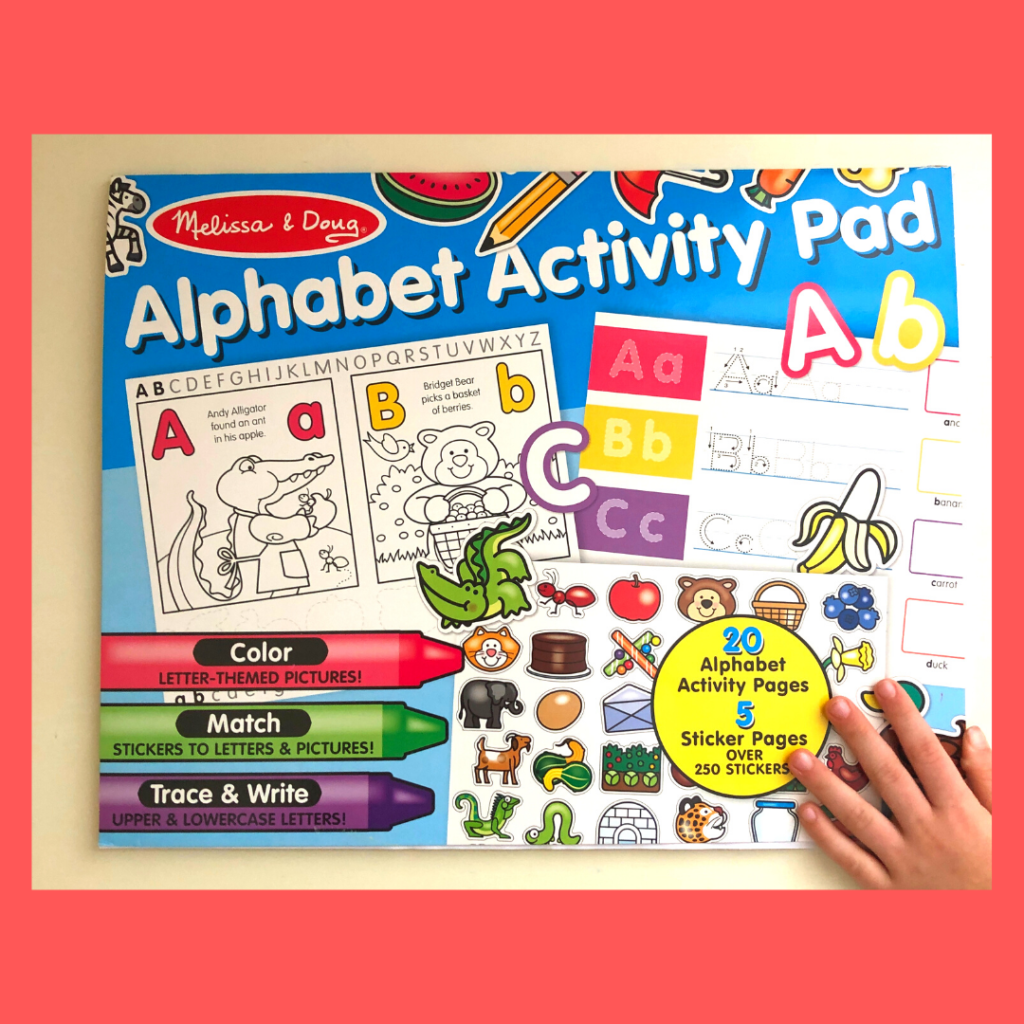 Of all the preschool skills, I most want my kids to have a firm grasp on early reading skills and phonics. I'm always on the lookout for alphabet and letter sounds practice. This alphabet activity pad caught my eye because there is a page for every letter and reinforces letter sounds and letter identification. Additionally, there are stickers of items that begin with each letter, which my kids love. There's also letter writing practice in the back of this book.
Bargain Preschool Workbooks we plan to try next!
We're well-stocked on preschool workbooks for now, but I know that eventually we'll need some new ones to work through. I always have my eye out for great deals on preschool activity books.
I spotted the Numbers Activity Pad from Melissa and Doug and I think it will go along wonderfully with the other preschool math skills they're learning.
Additionally, the Seek and Find Sticker Pad from Melissa and Doug is sure to be a hit. The book has 14 scenes, each with an accompanying sticker page and kids can match the stickers to the hidden images. I love that I can bring one book with us to a restaurant or in the car and have a different scene for each kid to work on.
What are your favorite Bargain Preschool Activity books?
There are so many wonderful bargain preschool workbooks out on the market, and I'd love to hear about your favorites! Let me know by commenting below.
If you love this post, please share it so others can find it. This is a surefire, quick and easy way to support me.
Pin this Post for later!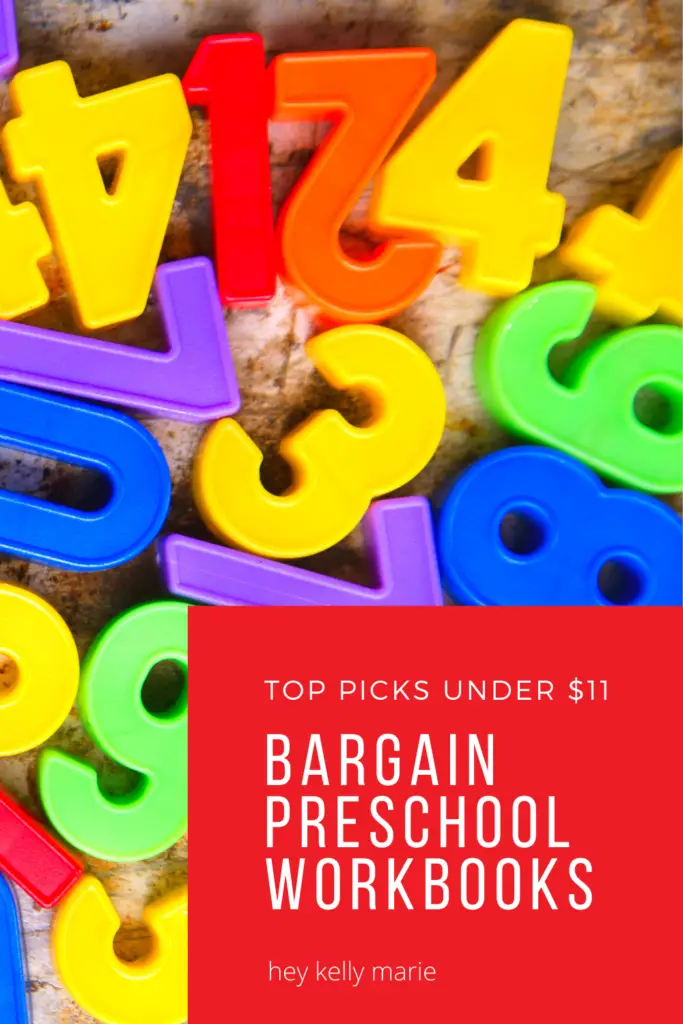 Other Posts from Hey Kelly Marie
Recently, I've shared my very favorite podcasts that I listen to every week. Check them out here!
The most popular printable resource on my blog is the Alphabet Coloring Pages. They're awesome entertainment for kids of all ages and reinforce letter sounds.
Disclaimer: The information published in this blog is for information and entertainment purposes only. I am not an expert and you should look elsewhere for advice. I am not liable for any damages resulting from using the information on this blog. All activities for children should be done with adult supervision. For further information, see the Disclaimer page.
I sometimes publish endorsements and advertisements, which means that if you purchase something through one of the links here, I might receive a percentage of the sale, with no added cost to you.
As an Amazon Associate, I earn from qualifying purchases. For further information, see the Affiliation Information Page.