My five year old twins are just starting to learn to read, and I really want to give them a strong reading foundation. After shopping around, I decided to do the 4 Weeks to Read program with them during our recent months at home together and I am so impressed with what my kids have learned. Here are 10 reasons I fell in love with Learning Dynamics' 4 Weeks to Read program and why I highly recommend it.
I purchased the 4 Weeks to Read program on my own and was not prompted to write this post. All opinions are my own. I genuinely love it and think other families could benefit from it as we have, and I want to spread the word about this great product. If you do decide to purchase the product using one of the affiliate links here, I could earn a commission with no added cost to you.
4 Weeks to Read gave me a 10% off code to share with you (affiliate link).
Disclaimer: The information published in this blog is for information and entertainment purposes only. I am not an expert and you should look elsewhere for advice. I am not liable for any damages resulting from using the information or resources on this blog. All activities for children should be done with adult supervision. For further information, see the Disclaimer page.
Affiliate Information: This post contains affiliate links. I sometimes publish endorsements and advertisements, which means that if you purchase something through one of the links here, I might receive a percentage of the sale, with no added cost to you. As an Amazon Associate, I earn from qualifying purchases. For further information, see the Affiliation Information Page.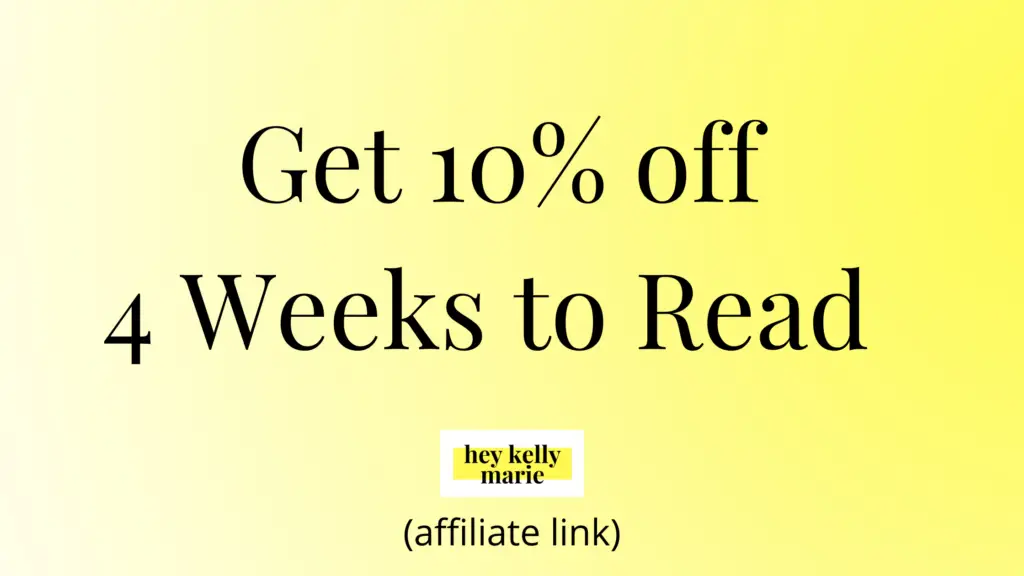 1. Easy to Follow Lessons
The 4 Weeks to Read program comes with a Lesson Manual that gives complete directions for each lesson. The manual walks you through exactly what to do and say. I have no trouble at all following the lessons, and I love that the lessons follow the same general pattern so that my kids and I generally knew what to expect.
2. Short Lessons
Each of the 4 Weeks to Read lessons are designed to be 15 minutes or less. I am a busy mom of three, and I find that the 15 minute lessons are doable and approachable. I love that I can squeeze these lessons in at several points throughout the day because they are short. My twins, being five, don't have very long attention spans and I find that this length of time is perfect for them.
3. Lessons Include Several Types of Learning
I love that the 4 Weeks to Read lessons include music, stories, worksheets, and a variety of additional optional activities. Because there are different aspects to each lesson, the time passes quickly, and my kids stay engaged and don't get bored.
4. Awesome Music Included
The songs included with the 4 Weeks to Read program have really helped my kids remember the lessons. They're catchy, easy to remember, and we often repeat them when we're sounding out words together.
5. Great Books
The program comes with 53 full color books and we have really loved them. The books are the best that I have found for very early readers and my kids have enjoyed reading them. I specifically love the new word lists on the inside cover of each book, so that we can go over the new words before we start reading the book. We have gone back and read several of the books many times.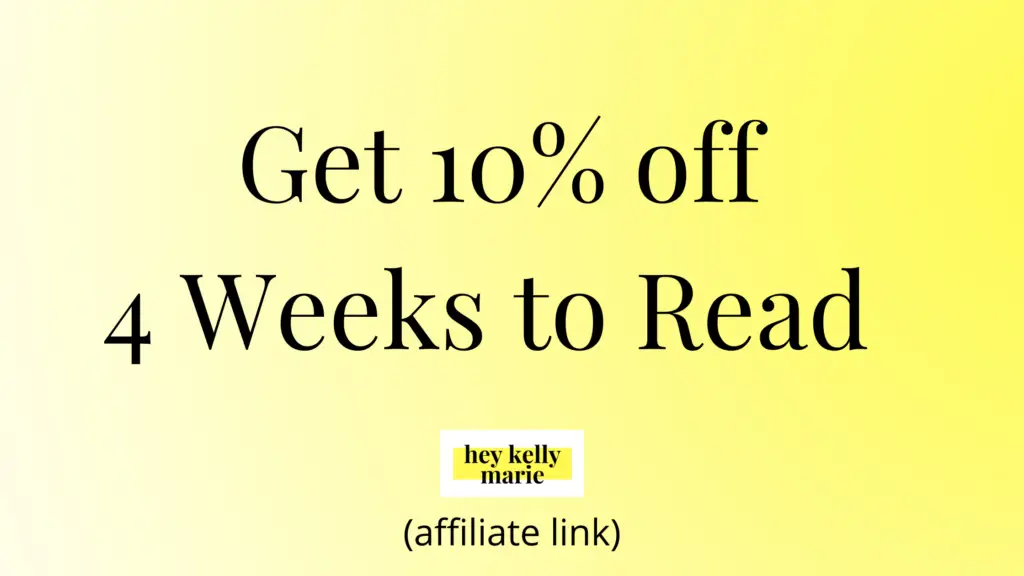 6. I can see my kids learning and improving!
My kids have learned so much as a result of this program. They know the letters and letter sounds and how to blend words. Most of all, my kids really enjoy the time we spend doing the lessons and love reading. As a mom, that has tremendous value to me.
7. Great Value
The program includes so many great materials and resources that I think it has great bang for your buck. Included are 53 full color books, flash cards, lesson manual, student workbook, music, and rewards. I would have paid the full price just for the set of 53 readers, because I like them that much, but the program includes much more.
8. 30 Day Money Back Guarantee
When I bought the program, we were well into the COVID-19 pandemic and I wasn't sure if I had the bandwidth as a parent to do the program with my kids. I felt stretched thin and unsure how much I could add to my plate. But because of the money back guarantee, I was confident that I could try the program and if it just didn't work for us, we could send it back. This is why I don't hesitate to recommend it to parents. You can get your money back if it doesn't work for you.
9. Program Progresses Methodically and Quickly
I love the progression of the 4 Weeks to Read Program. The program lessons start with letter sounds M, A, P, S, and T, has a review of those letters, and then starts blending those letters to make words. This approach gets kids blending sounds early on with words that can be made up of those first five letters (mat, as, at, sam, for instance). Then, the program continues with more letters and sounds, and blending more and more words. I found this approach very organized, systematic, and enjoyable and it really works for my kids.
10. Backed by University Research
The University of Oregon did research on the 4 Weeks to Read Program and the results are published here. I loved that it is clearly stated in the article that "In brief, Learning Dynamics Reading follows decades of research performed by the NICHD (Eunice Kennedy Shriver National Institute of Child Health and Human Development) and findings of the NRP (National Reading Panel)." Knowing that the 4 Weeks to Read system is backed by research helped me take the plunge in purchasing it.
What do YOU think about my 4 Weeks to Read review?
I have loved sharing my thoughts on the 4 Weeks to Read program. My husband and I have really seen an improvement in our kids and I want to share that with other parents. I would love to know your thoughts on the program. Have you tried it? Do you think it could work for you? Of course, if you have any questions, I'm happy to hep as best I can. There is much more information at 4weekstoread.com.
Pin this post!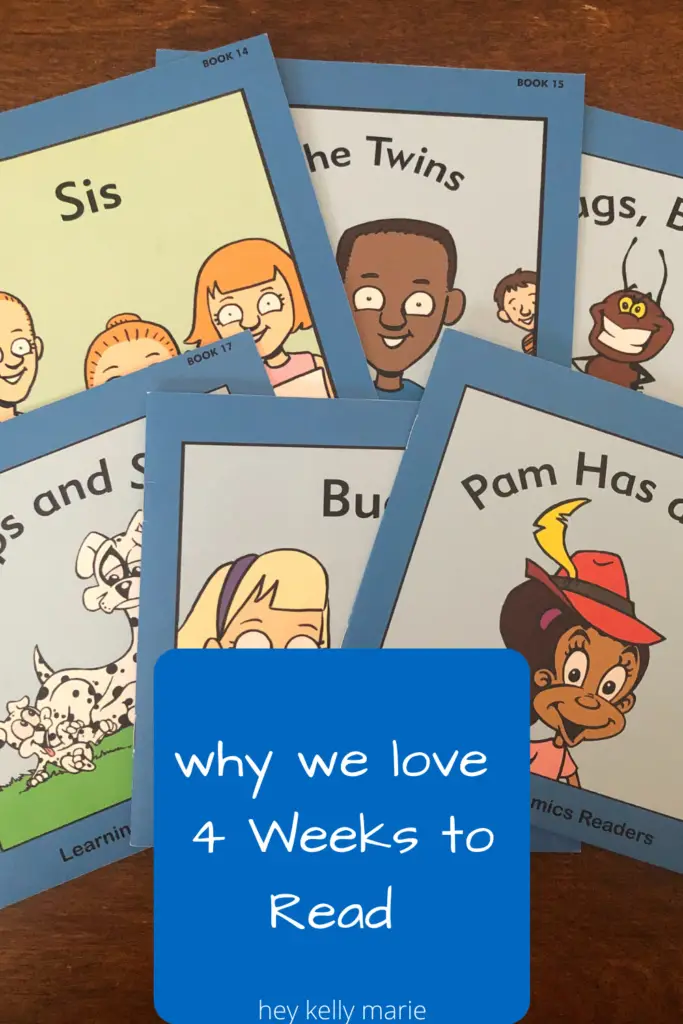 Other posts from Hey Kelly Marie
Two of the most popular posts on the blog are Ways to Celebrate Kids' Birthdays in Quarantine and the free, printable Alphabet Coloring Pages. Check them out!